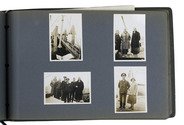 [ANGLO-PERSIAN OIL COMPANY - PHOTOGRAPHS]. [CHAPPELL, Henry Pegg (photographer)].
A Christmas pilgrimage to the Anglo-Persian Oil Co. in Persia made by P.B.C.. S.C.. H.P.C.
[Greece, Palestine, Iran, Iraq, Egypt, 1931-1932]. Oblong photograph album (20.5 x 32 cm). With 72 sepia photographs (ca. 6 x 8.5 cm). [19], [5 blank] ll.
Full description
€ 8,500