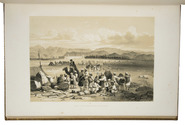 SALE, Sir Robert H. (and others).
The defence of Jellalabad, ... drawn on stone by W.L. Walton.
London, Joseph Hogarth, Henry Graves & Co., and sold by Hullmandel & Walton, [1845/46]. 1mo (full-sheet leaves) (54 x 37 cm). With a lithographed frontispiece portrait of Sale by Thomas Fairl and after a painting by Scarlet Davis, a lithographed illustrated title-page, a lithographed dedication to Queen Victoria (reproducing Sales hand-written and signed dedication), a double-page "Plan of Jellalabad" (51.5 x 60 cm, lithographed by S. Leith in Edinburgh) and 34 tinted lithographic views of the city and its fortifications (in landscape format) on 22 leaves.
Gold-tooled red goatskin morocco, richly gold-tooled turn-ins, gold-tooled board edges, yellow endpapers, gilt edges. Lithographed frontispiece, title-page & dedication plus 5, [1 blank] pp. plus plates.
Full description
€ 15,000