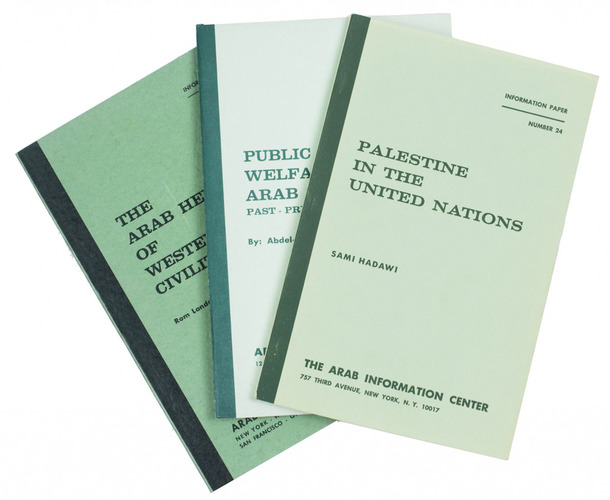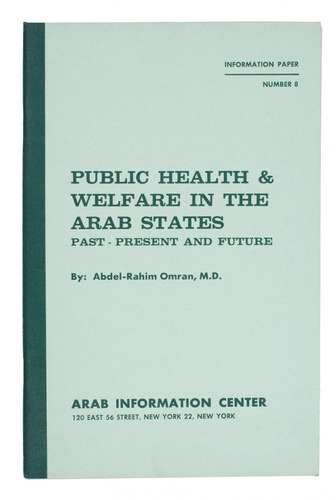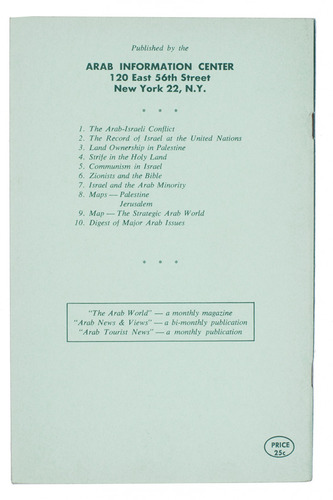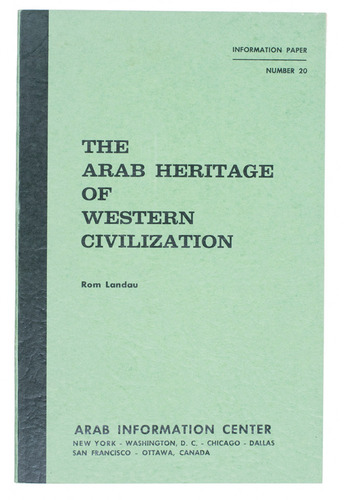 [ARAB INFORMATION CENTER]. OMRAN, Abdel-Rahim.
Public health & welfare in the Arab states. Past, present and future. Information paper number 8.
New York, The Arab information center, 1959
(2) LANDAU, Rom. The Arab heritage of western civilization. Information paper number 20.
New York, The Arab information center, 1962.
(3) HADAWI, Sami. Palestine in the United Nations. Information paper number 24.
New York, The Arab information center, 1964.
Publishers green wrappers.
€ 250
Set of three publications by the Arab Information Center in New York. Together with other Arab Information Centers in various cities in the Americas, Europe and Asia, the New York office belonged to the Press and information department of the League of Arab states. As well as the monthly newspaper Arab World, the office published numerous research reports on various aspects of the individual member states and the Arab world at large.
Ad 1: An overview of both the history of Arab medicine and the current state (in 1958) of the demographics and healthcare in various states of the League.
Ad 2: A richly illustrated overview of the Arab contributions to the literature, science and art of the world.
Ad 3: Pamphlet on the Israeli-Palestinian conflict and the actions taken by the United Nations in efforts to solve the conflict.
The staples in ad 1 somewhat rusted and ad 2 with an owners stamp. All three publications in very good condition.MacDonald, The league of Arab states, pp. 135-138.
Related Subjects: