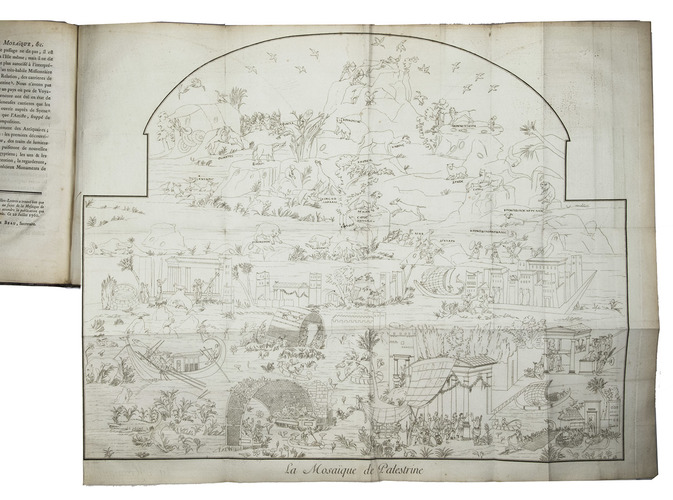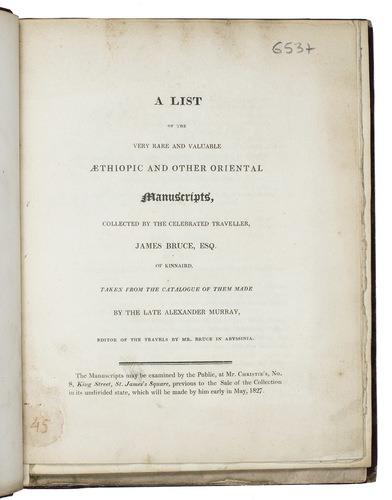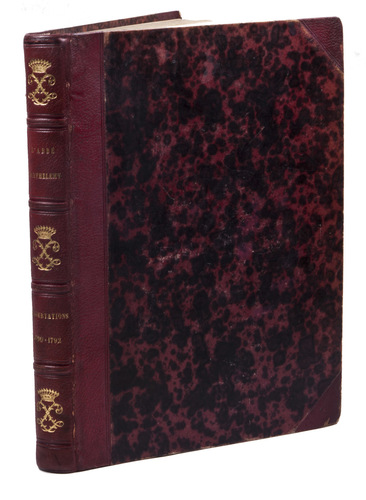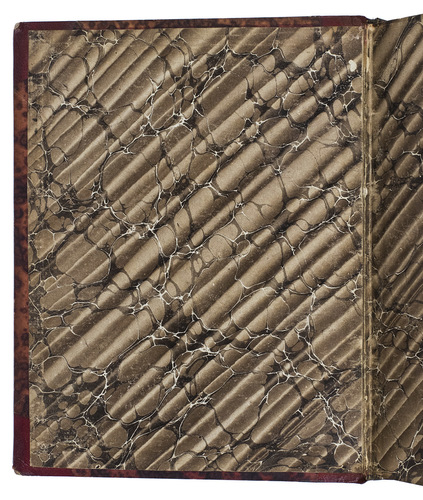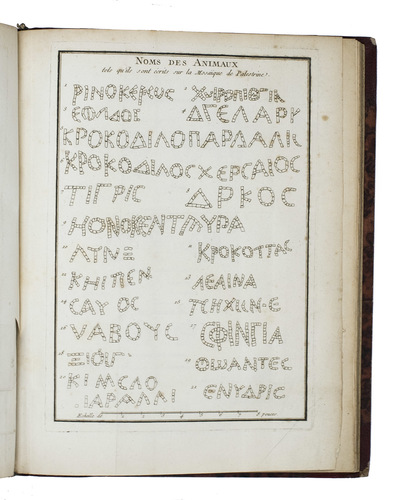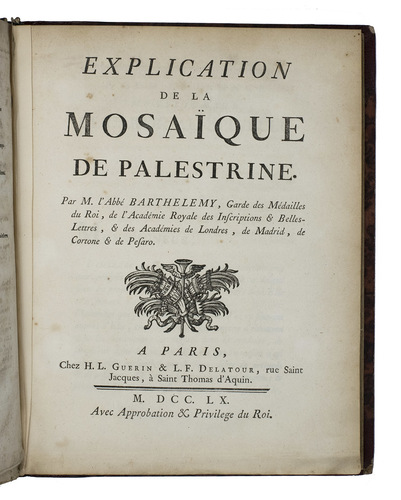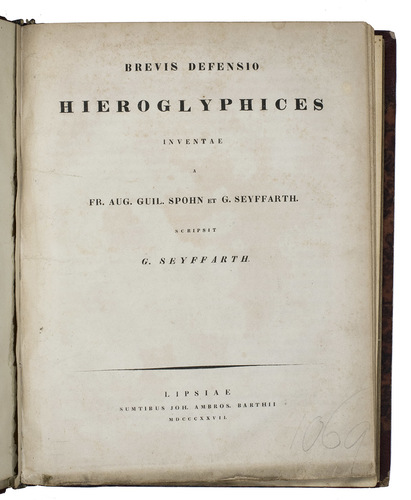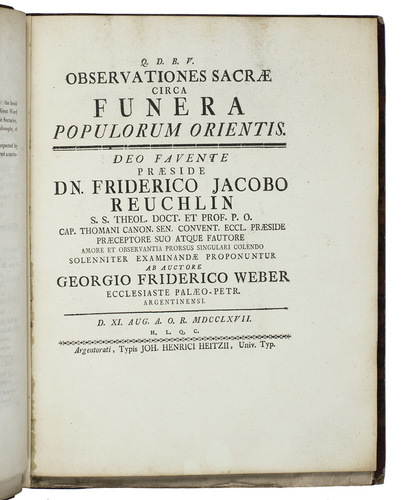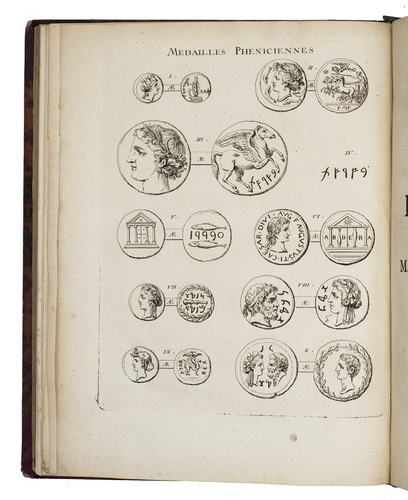 [ARCHAEOLOGY - PHILOLOGY] BARTHÉLEMY, Jean-Jacques and others.
[Collection of texts on early archaeology and philology].
[Various places], [various publishers], 1760-1827. 9 works in 1 volume. 4to.
Containing:
(1) [CHRISTIE'S - LONDON]. A list of the very rare and valuable Aethiopic and other oriental manuscripts, collected by the celebrated traveller, James Bruce, esq. of Kinnaird, taken from the catalogue of them made by the late Alexander Murray, editor of the travels by Mr. Bruce in Abyssinia.
[London, 1827].
(2) WEBER, Georg Friedrich. Observationes sacrae circa funera populorum orientis. ...
Strasbourg, Joh. Henrici Heitzii, 1767.
With a woodcut headpiece, tailpiece and decorated initial in the prologue.
(3) SEYFFARTH, Gustav [and Friedrich August Wilhelm SPOHN]. Brevis defensio hieroglyphices.
Leipzig, Johann Ambrosius Barth, 1827.
(4) SCHLICHTEGROLL, Friedrich von. Ueber die bey Rosette in Aegypten gefundene dreyfache Inschrift. Erste Abhandlung. Zur Feyer der neun und funfzigsten Wiederkehr des Stiftungstages der k. baier. Akad. der Wisschenschaften in einer öffentlichen Versammlung derselben am 28. März 1818 vorgelesen von Friedrich von Schlichtegroll.
München, Ignaz Joseph Lentner (printer), [1818?].
(5) BARTHÉLEMY, Jean-Jacques. Explication de la mosaïque de Palestrine. Paris, H.L. Guerin & L.F. Delatour, 1760.
With 1 large folding plate of the mosaic, 1 plate showing the names of animals written in the mosaic, and 1 plate showing Samaritan medals (probably mis-bound, printed in 1790).
(6) BARTHÉLEMY, Jean-Jacques. Lettre de m. l'abbé Barthelemy, a messieurs les auteurs du Journal des Sçavans, sur quelques médailles Phéniciennes. [Paris?, 1760].
With 2 plates of the Phoenician medals and Phoenician inscriptions found on Malta, with an elaborate woodcut headpiece and a woodcut tailpiece.
(7) BARTHÉLEMY, Jean-Jacques. Seconde lettre de m. l'abbé Barthelemy, a messieurs les auteurs du Journal des Sçavans, sur quelques médailles Phéniciennes. [Paris?, 1763].
With one plate of the Phoenician medals and an elaborate woodcut headpiece.
Including: [PARQUOY (second clerk to the custodian of manuscripts in the library of the king)]. Lettre à messieurs les auteurs du Journal des Savans, sur un projet d'edition du Syncelle. [No place, no publisher, no date].
(8) BARTHÉLEMY, Jean-Jacques. Lettre a monsieur le Marquis Olivieri, au sujet de quelques monuments Phéniciens; pour servir de réponse à deux lettres insérées dans le 54e volume des Transactions Philosophiques. Paris, L.F. Delatour (printer), 1766.
With 4 plates (including 2 folding), the first 3 signed by P.L Charpentier, of Phoenician inscriptions, alphabet and medals. With a printer's device on the title-page and a woodcut headpiece.
(9) [D'ANSSE DE VILLOISON, Jean-Baptiste-Gaspard (draughtsman) and DROÜET (engraver)]. Alphabetum codicis bibliothecae coislininae, nunc sangermanensis, ineunte decimo saeculo manu exarati, ex quo Apollonii lexicon descriptum est. Paris, 1771.
Half red goatskin and marbled paper sides. 16; 43, [1 blank]; 24; 28, XIV; [2], 44; 12; 8, 12; [1], [1 blank], 45, [1 blank]; 9, [1 blank] pp.
€ 12,500
Very important collection of essays and other texts marking the establishment of archaeology and philology as serious scientific disciplines. While still drawing from the experience and works of "antiquarians" who studied antiquity in a more amateurish and occasional way, the authors of the present works hope to work more methodically towards bigger discoveries. This renewed interest in antiquity and the move to studying it in a more scientific way came as a result of several major 18th-century discoveries like the Herculaneum (1709), Pompeii (1748) and the Rosetta Stone (1799, see ad 4). Studying historical sepulchral culture - everything relating to the issues of dying, death, burial, etc. - is closely related to archaeology and the uncovering of tombs and other remains. In the present work, the author of ad 2 has focussed on the sephulchral culture of the (ancient) Middle East.
Naturally, Egyptology is also a well-represented subject in the present work. It includes a fabulous depiction and detailed description and explanation of the Nile mosaic of Palestrina (ad 5), a floor mosaic depicting the flow of the river Nile from the Blue Nile in Ethiopia to the Mediterranean Sea. Additionally, the study of hieroglyphs and differing views on deciphering the Ancient Egyptian scripts can be found in ads 3 and 4.
Philology, in this case the study of language in written historical sources (not in oral ones), is a returning subject in many of the essays in the present work, including the Christie's auction catalogue (ad 1), since it comprises a list of written historical sources in the form of Oriental manuscripts collected by James Bruce. 4 works by abbot and scholar Jean-Jacques Barthélemy are also included (ads 5-8), he was the first to decipher two alphabets of ancient extinct languages: Palmyrene and Phoenician. His works also include descriptions, depictions and explanations of Phoenician medals and the collection of texts in the present volume ends with ad 9: an engraved example of the Phoenician alphabet. Ad 1: WorldCat (5 copies). Ad 2: VD18 15073807; WorldCat (15 copies). Ad 3: WorldCat (6 entries, multiple copies). Ad 4: WorldCat (3 entries, multiple copies). Ad 5: WorldCat (2 entries, multiple copies). Ad 6: WorldCat (8 copies). Ad 7: WorldCat (3 copies Barthélemy); WorldCat (1 copy Parquoy). Ad 8: WorldCat (3 entries, multiple copies). Ad 9: WorldCat (3 copies).
Related Subjects: