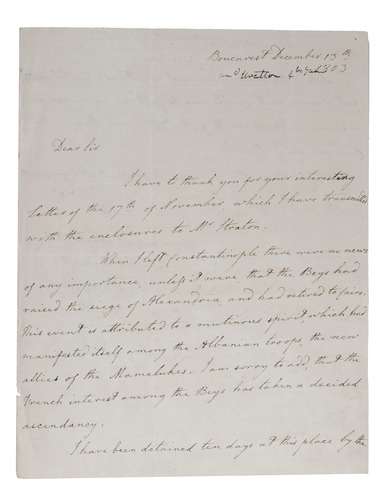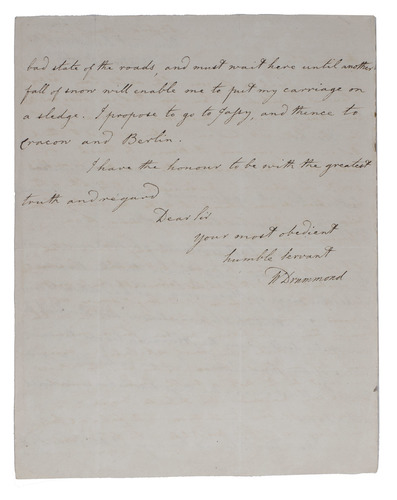 [AUTOGRAPH]. DRUMMOND, William.
[Letter on the fighting between the Ottomans and Mamluks in Egypt].
Bucharest, 13 December 1803. 4to (23.5 x 18.5 cm). Autograph letter in English, signed, written in brown ink on laid paper. [2] pp.
€ 1,950
A signed autograph letter by William Drummond (1770-1828), Scottish classical scholar, poet and British ambassador to the Ottoman Empire, written in Bucharest en route from Constantinople (Istanbul) to Berlin.
The British had taken Alexandria from Napoleon's troops on 2 September 1801, but abandoned it in March 1803, disappointing the Mamluks and their leader Muhammad Bey al-Alfi, who had supported the British against the French and Ottoman forces and remained in Alexandria. The Ottomans, facing financial troubles, disbanded their non-Turkish forces without pay, and their Albanian captain Muhammad Ali (1769-1849) and his troops in Cairo mutinied and wrested control of the city from the Ottoman governor. Although this put the Albanians on the British and Mamluk side against the French and Ottomans, the Mamluks were not prepared to leave Cairo in Albanian hands. Drummond therefore notes in the present letter that the latest news when he left Constantinople was that the "Beys" (Mamluk forces under Muhammed Bey al-Alfi) had raised the siege of Alexandria and returned to Cairo due to "a mutinous spirit" among their "new allies", the Albanian troops, and he regrets that the "French interest" among the Mamluks "has taken a decided ascendancy." In the event, Muhammad Ali was to prevail in 1805 when Sultan Selim III in Istanbul recognised him as his viceroy in Egypt.
In fine condition. A letter on the power struggle that was to bring Muhammad Ali to power in Egypt in the aftermath of the French Revolutionary War.
Related Subjects: