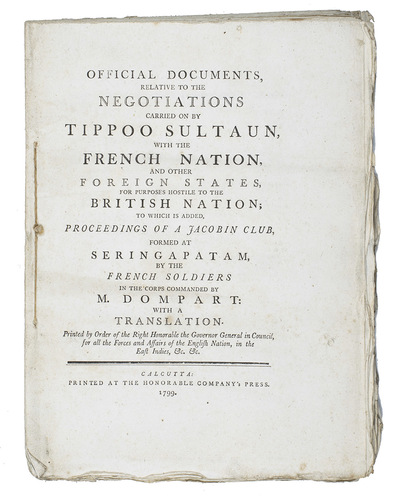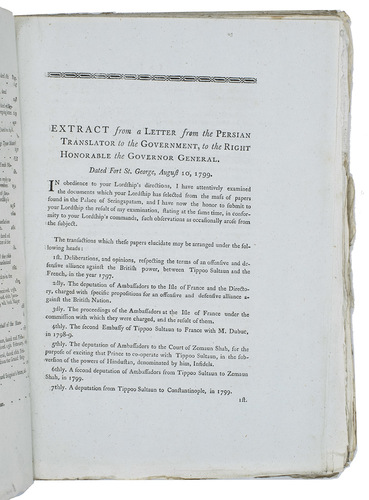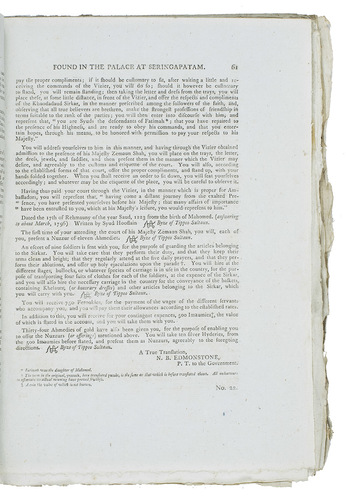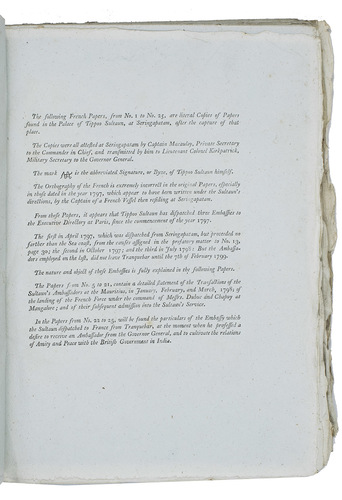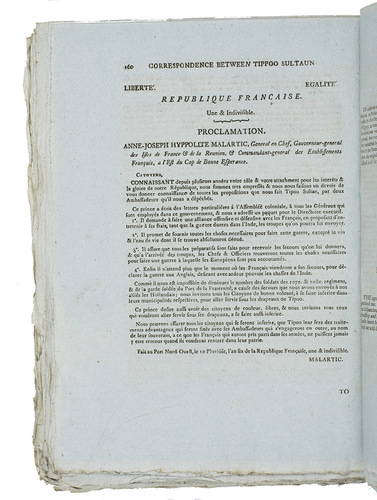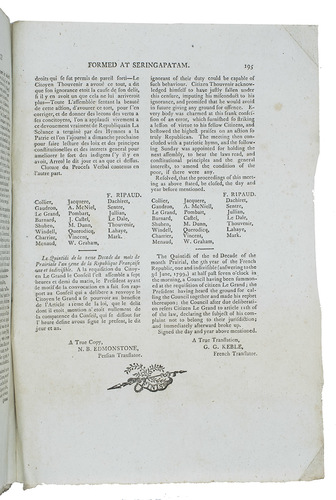 [EAST INDIA COMPANY]. [TIPU SULTAN, Zaman Shah DURRANI, NAPOLEON BONAPARTE and others].
Official documents, relative to the negotiations carried on by Tippoo Sultaun, with the French Nation, and other foreign states, for purposes hostile to the British nation; to which is added, proceedings of a Jacobin club, formed at Seringapatam, by the French soldiers in the corps commanded by M. Dompart, with a translation ... Printed by order of the ... Governor General ...
Calcutta, Honorable Companys Press, 1799. Super Royal 4to (33.5 x 25 cm). Never bound, but side stitched through 3 holes. XX, [2], 195, [1] pp.
€ 6,500
A British propaganda publication, printed in Calcutta, transcribing "secret" documents that the British supposedly found in the palace of Seringapatam: primarily Tipu Sultans correspondence with the French, considered a betrayal of the British. Tipu Sultan (1750-1799), ruler of the Kingdom of Mysore in southern India, took part in a long-standing military feud with the British, but made peace with them in 1792. When the French under Napoleon made a push for India in 1798 the British attacked Tipus forces once again, starting the Fourth Anglo-Mysore War and eventually killing Tipu Sultan in the attack on Seringapatam. He had a fearsome reputation as the "Tiger of Mysore" and the present publication attempts to discredit him as a traitor. His supposed affiliation with the French Jacobin Club would have especially concerned British readers. Most of the correspondence between Tipu Sultan, the French and their allies (including Zaman Shah Durrani, ruler of what was to become Afghanistan) is printed in parallel columns in English and French. Neil Benjamin Edmonstone translated the Persian and G.G. Keble the French.
In good condition. Wholly untrimmed and with most bolts unopened and the point holes present. Shaw, Printing in Calcutta, 359; Shaw, SABREB, sab00086.
Related Subjects: