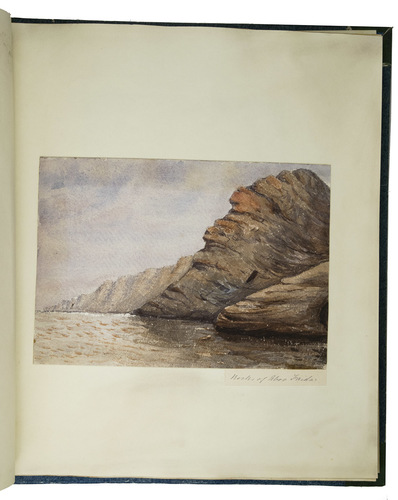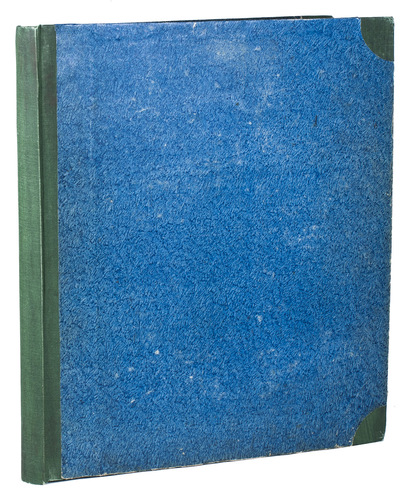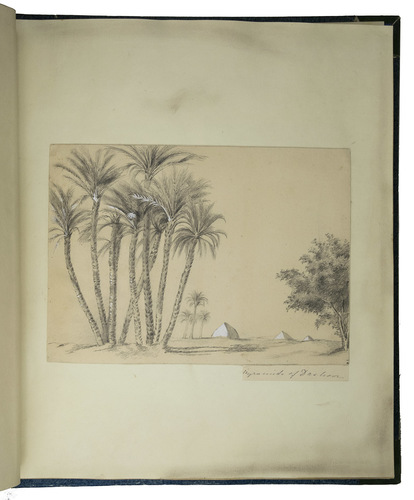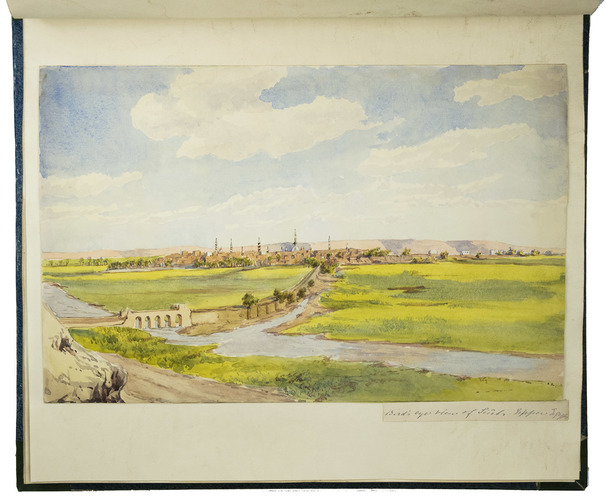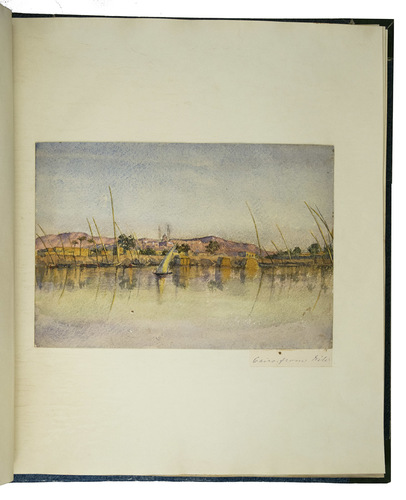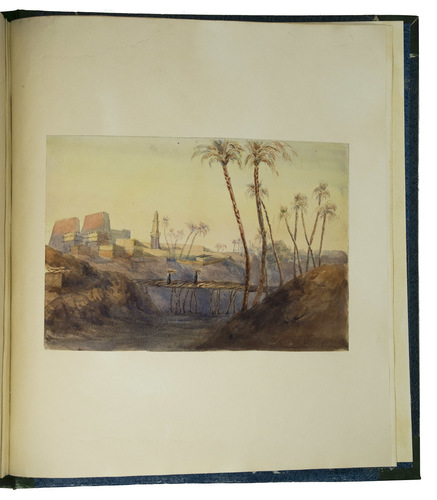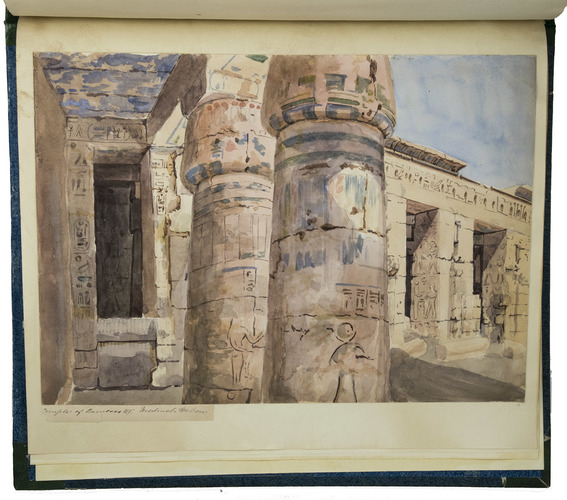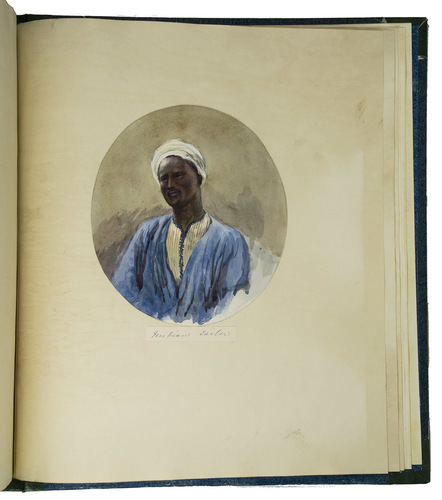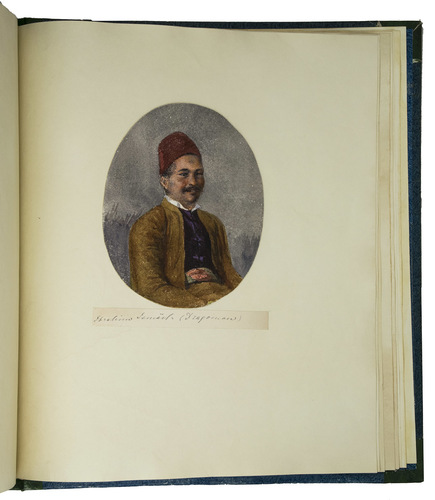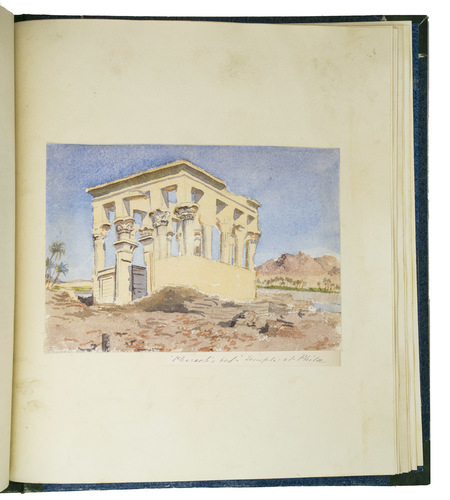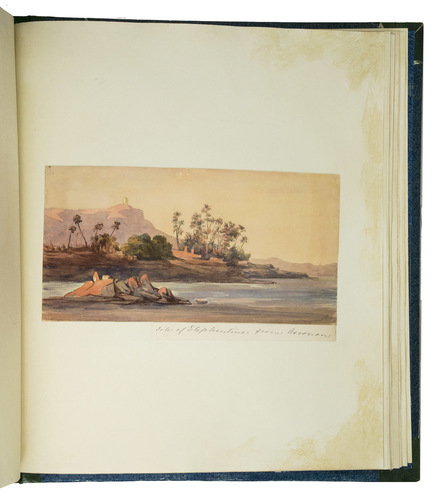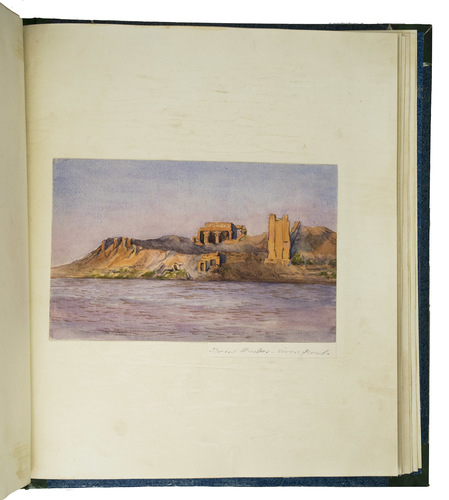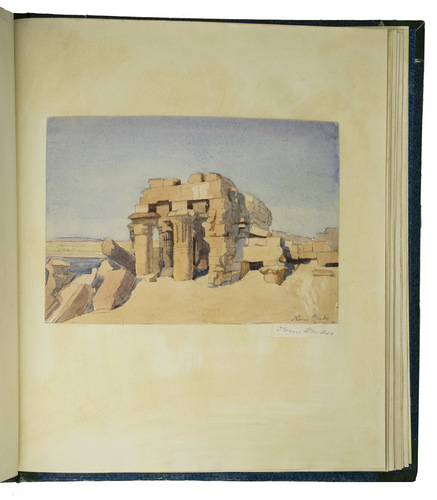 [EGYPT - DRAWINGS]. [ANONYMOUS].
[Monuments and views in Egypt].
[Egypt?], [ca. 1880/81?]. Album (40 x 35 cm). An album with 49 pencil drawings (8.5 x 10 to 25.5 x 35.5 cm), including 29 completed in watercolour, showing Egyptian monuments, scenery, buildings, plants and people, mounted on 36 leaves. Half green cloth, blue paste-paper over boards. [36] ll.
€ 18,000
Egypt's monuments and beautiful scenery captured in 49 finely executed drawings, including 29 painted with watercolours (and 5 others highlighted with white gouache). The drawings are mounted on the rectos of the 36 leaves of the album, most with an additional small handwritten label describing the subject in a few words. Paging through the album, one can follow the artists journey through Egypt. From north to south and thus from lower Egypt to Upper Egypt: they visited and drew several major, ancient monuments, but also took the time to notice, appreciate and draw Egyptian scenery along the Nile in a more general sense. Some views include people, but among the drawings one finds a detailed sketched portrait of an Arab woman, and three detailed, painted portraits of Ibrahim Ismail the Dragoman (translator), a man (possibly a servant) named Achmed, and a "Nubian sailor". Unfortunately, the identity of the artist is unknown, but since all descriptions of the drawings are in English, the artist was possibly British and visiting Egypt. The drawings were probably made around 1880 and subsequently placed in the present album. Two contain inscriptions that probably refer to the date of production: "Dec. 81" and "[Jan. 14?] 80" (on leaves 6 and 19 respectively). Furthermore, leaf 19 contains the drawing of the Temple of Kom Ombo before its excavation and restoration. The French mining engineer, geologist and archaeologist Jean-Jacques de Morgan (1857-1924) was responsible for clearing the temple complex of debris and for its restoration in 1893.
Binding is slightly rubbed, leaves are slightly soiled, barely affecting the actual illustrations. Otherwise in good condition. Binding slightly rubbed, leaves slightly soiled, barely affecting the actual drawings. Otherwise in good condition, most of the drawings fine, with the colours fresh and bright.
Related Subjects: