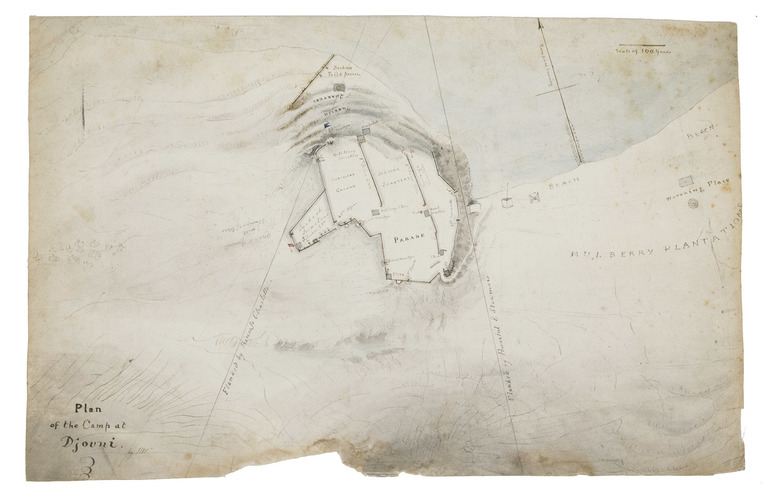 [LEBANON - EGYPTIAN-OTTOMAN WAR]. HW (monogram).
Plan of the camp at Djouni [Jounieh, near Beirut, Lebanon].
Lebanon, [1840]. Oblong folio (28.5 x 44.5 cm). Manuscript map in watercolour and ink on paper. [1] sheet.
€ 7,500
Drawing of the British-Turkish military base at Jounieh, near Beirut, Lebanon. The camp was located at the strategic point of Kaslik in Jounieh as a stronghold. The British had occupied Beirut in 1840 following Egypts claim on the region made a year earlier. The Ottoman Empire sought to retake control of it with the help of the Anglo-Austrian coalition and thus erected military camps such as the present one along the Levant coast. This dates the drawing 1840 and it was most likely drawn by an eye-witness, who signed with the monogram "HW"(?). It shows a mulberry plantation to the right of the camp, probably for the cultivation of silk worms (in 1876 the city of Jounieh counted 5 silk factories). A Turkish flag is visible in the Turkish quarter of the camp, which is equipped with a 5 1/12 inch Howitzer canon. The Anglo-Austrian navy was stationed in the Mediterranean just off the coast, and the reach of the canons of the HMS "Princess Charlotte" and "Powerful" and steamers is drawn on the map. No visible remains of the fortress survive today: the site is now the location of the Holy Spirit University of Kaslik. and the surroundings are fully built up.
Slightly browned and spotted, slightly frayed. Foot damaged with minor loss and staining.
Related Subjects: