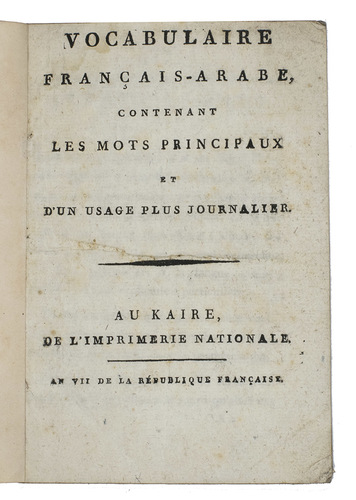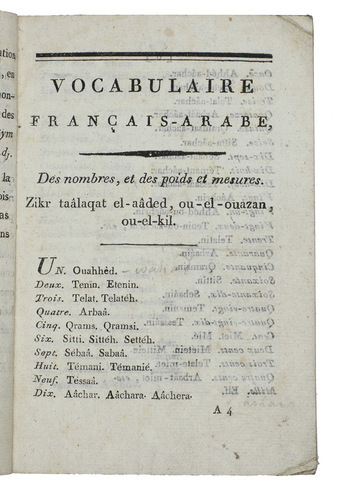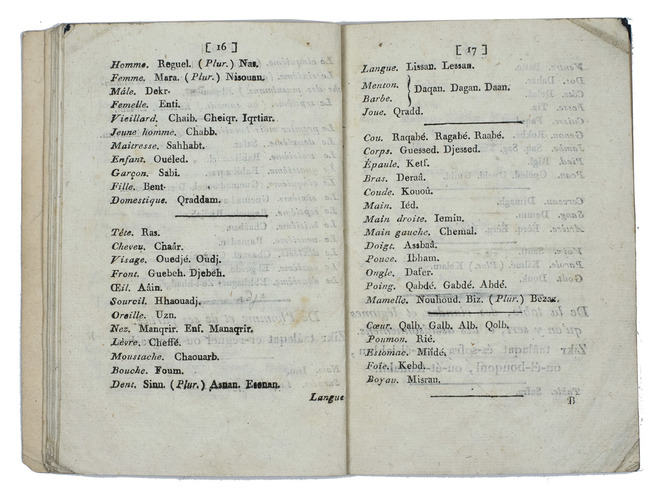 [MARCEL, Jean Joseph].
Vocabulaire Français-Arabe, contenant les mots principaux et d'un usage plus journalier.
Cairo, L'Imprimerie Nationale, an VII de la République [1798]. 8vo. Marbled paper wrappers. 24 [of 80] pp.
€ 1,500
First and only edition, incomplete copy (lacks pp. 25-80). Unquestionably the rarest and most important of the early books printed in the Middle East, published in Cairo in the very year modern European printing was introduced into the Arab world: only in October 1798 did Jean-Joseph Marcel (1776-1854) arrive in Cairo with his employees and types to organize the Imprimerie Orientale. "For, leaving aside the Hebrew printing presses in Egypt of the 16th to the 18th centuries, until this date announcements and news adressed to Arabs there, as well as in other parts of the Arab-Islamic world, had been spread only in hand-writing or orally, by criers, preachers or storytellers" (Glass & Roper). Marcel's dictionary, supplemented by a French-Arabic phrasebook (p. 71 onwards), is a pocket-size guide to aid communication with the local population. Words and phrases are organized by subject (numbers, sizes and weights, heaven and earth, time, clothing, professions, military terms, animals, plants, antiques and monuments, etc.). Marcel's preface gives useful instructions for the correct pronunciation of certain Arabic letters (shown) and of the Arabic words and phrases, which are given in Latin transliteration throughout the volume.
Of the utmost rarity: no copies recorded in the trade or in auction records since the early 20th century; a single copy in Worldcat (BM Lyon), to which KVK adds two more in the UK (Bodleian and Cambridge University Library). The copy in the Bibliothèque nationale de France is incomplete, lacking the title-page and the final leaf.
Lacking pp. 25-80, as noted, and last leaf damaged, otherwise in good condition. Ebert 458; D. Glass & G. Roper, "The printing of Arabic books in the Arab world", in: Middle Eastern languages and the print revolution (2002), pp. 177-225, at p. 182; Schnurrer 141; not in Vater & Jülg; Zaunmüller; for the importance of the first modern printing press in the Arab world see also Albert Hourani, Arabic thought in the liberal age 1798-1939 (1983).
Related Subjects: