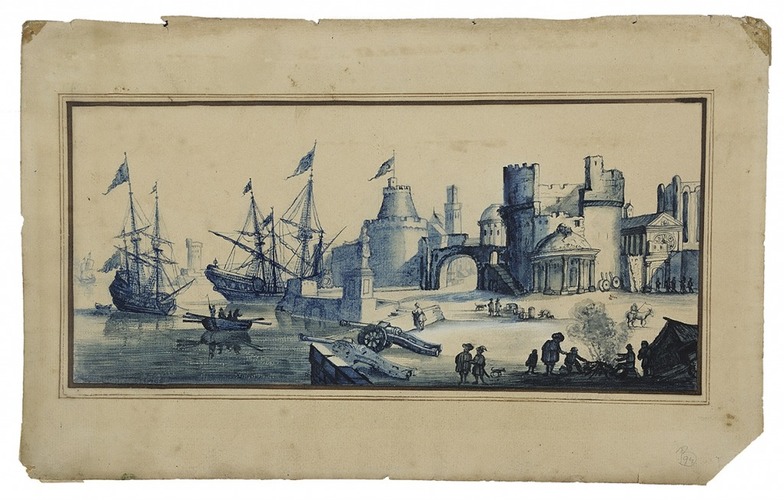 [PEETERS, Johannes (Jan) (after)].
[Ladimistri nel' archipelago].
[The Netherlands(?), ca. 1720?]. Oblong folio (19.5 x 31.5 cm). Pen and blue-black ink-wash drawing on laid paper, showing the city of Edremit, its harbour and fortifications, with an Ottoman and a Dutch(?) ship, and a lighthouse, in a brown thick-thin-thin border, signed in the border below right, but difficult to read (I. P. Sto...?, I. P. Ste...?). Framed (37 x 49 cm).
€ 2,750
A detailed ink drawing of the harbour of and fortifications of Edremit, an Ottoman port city on the west coast of Turkey. The drawing is made after Johannes Peeter's print Ladimistri nel' archipelago, originally engraved by Lucas Vorsterman the younger and first appearing 1664/65 in the series Diverse vis te[!] delli Dardaneli del' dtrecio come delle città e castelli nel archipelago. The series was published by Jacob (Jacques) Peeters (1637-1695), and the prints were engraved after drawings by his brother Jan (Johannes) Peeters (1625-1677), best known for his drawings of city views engraved by Merian. Johannes Peeters was a pupil of their eldest brother Bonaventura Peeters, a well-known painter and draughtsman, and specialized in maritime scenes.
Slightly browned and with a few small and mostly marginal stains. The foremost canon appears to have lost some of its ink, but the drawing is otherwise in good condition. The corners are damaged or discoloured from a previous mounting, far outside the border of the drawing.

Related Subjects: