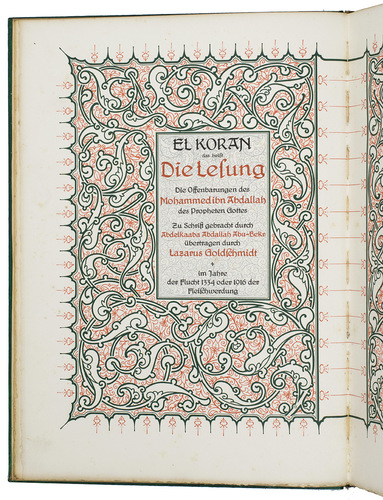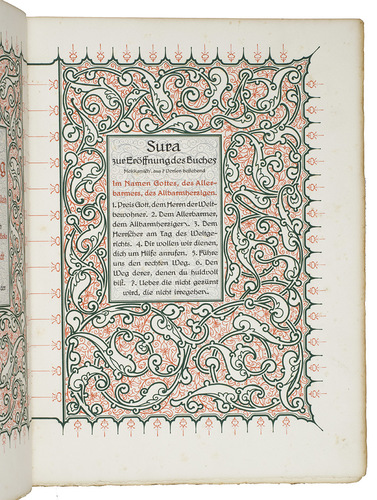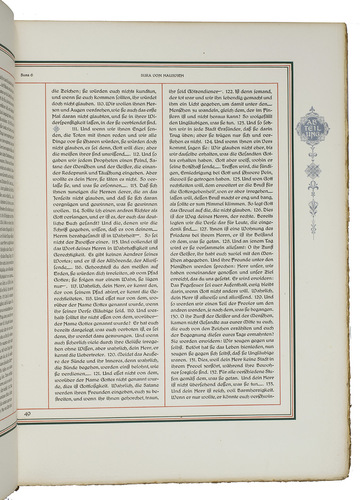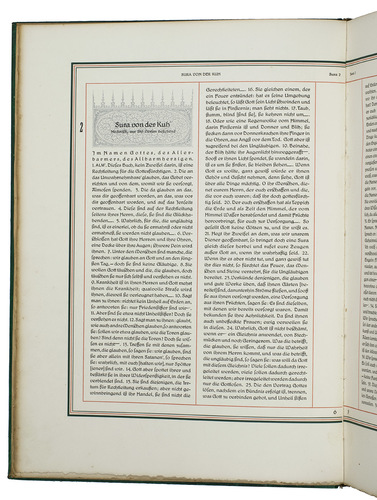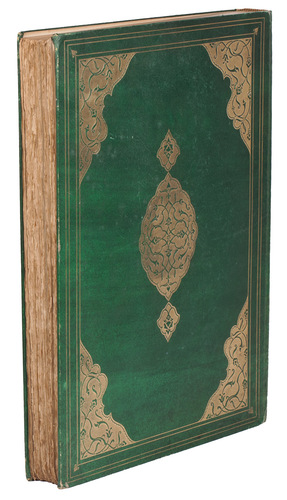 [QUR'AN]. GOLDSCHMIDT, Lazarus.
El Koran, das heißt die Lesung. Die Offenbarungen des Mohammed ibn Abdallah des Propheten Gottes.
Berlin, Brandus, 1916. Folio. With elaborately red, green and grey decorated title page and first page containing the first Surah, in the style of older manuscripts. All text is set in two columns, all in red and green frames, the Surah titles are set in grey decorated headpieces and with grey decorations in the margins denoting the different sections ("abteilungen"). Original green boards with gold-stamped oriental decorations, the title in gold on the spine, head edge gilt, and with red, green and gold headbands. 214, [1], [1 blank] pp.
€ 4,500
The most beautiful German Qur'an of the 20th century, issued as a limited edition on handmade paper. The present work is number 36 of 200.
The present work comprises a literal translation of the text after Gustav Leberecht Flügel's (1802-1870) famous mid-19th-century edition of the Qur'an. This edition was very important in presenting a reliable version of the original Arabic text to the West and it became the basis of the majority of translations of the Qur'an into European languages. The present edition was prepared by Lazarus Goldschmidt (1817-1950), who was a German Jewish orientalist, writer and translator. He was not only the first person to translate the entire Babylonian Talmud, a central text of Judaism, but he was also responsible for publishing the present beautifully decorated, limited edition German Qur'an. Goldschmidt oversaw all parts and processes in the publication of this Qur'an, from the decorations to the typesetting; he even used specially cut type (Delitzsch Antiqua) for the text.
The binding shows slight signs of wear, mainly around the spine which is slightly faded; edges slightly browned, occasional slight foxing, mainly to the gutters and margins of the pages, otherwise internally bright and clean. Overall in very good condition. (We were unable to check the following references:) Enay 121; Rodenberg 445.
Related Subjects: