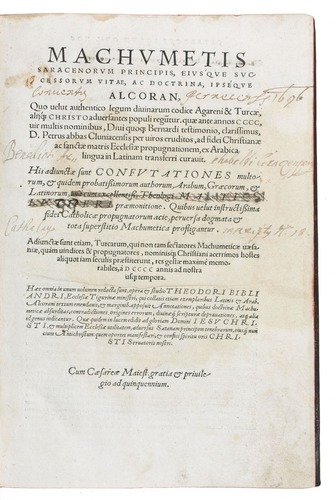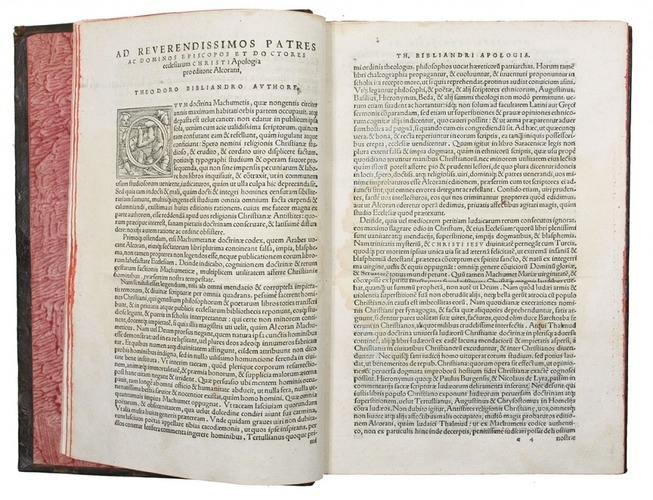 [QURAN - LATIN]. BIBLIANDER, Theodor, ed.
Machumetis Saracenorum principis, eiusque successorum vitae, ac doctrina, ipseque Alcoran, …
[Basel, Johann Oporinus, Nikolaus Brylinger, 1543]. Lacking 1 preliminary leaf in part 1 and 2 preliminary leaves in part 3 (removed by anti-Lutheran censors).
With: (2) PHILO OF ALEXANDRIA. Philonis Judaei Alexandrini, libri [1] Antiquitatum. [2] Quaestionum et solutionnum in genesin. [3] De essaeis. [4] De nominibus Hebraicis. [5] De Mundo.
Basel, Adam Petri, 1527. 2 works (1 in 3 parts) in 2 volumes. 20 (28×20 cm). Uniform, tanned sheepskin (ca. 1795), gold-tooled spines.
€ 35,000
First Latin edition of the Quran and the second edition in any language (after Paganino's Arabic edition, Venice, 1537/38, which survives in only 1 copy), complete with the extensive commentaries and historical additions in parts 2 and 3. The text is based primarily on an Arabic manuscript acquired by Pierre de Cluny and Bernard de Clairvaux in Toledo in the 12th century. De Cluny had it translated into Latin by the Englishman Robert of Ketton, also in Toledo, who completed his translation in 1143. Martin Luther acquired a copy of Ketton's 400-year-old translation and had Theodor Bibliander edit and publish it. It was a remarkable pioneering effort to make the text of the Quran available and readable among Western scholars. It long remained nearly the only source for any European who wished to study the Quran. Part 2 contains a compilation of earlier writings about Islam and the Quran, some printed in Greek and Latin parallel texts, including writings by Savonarola and Nicolaus Cusanus. The third part contains writings about the Ottomans, Islam, and Tamerlane's Mongol invasion.
The present copy has the first edition of five short works by Philo of Alexandria, a Jewish philosopher in classical Greece, bound after the text of the Quran in volume 1. It includes a work about Hebrew names, perhaps considered valuable to scholars studying the Quran.
With 3 early owners' inscriptions on the title-page. With a few worm holes in the gutter margin of the last few leaves of both volumes and occasional minor water stains or other minor blemishes. Otherwise in very good condition. The binding has some worm damage in the spine but is otherwise also very good. The first Latin edition of the Quran and the source for nearly all early Western Quranic studies.
Ad 1: VD 16, K2584; USTC 674633; cf. Göllner 1792-1793; ad 2: VD16, P2490; USTC 683921.
Related Subjects: