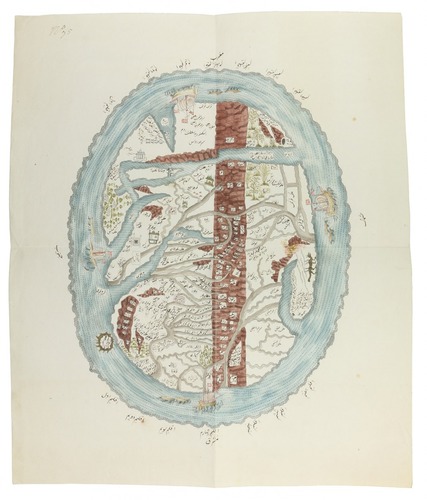 [WORLD MAP].
World map centered on the Arabian Gulf.
Probably Northern India or Kashmir, late 18th century. 50 x 42 cm. Ink and watercolours on heavy Dutch laid paper (watermark: D & C Blauw IV), with site identifications labelled in Persian and embellished with polychromatic watercoloured decorations. Matted and framed.
€ 75,000
Apparently a late copy of an as yet unidentified map originating in mediaeval Persia or Muslim India, showing some debt to the maps of the renowned geographers al-Bakri and al-Istakhri, and possibly to the Mughal map of Sadiq Isfahani. As in the early Greek conceptions of the world, the earth is encircled by an Okeanos-like river (the oblong shape possibly being inherited from Posidonius); while the map uses no meridians, it does incorporate the Ptolemaic notion of the earth divided into seven climes. A great number of labels in Nastaliq script identify realms, shrines, cities, mountains, and even curiosities throughout the inhabited world. Remarkably, this map is generally oriented with the West at top, although the illustrations and several inscriptions at the outside of the map show that the sheet was to be rotated. At the very centre is the Arabian (Persian) Gulf, extending towards the lower left following the coastline of Arabia, where the holy sites are clearly illustrated. Both India and Africa (the latter surprisingly diminutive) are indicated by charming drawings of elephants. The earth is shown as an enormous mass of land crossed, mostly north-south, by several large streams (some of them easily recognizable as the Nile, the Euphrates, the Tigris, the Ganges, and the seven rivers of the Punjab). A continuous vertical (east-west) mountain chain, comprehensive of the Caucasus, the Central Asian highlands and the Himalayan mountains, forms a massive wall separating Northern Europe (where humans grow on trees, much as the Tarikh al-Hindi al-Gharbi showed them to do in the New World) and Asia (where snakes and a winged dragon dwell among burning rocks) from the more expansive southern regions. For all its fanciful elements and low degree of geographical accuracy, the map is of remarkable artistic quality, a curious fusion of age-old tradition with modern techniques of illustration and figural representation, executed in charming, vibrant colour on late 18th century western paper (numbered "No 95" in a contemporary western hand at upper left).
Folded; insignificant traces of wrinkling, but very clean and well preserved.

Related Subjects: