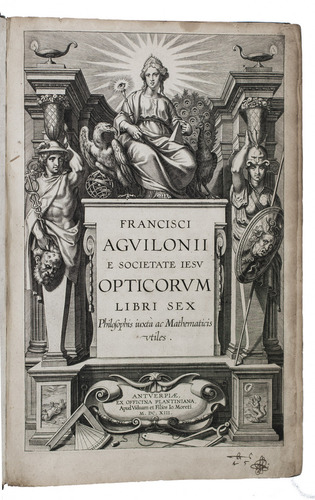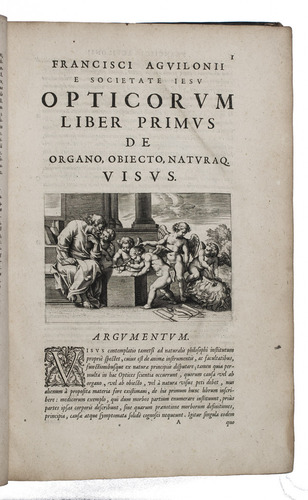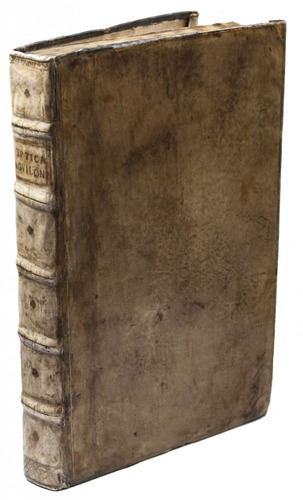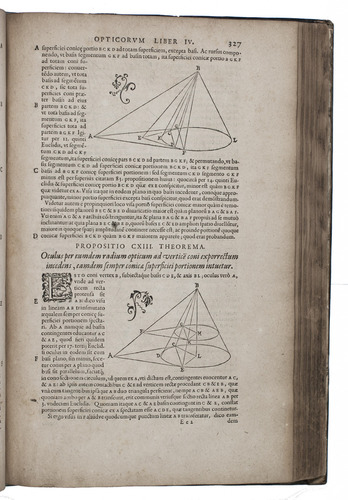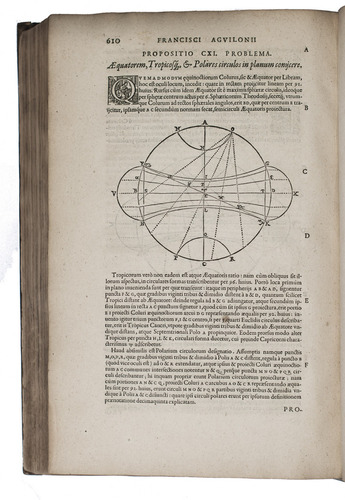 AGUILON, François de.
Opticorum libri sex. Philosophis iuxta ac mathematicis utiles.
Antwerp, Ex officina Plantiniana, widow & sons of Jan Moretus, 1613. Folio. With large woodcut printer's device on recto of last blank, engraved allegorical title-page by Pieter Paul Rubens, 6 allegorical half-titles engraved by Theodore Galle after designs by Rubens, and over 600 woodcut illustrations and figures in the text. Contemporary vellum. [48], 684, [44] pp.
€ 29,000
First edition of a classic on optics and perspective by the Jesuit François de Aguilon (1566-1617). The work, one of the few books illustrated by Pieter Paul Rubens, is a landmark in Baroque book illustration and presents a master work in optics. Aguilon was charged with the project of organizing in Belgium the teaching of exact sciences useful in commerce, geography, navigation, architecture and military engineering, which led to the composition of the present "master treatise" (DSB) on optics that synthesized the works of Euclid, Alhazen, Vitellion, Roger Bacon, Pena, Ramus, Risner and Kepler. Of special and the greatest interest are the fine allegorical title, providing a series of ingenious references to the alliance of vision and reason, and the beautiful perspective designs at the heads of each part, all designed by Pieter Paul Rubens. Some professional restorations to binding; some slight traces of use. Fine copy of a classic on optics which influenced numerous 17th-century artists and scientists. De Backer & Sommervogel I, col. 90; DSB I, p. 81; Honeyman 43; Kemp, Science of Art, p. 101 ff., et passim; Poggendorff I, col. 18; Sotheran 43-44; cf. Exhibition Cat. P.P. Rubens als boekillustrator (Antwerpen 1977), pp. 21-26, 3a-3j.
Related Subjects: