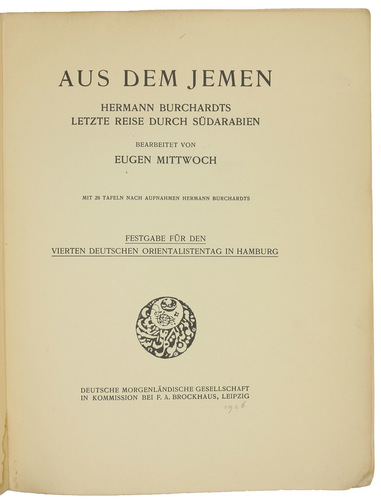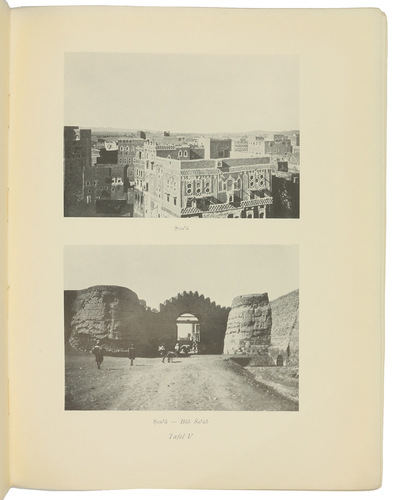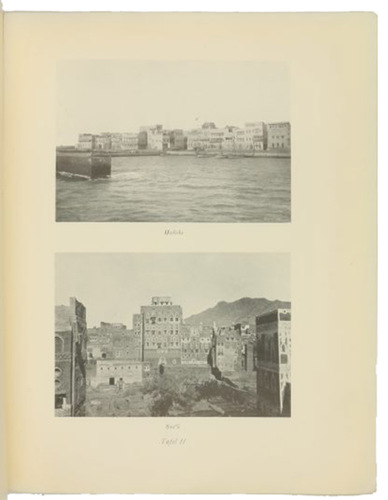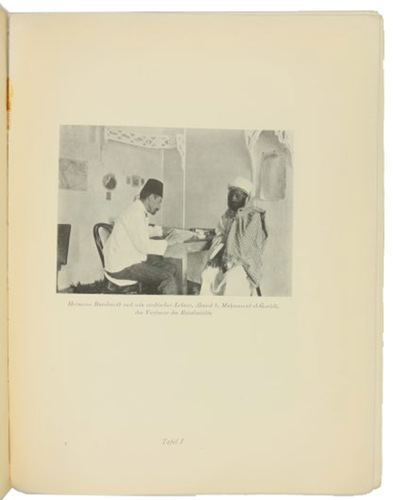 AL-GARADI, Ahmed Ibn Muhammad [and Eugen MITTWOCH].
Aus dem Jemen. Hermann Burchardts letzte Reise durch Südarabien. bearbeitet von Eugen Mittwoch...
Leipzig, Deutsche Morgenländische Gesellschaft in kommission bei F.A. Brockhaus, [1926]. 4to. 28 plates with 55 photos, 1 map on page 9. Text is partially in Arabic. Original paper covers. [4], 74 pp.
€ 200
First edition. Rare travelogue of Yemen, enriched with striking photographs. In Arabic and German parallel text. Prepared by Ahmed ibn Muhammad al-Garadi, the secretary, Arabic teacher and companion of the German explorer Hermann Burchardt (1857-1909), the book describes Burchardts travels in the south of the Arabian Peninsula, where he was ambushed and killed by gunmen in December 1909. Containing "important ethnographical information on crafts and the Jewish population", the account also boasts a wealth of photographs "of great documentary value" (Speake), including city views and landmarks of Sanaa, Taizz, and Mocha, such as tower houses in Sanaas old town, the Ashrafiya Mosque, the Grand Mosque in Mocha, and the ruined palace of Sultan Hasan, as well as pictures of local children, a group of Jews studying scripture in the synagogue, several men sitting around a water pipe, bedouins, farmers, and workers. The images impressively portray the destitution of the Yemenite population in the early 20th century.
In addition, the work includes annotations to the text of the travelogue, a list of examples of the Sanaa idiom, and an index prepared by the German orientalist Eugen Mittwoch, who also translated the Arabic text. Published as a festschrift for the Vierter Deutscher Orientalistentag in Hamburg.
Covers are somewhat browned, some stains on front cover and spine, fore-edge of front cover slighty damaged, spine damaged, otherwise in good condition. Speake, Literature of Travel and Exploration III, 1305. OCLC 907363736.
Related Subjects: