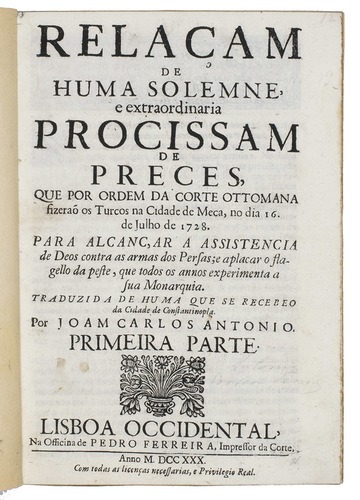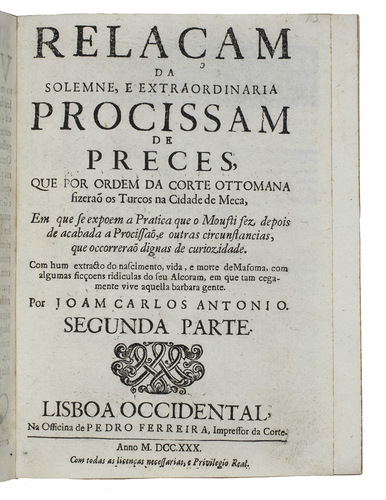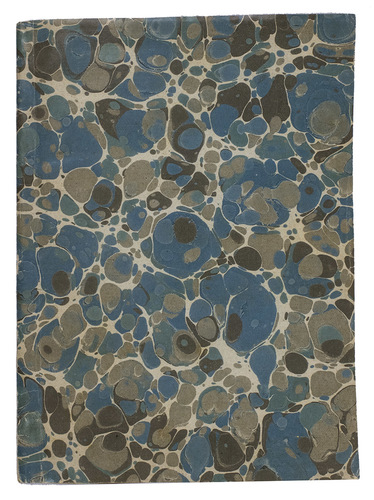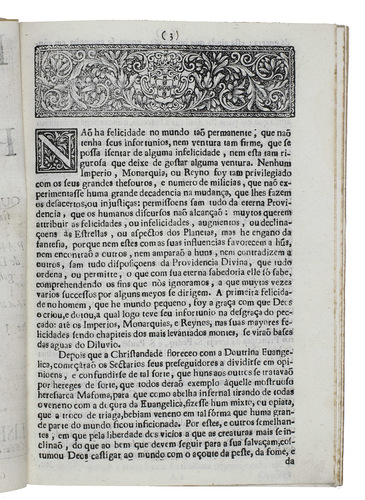 ANTONIO, João Carlos (pseudonym of António Correia de LEMOS).
Relaçam de huma solemne, e extraordinaria procissam de preces, que por ordem da corte Ottomana fizeraó os Turcos na Cidade de Meca, no dia 16. de Julho de 1728. ...
Lisbon, Pedro Ferreira, 1730. 2 parts bound as 1. 4to. With woodcut title vignettes, headpieces and initials. Modern blue marbled paper wrappers. 23, [1 blank]; 24 pp.
€ 7,500
First edition of a detailed description of a procession in the city of Mecca on 16 July 1728, ordered by Ahmed III, Sultan of the Ottoman Empire at that moment. It was written by António Correia de Lemos, whose pseudonym was João Carlos de Antonio. The first part of the work opens with some remarks on the Ottoman Empire and its greatest extent before Correia de Lemos focuses on the procession held at Mecca in 1728. The Sultan (the text calls for Mustafa II, but he already died in 1703, so Ahmed III seems more plausible) was depressed as a large amount of Persians were marching against the Ottoman Empire. To win the favor of God and Mohammed against the arms of the Persians and to quell the plague, which occured every year in the city, he ordered all governors and religious men in the Ottoman Empire to congregrate at Mecca for a Islamic prayer procession. The present work contains a large description of the preparations of the procession, the procession itself and detailed descriptions of the several groups which participated in it. The first part also contains translations of the edicts of both the Sultan as his Mufti dated 1727 (= AH 1140) and 1728 (= AH 1141). The second part of the work includes Mufti's speech held at Mecca, but also other details on the Muslim customs during the procession. The work ends with an extensive story of the life of the Islamic prophet Mohammed.
A few spots throughout, some very light toning to the wrappers, book block "broken" as both quires are glued on the wrappers, margins trimmed close to the text with loss of some quire signatures. Overall however in good condition. A very rare work on Muslim customs in Mecca, seldomly found complete. Coimbra, Catalogo de Miscelânea: MIsc. 17, 391-392; Innocencio, I, p. 116; VIII, p. 118; Porbase (1 copy; only part 1); WorldCat (5 copies; 2 copies only containing part 1).
Related Subjects: