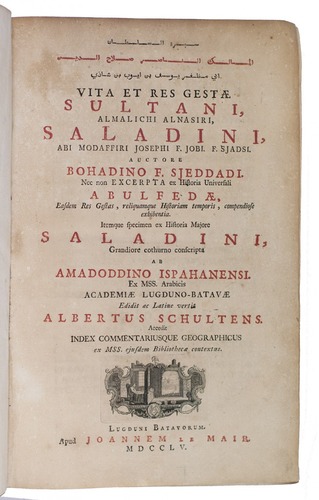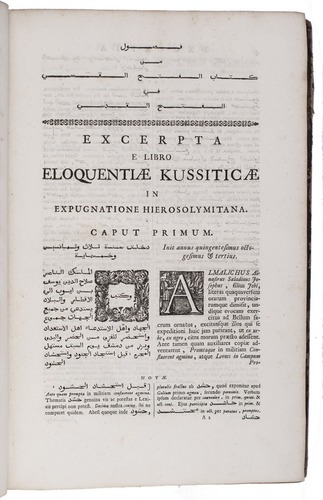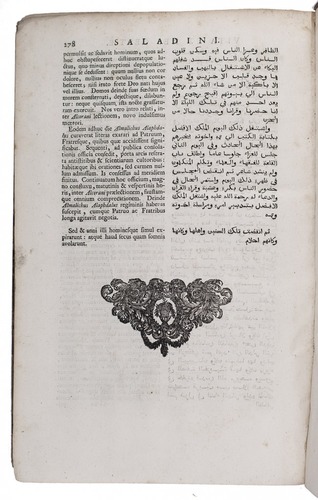 BAHA' AL-DIN IBN SHADDAD (BOHADIN) and Albert SCHULTENS (translator).
Vita et res gestae sultani, almalichi alnasiri, Saladini ... nec non excerpta ex historia universali Abulfedae.
Leiden, Johannes le Mair, 1755. Folio. With the title-page printed in red and black and with a woodcut device. Text in Arabic with parallel Latin translation. 19th-century boards covered with brown pastepaper.
€ 7,000
Reissue of the first edition of the standard biography of Saladin (1138-1193), the first Ayyubid sultan of Egypt and Syria, written by his secretary, Baha' al-Din ibn Shaddad (1145-1234). Saladin (or more properly, Salah al-Din) is renowned in the East as the great Mohammedan ruler who united the lands of Egypt, Syria, Palestine and Mesopotamia into a single Muslim empire. In 1187 he launched a "jihad" against the Christian invaders of the Holy Land and captured Jerusalem, showing clemency to the Christian inhabitants. He went on to drive the crusaders from every fortification in the land, except Acre, which he besieged unsuccessfully for two years. This volume also contains selections from the universal history of Abu al-Fida, a descendant of Saladin, who took part in the campaigns against the crusaders and later became sultan (1320). His history covers the period from creation to 1329. The editor and translator Albert Schultens (1686-1750) was a Dutch Orientalist, and regarded as the chief Arabist of his time.
Title-page browned, some minor foxing and some damp stains, mostly marginal, otherwise in good condition. Binding worn along the extremities, top and bottom of spine damaged.
Gay 2238; Schnurrer 175; not in Blackmer.
Related Subjects: