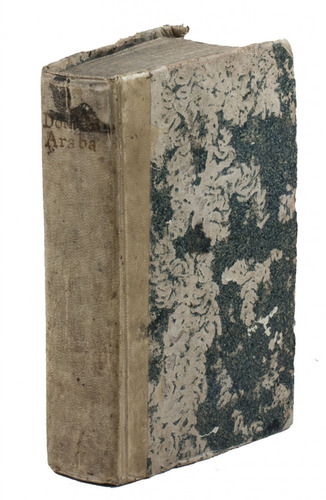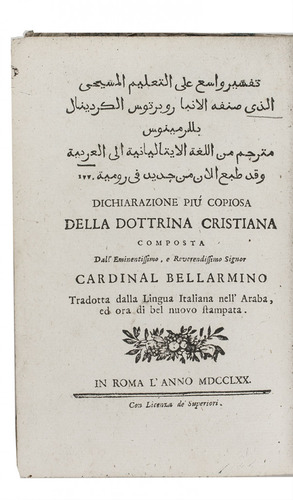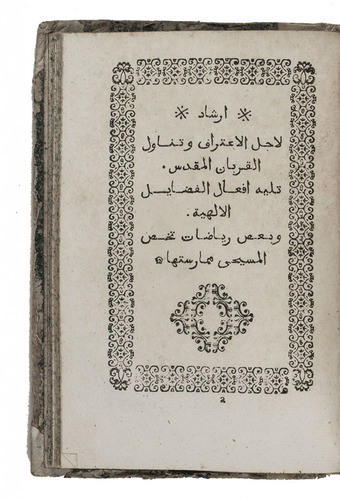 BELLARMINO, Roberto.
[Title in Arabic] | Dichiarazione piú copiosa della dottrina cristiana... Tradotta dalla lingua italiana nellaraba, e dora di bel nuovo stampata.
Rome, [Propaganda Fide], 1770.
With: (2) BORGIA, Stefano. Irsad li-ajl al-i'tiraf wa-tanawul al-qurban, ... [= Instructions for confession and communion]
[Rome, Propaganda Fide, 1770?].
2 works in 1 volume. 8vo. The catechism with a woodcut of fruits and branches on the title-page and 2 woodcut headpieces The instructions with the title in a decorative border built up from cast fleurons, 1 woodcut headpiece and several further decorations built up from cast fleurons. Except for the bilingual title-page to the Bellarmino and the imprimatur on the last printed page of the Borgia, both works are set entirely in Arabic type. Contemporary half sheepskin, manuscript title on spine, paste paper sides, sprinkled edges. 411, [1 blank]; 109, [1 blank], [1], [3 blank] pp.
€ 4,500
Ad 1: Third Arabic edition of the complete text of Bellarmino's immensely popular catechism. The catechism was translated into Arabic for the use of Catholic missionaries.
Ad 2: Rare first and only edition of Stefano Borgia's Arabic instructions for confession and communion. Borgia (1731-1804) was appointed secretary of the Propaganda Fide in 1770, the year they published the third Arabic edition of Bellarmino's catechism. He added the present instructions, apparently intending them to be bound with the catechism.
Very good copy, with only a few brown spots and a small hole in p. 337. Binding with a large spot at the first part of the title on the spine and the paper on the sides rubbed, especially at the back cover; but still firm and good. Ad 1: De Backer & Sommervogel I, col. 1190; ICCU (2 copies); Schnurrer 303; WorldCat (5 copies); ad 2: De Backer & Sommervogel I, col. 1190 note; KVK & WorldCat (4 copies); ICCU (2 copies); Schnurrer 303 note.
Related Subjects: