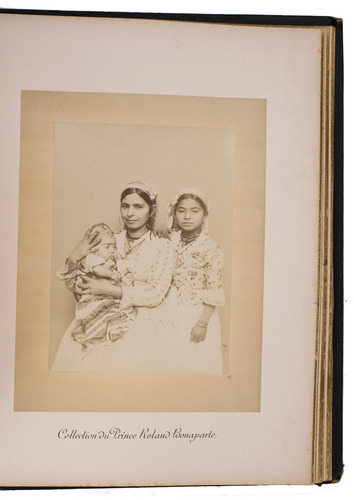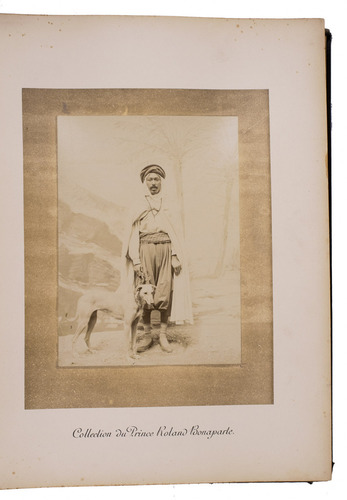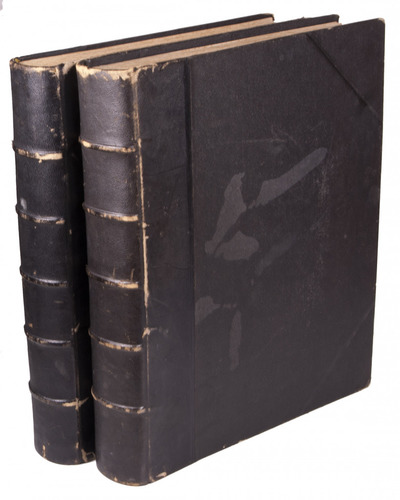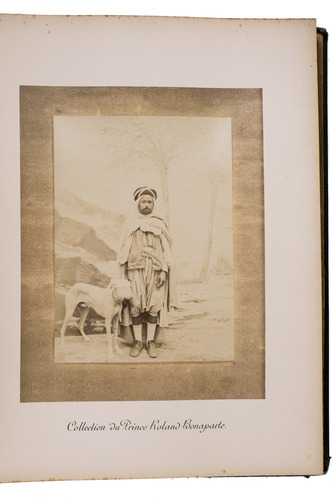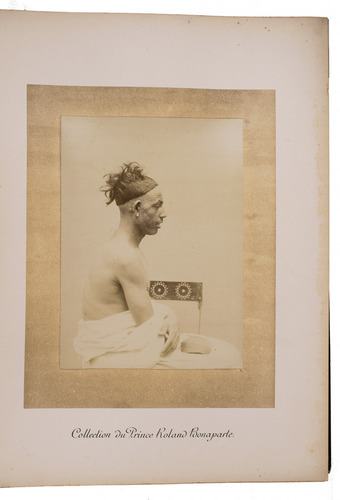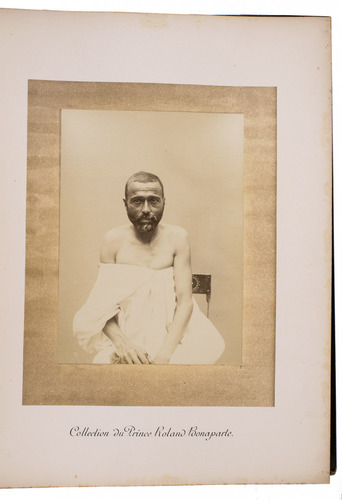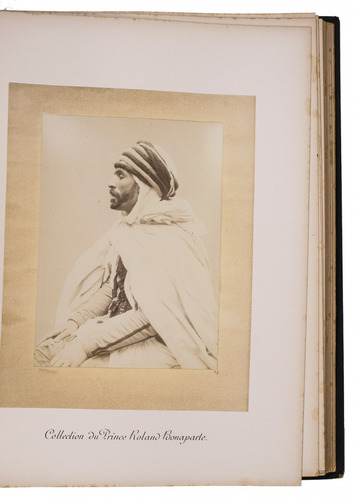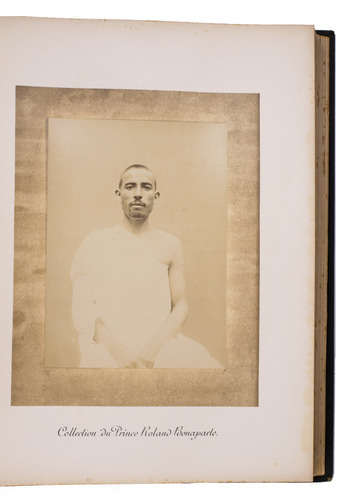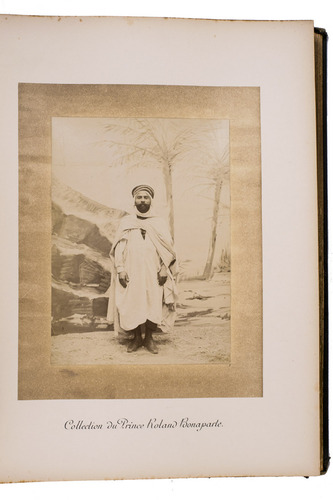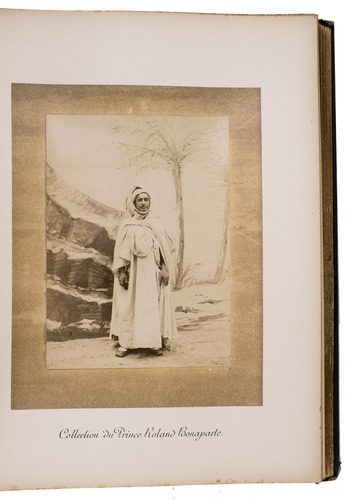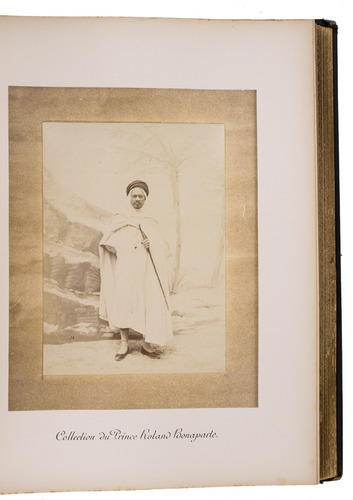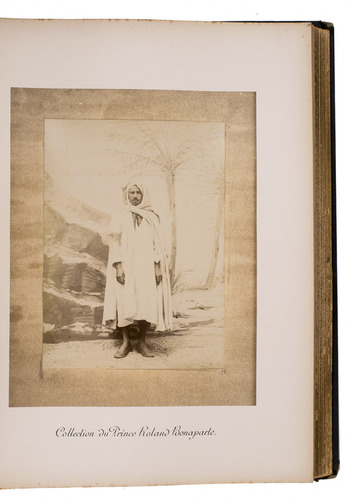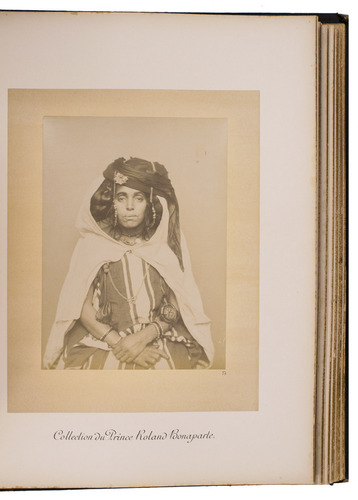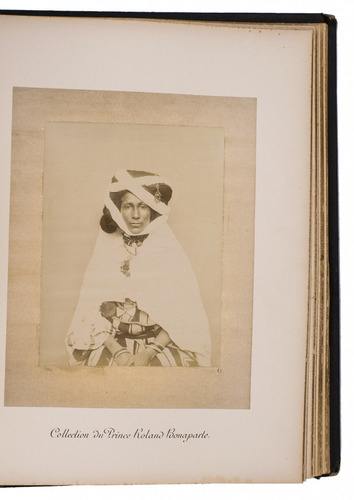 BONAPARTE, Roland.
[Collection anthropologique du Prince Roland Bonaparte: Afrique du Nord].
[Paris (photographs taken in Algeria), ca. 1889]. 2 volumes. Two albums (41 x 34 cm), each containing 50 photographic portraits (21 x 15.5 cm), each photograph mounted over a brown-gold tint block on a thick paperboard leaf, with "Collection du Prince Roland Bonaparte" printed in script lettering in the foot margin below. Contemporary and uniform black half sheepskin. [50], [50] ll., each with a mounted photographic print.
€ 18,000
A pair of albums containing 100 original photographic studio portraits of at least mostly Algerian Berbers, some variously described elsewhere as "Arabes et Touaregs" or "Algériens et Kabyles". They were made by and/or under the direction of Prince Roland Bonaparte, most or all in one studio that he set up, probably in Kabylië, a mountainous region in northern Algeria, east of Algiers, though the sitters could be ethnic Tuaregs, whose traditional lands in the Sahara included southern Algeria. Bonaparte presented many of these photographs at the Exposition Universelle held at Paris in 1889. Kabylië had remained largely independent when most of Algiers was governed by vassals of the Ottoman Empire and was one of the last regions conquered by the French in 1830.
Prince Roland Bonaparte (1858-1924), grandson of Napoleon's brother, was a geographer, ethnologist, member (from 1910 to his death president) of the Société de Géographie, and photographer, though many photographs that appeared under his name were taken by photographers whom he hired and directed, including Felice Beato (1832-1909). In what Bonaparte and his crew intended as scientific studies, they photographed and measured indigenous peoples in or from many regions around the world. For the 1889 Exposition Universelle at Paris Bonaparte published several small collections of his photographs under the title Collection anthropologique du Prince Roland Bonaparte with subtitles indicating the cultural group shown, but except for a larger collection of Hottentot (Khoikhoi) portraits they contained only 22-31 photographs each. One of these published collections shows "22 phot. anthropologiques d'habitants de l'Afrique du Nord".
Three photographs in the first album are somewhat spotted, and the sitters in one of them and one other portrait are slightly blurred, apparently because they moved during the exposure, but the prints are otherwise in very good condition, with only some slight fading. One of the mounts is foxed and another shows a fold, neither affecting the photographic prints. The bindings show a few scuffs but are still in good condition. For Bonaparte: Encyclopedia of nineteenth-century photography, vol. 1, pp. 172-173.
Related Subjects: