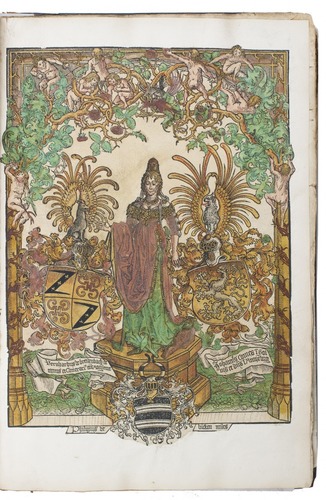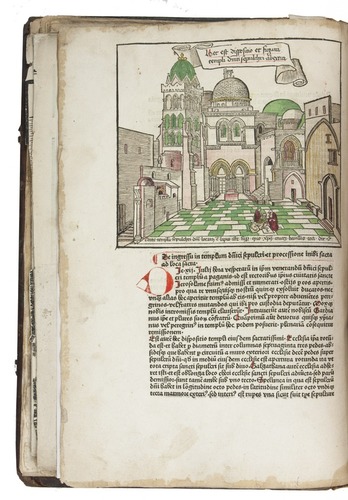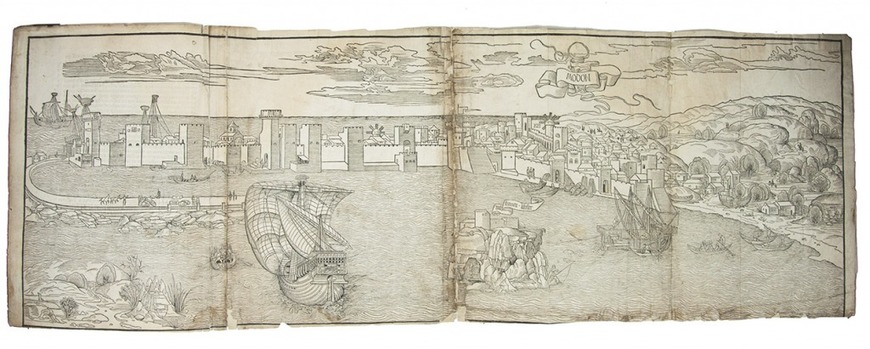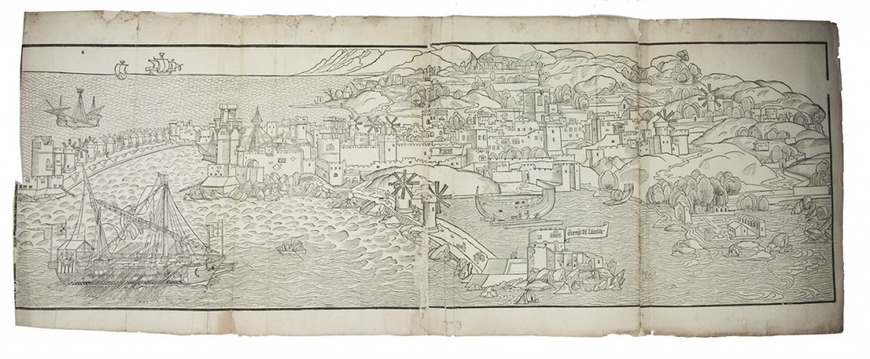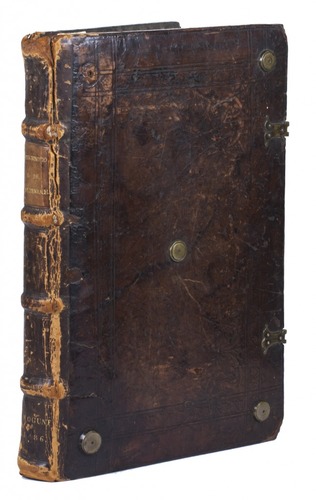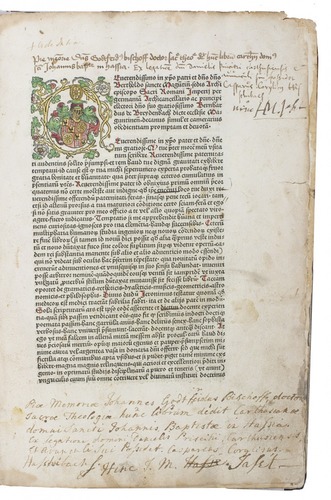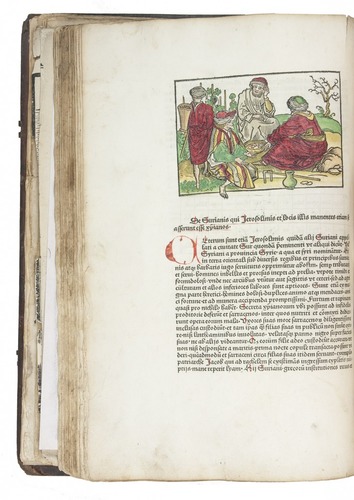 BREYDENBACH, Bernhard von.
[Peregrinatio in Terram Sanctam].
(Colophon: Mainz, printed by Erhard Reuwich, 11 February 1486). Chancery folio (33 x 22.5 cm). With a woodcut frontispiece, a woodcut female figure with the Henneberg arms below the colophon, 3 (of 7) double-page and larger folding plates with large woodcut views; 5 (of 7) woodcut illustrations and 5 (of 6) woodcut alphabets of exotic languages; all woodcut views on the integral leaves and one folding plate coloured by a contemporary hand. With about 110 spaces left for initials, filled in with red "Lombardic" uncials; rubricated throughout. Lacking 4 plates and 1 printed integral leaf, and with 2 other (uncoloured) plates added from other copies (one from a later edition). Contemporary panel-stamped and blind-tooled calf over wooden boards. [132 (of 133)] ll. plus 3 (of 7) woodcut plates.
€ 45,000
First edition, in the original Latin, of the first illustrated travel account ever printed, considered the first authentic Western source for the Near and Middle East, as the text and illustrations were prepared based on actual observation of the sites and people described. Bernard Breydenbach (ca. 1435/40-1497), a canon of Mainz cathedral, set off from Oppenheim in April 1483 to join a pilgrimage to the Holy Land, accompanied by two friends. They took along an interpreter and the painter Erhard Reuwich (ca. 1455-ca. 1490), originally from Utrecht, who provided a visual documentation of the trip. The present first edition gave many Europeans their first view (both figuratively and literally) of Middle and Near Eastern people, costumes, animals, architecture, religions, cultures and languages. The Middle East attracted many travellers from both East and West, so Breydenbach was able to provide first-hand accounts of people even from regions beyond those he visited.
With owners inscriptions and manuscript notes. Lacking 1 integral leaf (with 3 woodcuts) and 4 large folding views, while the views of Methoni and of Rhodes have been loosely inserted. Further with the frontispiece cut down to the border and mounted, some small marginal stains, tears and chips and some smudges. Binding rebacked and with some scuffs, chips and cracks. In spite of these defects most of the surviving leaves are in very good condition and nearly untrimmed. A masterpiece of woodcut artistry and book production, and a ground-breaking source for European knowledge of the Middle and Near East. BMC I, pp. 43-44; Davies, Breydenbach I (pp. 1-4); Goff B1189; GW 5075; Howgego B160.
Related Subjects: