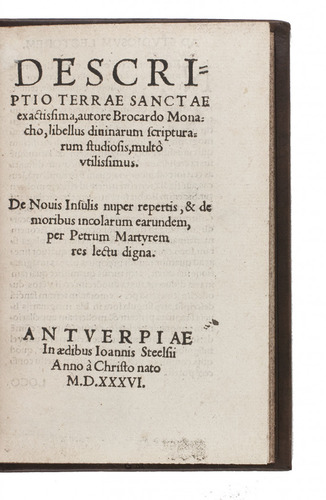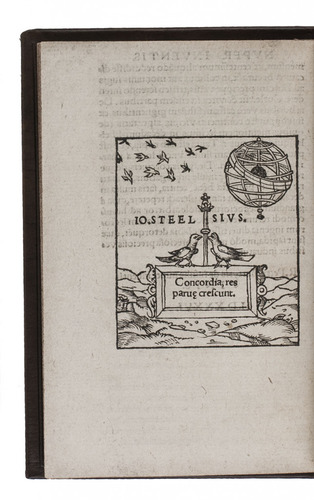 BUCHARDUS (BROCARDUS).
Descriptio Terrae Sanctae exactissima, ..., libellus divinarum scripturarum studiosis, multo utilissimus.
Including: MARTYR D'ANGHIERA, Peter. De Novis insulis nuper repertis, & de moribus incolarum earundem.
Antwerp, Joannes Steels, 1536. Small 8vo (14.5 x 10 cm). With 2 woodcut initials and Steels's woodcut device at the otherwise last blank page. Modern blind-tooled calf. [48] ll.
€ 5,500
First edition in this form of Burchardus's account of his travels in the Holy Land, with an early description of the New World by Peter Martyr.
The German Dominican Buchardus, known in English as Burchard of Mount Sion, travelled extensively in the Holy Land around 1283. The narrative manifests a spirit of research and comparison and a rare sense of understanding. His geographical descriptions are very exact and based on his own observations. It is the most detailed account of the Holy Land to have come down to us from the 13th century and one of the last before the fall of the Kingdom of Jerusalem in 1291. The text was adapted from the 1532 edition of Grynaeus's Novus orbis.
Peter Martyr (1455-1526) was a prolific Italian geographer and historian. Among his many works this history of the discoveries of the New World ranks high. It describes the discovery of Cuba and other islands, and like Buchardus's work it was included in Grynaeus's Novis orbis.
The last page apparently exists in two states: some copies have the name of the printer, Johannes Grapheus, printed below the device of Steels.
A very good copy. Alden & Landis 536/3; Medina, BHA 100; Nijhoff & Kronenberg 500; Sabin 8150; USTC 403941.
Related Subjects: