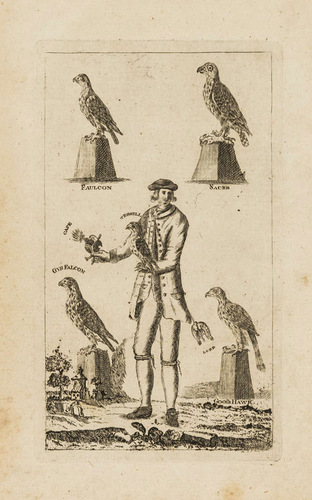 CAMPBELL, James.
A treatise of modern faulconry: to which is prefixed, from authors not generally known, an introduction, shewing the practice of faulconry in certain remote times and countries.
Edinburgh, Balfour & Smellie for the author, 1773. 8vo. With an engraved frontispiece depicting a falconer. Contemporary half calf. IV, 264 pp.
€ 1,800
First edition of a manual for the art of falconry, explained "in a plain and simple manner" (Edinburgh magazine and review). The author, James Campbell, was falconer to the Earl of Eglington. He here discusses many aspects of falconry in many chapters, covering different kinds of hawks and falcons. He explains how to raise and train young hawks, dwells upon the proper times of feeding hawks in order to have them ready for flying at any particular time and the proper food for them, and speaks of the management of hawks during games and of birding them. He also discusses bathing hawks and treating their illnesses. The several kinds of hawks and falcons covered include the merlin, hobby, gyrfalcon, goshawk and sparrowhawk as well as circumstantial categories, such as the haggard falcon. Pages 259-264 contain a glossary.
Central split in the spine and joints cracked but holding, spine ends and corners worn, rubbed. Some foxing, occasional water stains at the head, slightly browned. ESTC T100896; Harting 49; Schwerdt I, 93; The Edinburgh magazine and review by a society of gentlemen, 1773, vol. 1 (no. 12, for December), pp. 92-93.
Related Subjects: