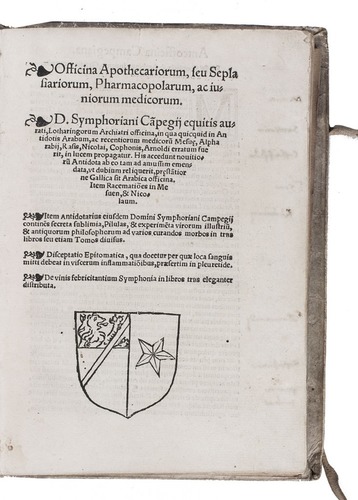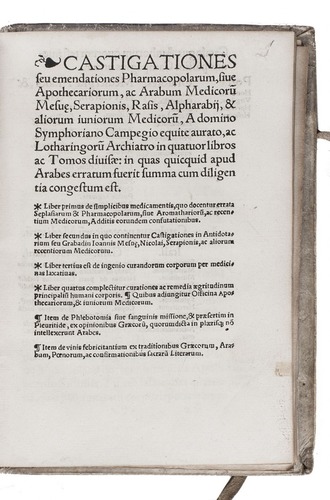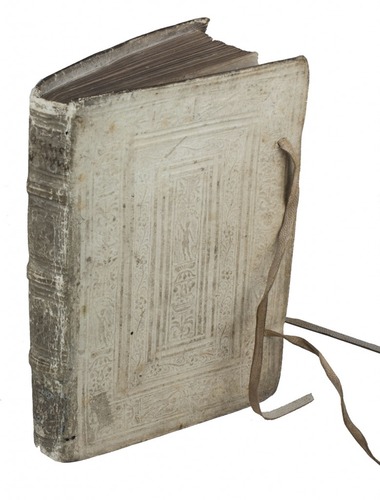 CHAMPIER, Symphorien.
Castigationes seu emendationes pharmacopolarum, sive apothecariorum, ac Arabum medicorum Mesue, Serapionis, Rafis, Alpharabii, & aliorum iuniorum medicorum...
(Colophon: Lyon, Johannes Crespin, 1532). 2 parts in 1 volume (bound in reverse order). 8vo. With armorial woodcut on title-page to the second part (bound as opening title-page), repeated several times in text, and numerous woodcut initials. Contemporary vellum, richly blind-tooled in a panel design. LVI, CXII ll.
€ 12,500
First and only edition of a work on the history of medicine by the French doctor Symphorien Champier (1472-1539). During his career Champier switched several times from being appreciative to critical towards Arab authors. In one of his earlier works, he describes Avicenna (Ibn Sina) as "a man of most outstanding genius and certainly the most distinguished of all" (Siraisi). On the other hand, he later criticised Italian doctors, "who allowed their schools to be occupied by 'Arabs, Persians, Indians and Mahometans'" (Siraisi). In the present work, which he wrote late in his career, he takes a more moderate view, admitting that Arabs indeed made useful contributions to the study of medicine, and calling Avicenna the noblest of them all. The text can be seen as a brief history of medicine, dividing it in three sections: Greek, Latin and Arabic medicine. For the Latin he makes a distinction between Latini, those who follow Galen and Hipprocrates (Boqrat), and barbari, those who set out their own path.
With some manuscript annotations in the margins. The two parts bond in reverse order. Very slightly browned and some occasional minor spots. Binding has the corners bumped and the spine soiled. Overall a very good copy. Durling 930; Parkinson 505; cf. N.G. Siraisi, Avicenna in renaissance Italy: the canon and medical teaching in Italian universities after 1500 (1987), pp. 71-73.
Related Subjects: