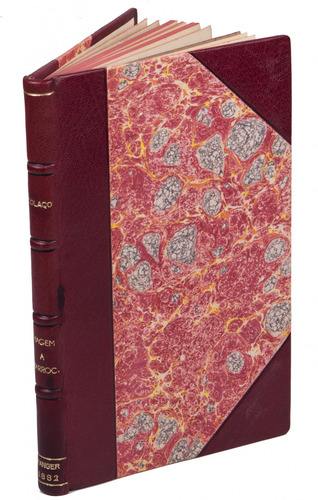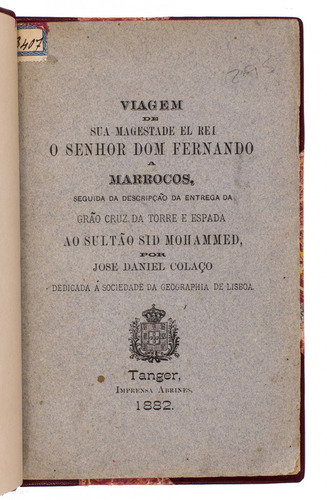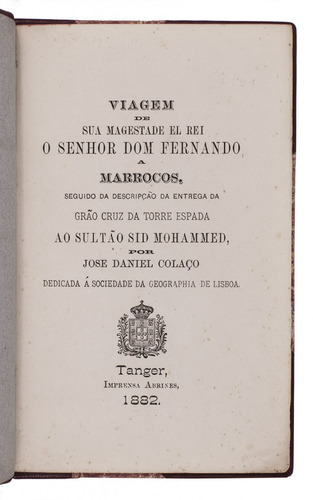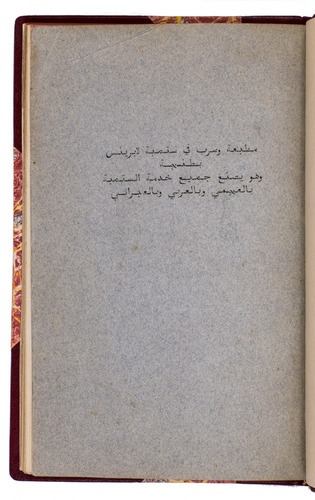 COLAÇO, José Daniel.
Viagem de Sua Magestade El Rei o Senhor Dom Fernando a Marrocos, seguido da descripção da entrega da Grão Cruz da Torre e Espada ao Sultão Sid Mohammed.
Tangiers, Abrines, 1882. 8vo. Modern maroon half morocco, preserving the original publisher's printed wrappers. VI, 122, [1 blank], [2], [1 blank] pp.
€ 3,000
First separately published and expanded edition of an account of the former King of Portugal, Dom Ferdinand IIs visit to Morocco, written by the Portuguese/Moroccan diplomat José Daniel Colaço (1831-1907). In the introduction Colaço states that a printing press had just been set up in Tangiers and that this is its first product. Colaço was born in a family of Portuguese diplomatic agents, active in Morocco since the mid-18th century, and was appointed Deputy Consul of Portugal in Tangiers in 1856, the year of the present journey. He accompanied Dom Ferdinand just after the end of his reign. The account itself was first published in the Archivo Universal in 1856, but is here expanded with an account of the presentation of the Order of the Tower and Sword (a Portuguese order of knighthood) to Sultan Muhammad IV of Morocco, and an account of presentation of the same Order to his successor Hassan I.
A very good copy. For the author: Dicionário de orientalistas de língua Portuguesa (online).
Related Subjects: