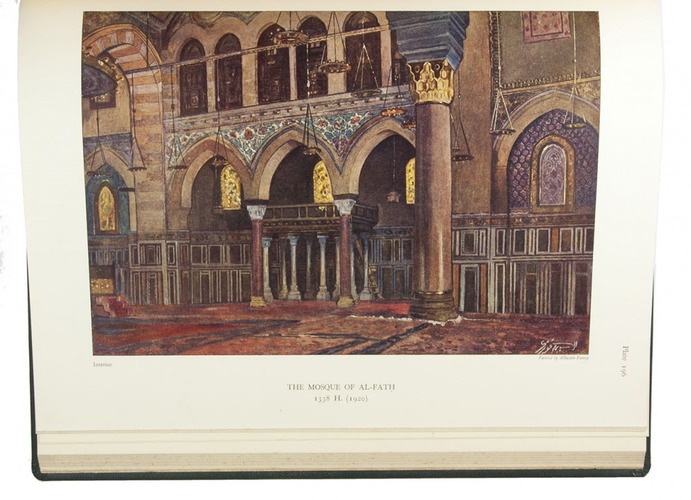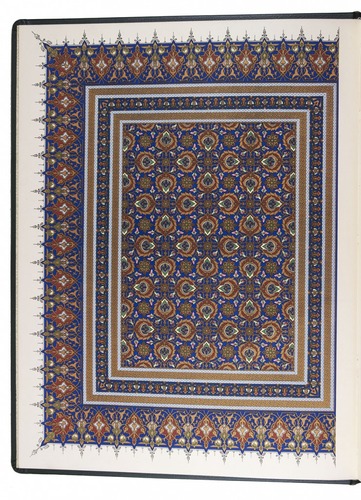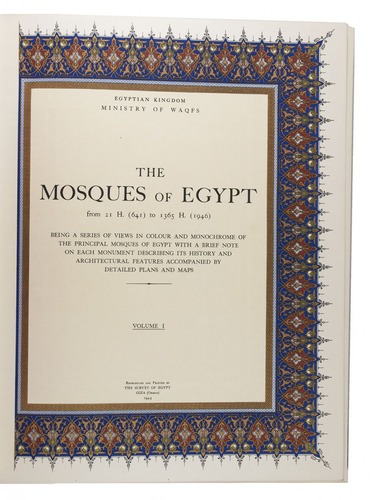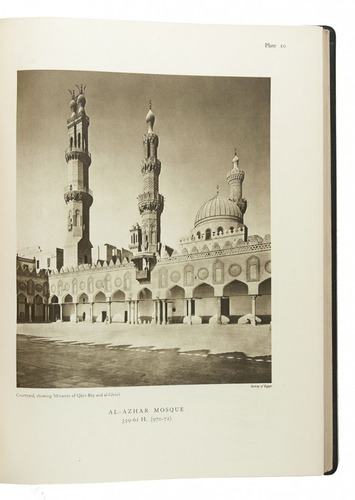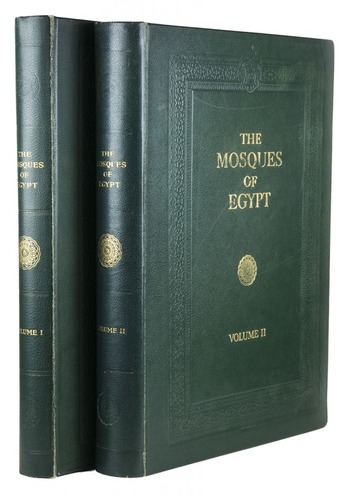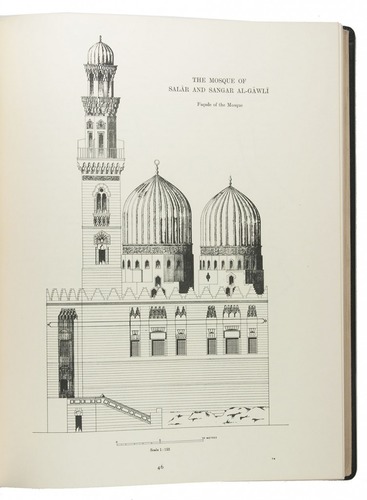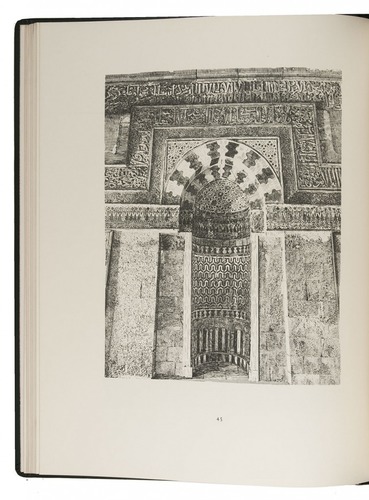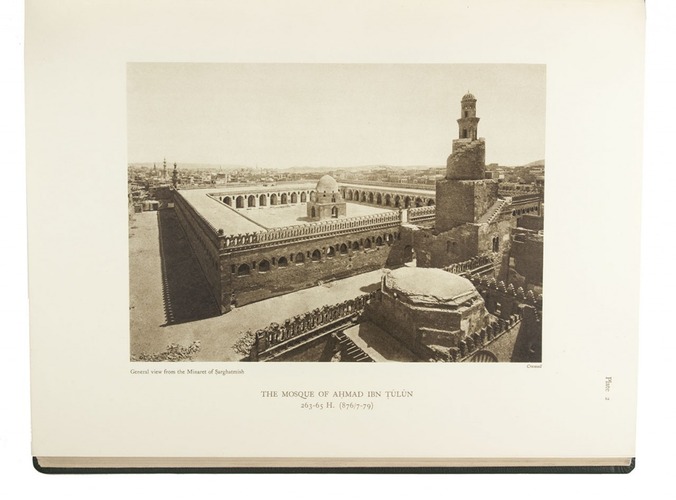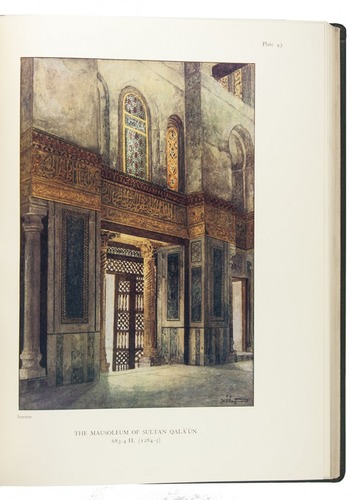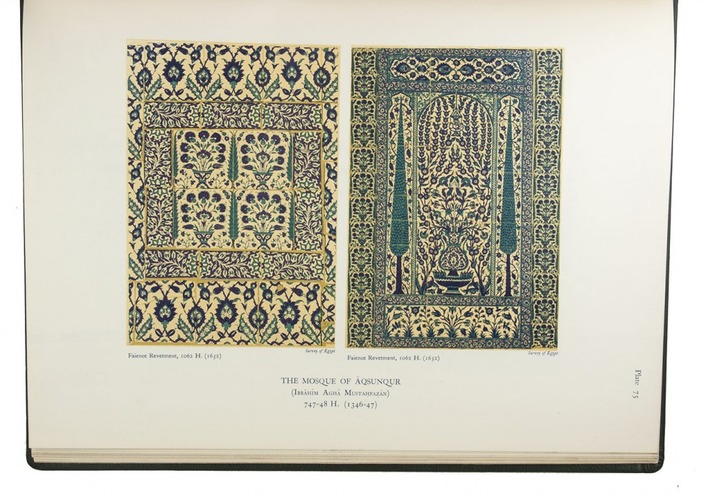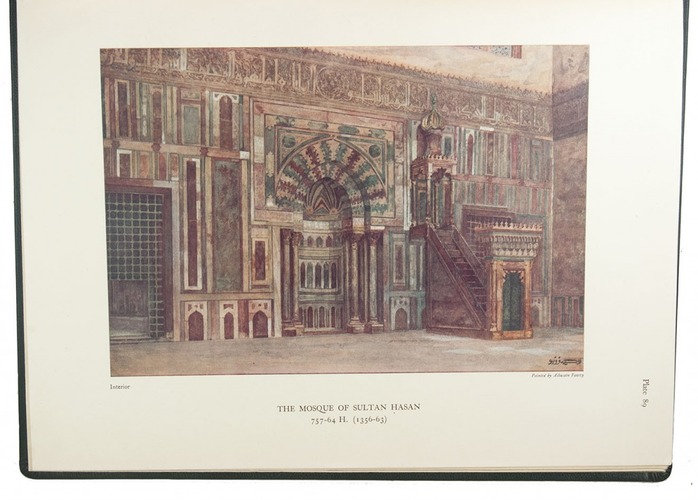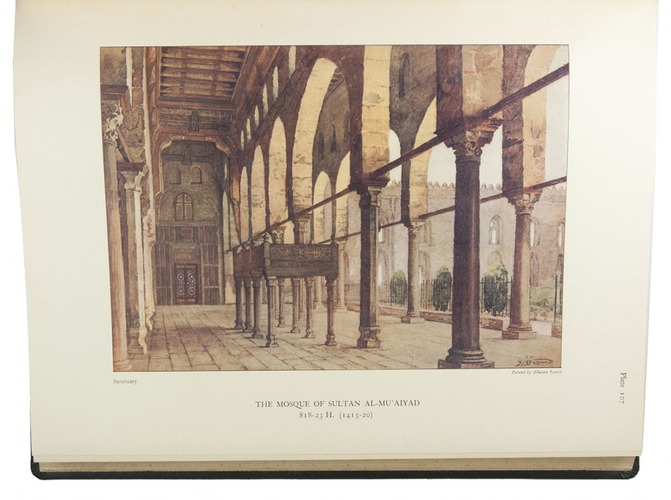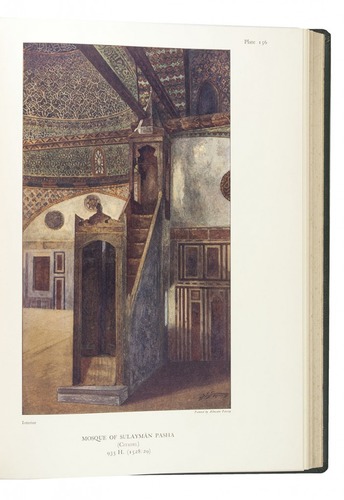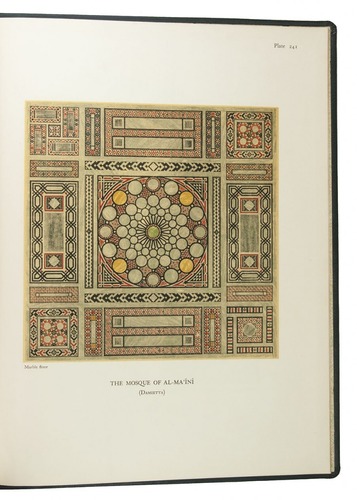 CRESWELL, Keppel Archibald Cameron, and others.
The mosques of Egypt from 21 H. (641) to 1365 H. (1946) being a series of views in colour and monochrome of the principal mosques of Egypt with a brief note on each monument ... accompanied by detailed plans and maps.
Including: Index to Mohammedan monuments in Cairo.
[Giza], Survey of Egypt, 1951.
Giza, The Survey of Egypt, 1949[-1954]. 2 volumes. Double Crown folio? (44 x 35 cm). Each volume with the chromolithographed title-page and frontispiece, 243 plates (image size mostly about 30 x 23 cm) showing mosques and architectural and decorative details (27 in colour): 216 in photogravure with sepia ink, 2 in photogravure with chromolithographed colour, 3 chromolithographed, and 22 in halftone offset lithography after paintings by Alhusain Fawzy. Further with about 100 offset lithographic line illustrations on the integral leaves (many full-page). The present second issue also includes 2 large folding chromolithographed maps (each 81 x 111 cm) and the loosely inserted index to these maps, dated 1951. Gold- and blind-blocked dark green coated cloth with a morocco texture.
€ 7,500
First English edition (second issue, with 2 chromolithographed maps added) of a splendid display of views, many in colour, of Egyptian mosques dating from 21 AH (641 CE) to 1365 AH (1946 CE), an official Egyptian government publication first published in Arabic in 1946 and here translated into English. Creswell himself called it "the finest piece of book production achieved in Egypt". Plates 1-206 show the mosques in chronological order, including exteriors, interiors and many architectural and decorative details, nearly every plate showing a single large image. These are followed by several series of plates covering specific aspects, mostly with multiple images per plate. The 133-page text discusses the history and form of all these mosques and their decorative work, with about a hundred line illustrations, including floor plans, elevations, sections, architectural and decorative details, kufic and other inscriptions and furnishings. The two 5-colour lithographs of faïence arabesque decoration are stunning, apparently printed with special glossy inks, and the photogravures provide lovely views of the mosques and details.
In fine condition with only a small tear in one guard leaf and a couple minor marginal smudges. The binding is slightly worn at the hinges but still very good. A splendid view of Egyptian mosques and their decorative work, with 243 plates and a hundred additional illustrations.
Sotheby's, Blackmer Library1214; WorldCat (4 copies of this issue).
Related Subjects: