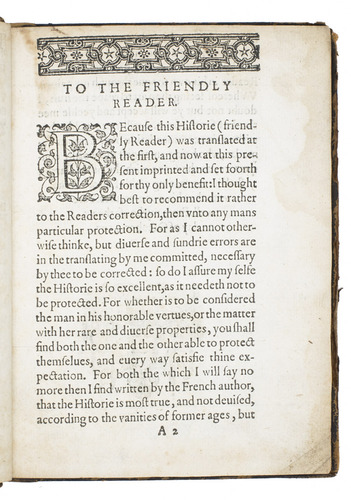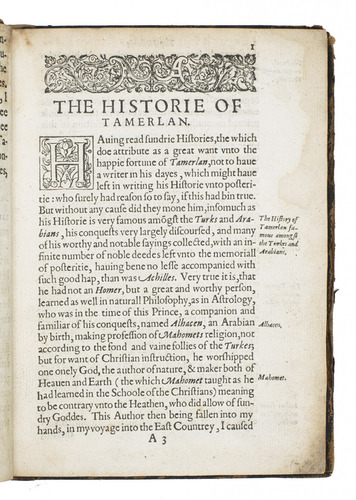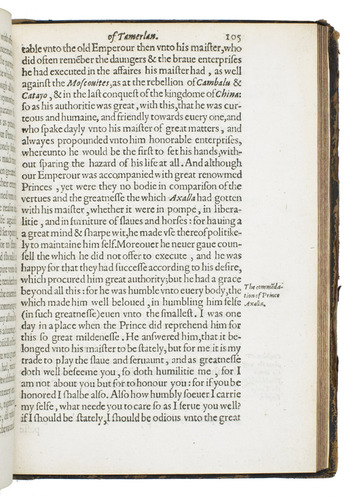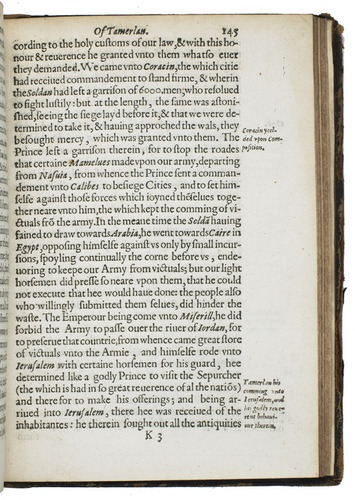 DU BEC-CRESPIN, Jean.
The historie of the great emperour Tamerlan wherein are expressed, encounters, skirmishes, battels, sieges, assaults, skalings, taking of cities and strong places, defended, and assaulted, with diverse stratagems of warre, the which this great and renowned warriour hath conducted and accomplished, during his raigne of fortie or fiftie yeares: with other instructions for the warre, which should not be unknowen of them that would attaine unto the knowledge of armes. Drawen from the auncient monuments of the Arabians, by messire Jean du Bec, abbot of Mortimer. Newly translated out of French into English, for their benefite which are ignorant in that language. by H.M.
London, R. Field for Willam Ponsonby, 1597. 4to. With a woodcut device on the title-page, woodcut initials, head- and tail-pieces.17th-century calf, 19th century gold-tooled spine. [4], 265, [1] pp.
€ 35,000
Very rare first edition of the first English translation of Histoire du grand empereur Tamerlanes (Rouen 1585), the first European account of the life of Timur (Tamerlane) based on an Arabic source. The successful and barbaric 14th-century conqueror Timur created an empire stretching from Syria to India, rivaled the Ottoman Empire and ventured to China. In 16th century England Timur was made famous through Christopher Marlowe's play Tamburlaine (1590). Marlowe had access to Du Bec-Crespins French manuscript (Martin), so even though the present English account appeared seven years after Marlowes famous play, it translates the French text that served as his main source. The story of Timur was already known in Europe through several authors, but Du Bec-Crespin stands out as the first European author who based his work on an Arabic source, which he calls "Alhacen". Arabic authors were responsible for the survival of the supposed autobiography of Tamburlaine, the Mulfazat Timury. The English translation is sometimes credited to Humphrey Mildmay.
Small owner's mark of James Sotheby (1682-1742) in pencil on title-page "J.S. Sept 23rd, 1731"; bookplate on front paste-down of C.W.H. Sotheby; bookplate of Dr. & Mrs. H.R. Knohl "Fox Pointe Collection". Lacking the final blank leaf. Light stain in the margin of the first and last few pages. Leaves trimmed a little close at the head, occasional marginal marking or finger-soiling. The binding is slightly worn, corners bumped. Otherwise in very good condition. ESTC S109956; M.R. Martin (ed.), Tamburlaine the great, pp. 16-18. McJannet, L., The Sultan speaks, p. 97.
Related Subjects: