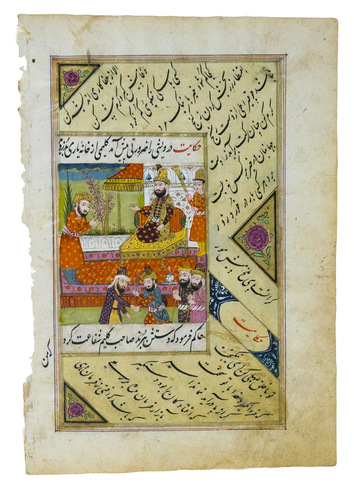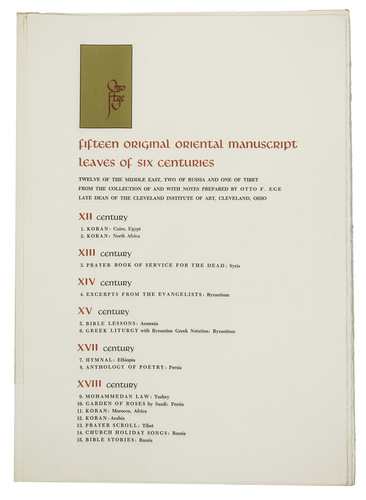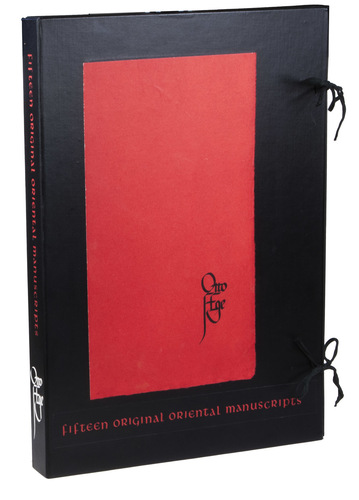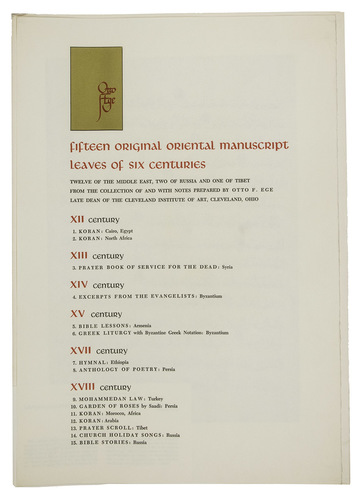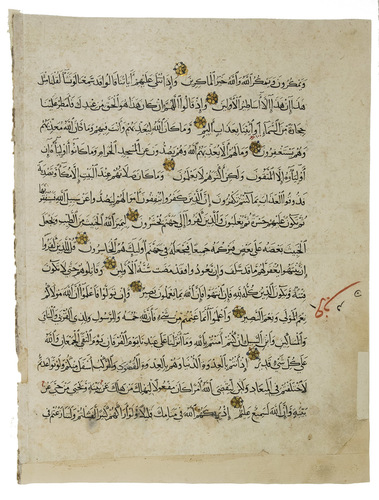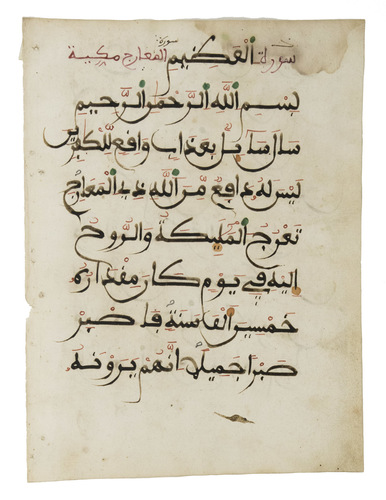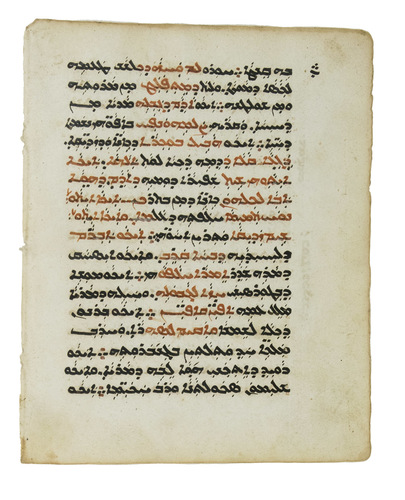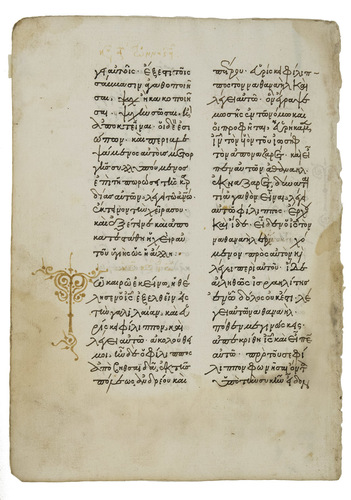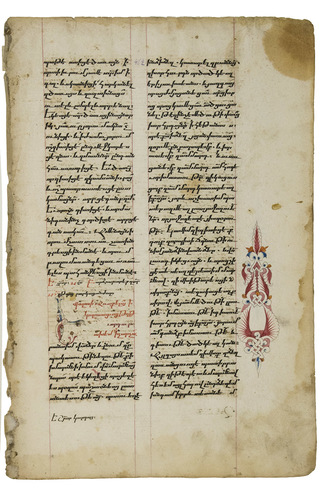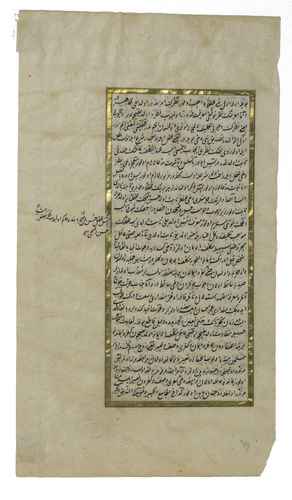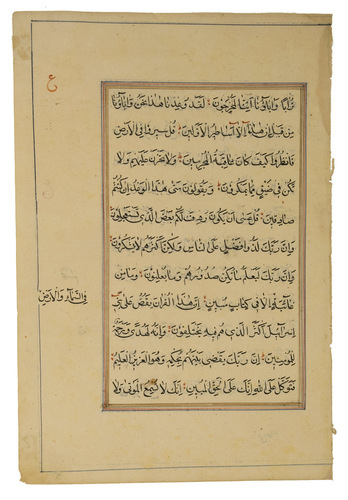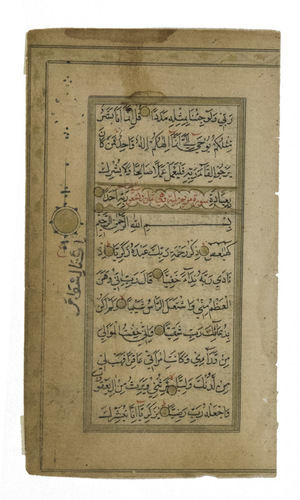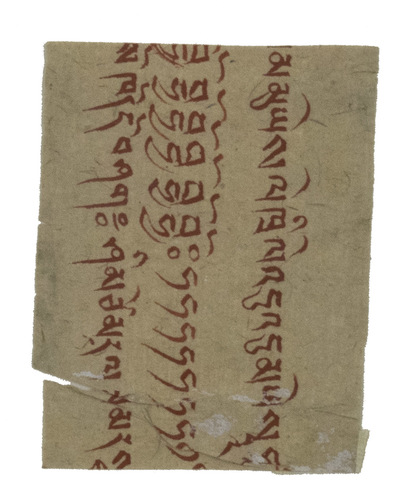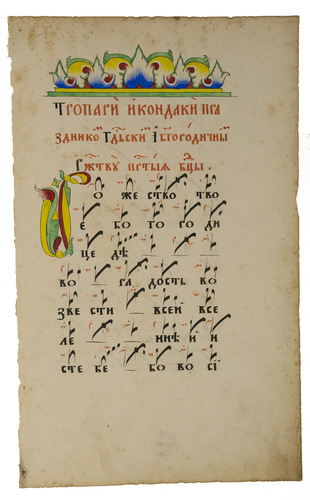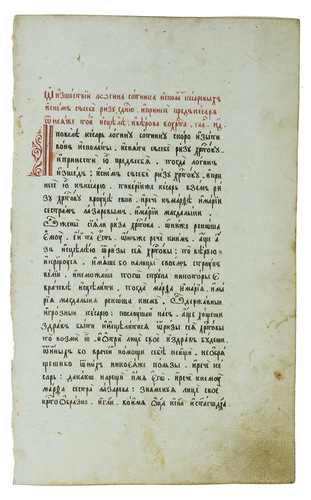 EGE, Otto F.
Fifteen original oriental manuscripts.
[Compiled in Cleveland, by Otto F. Ege, 1940s-1950s]. Portfolio 48.5 x 34 x 4.5 cm. 15 manuscript leaves of various sizes (see the detailed list of contents for specific dimensions); 14 of the manuscripts are on paper (varyingly glazed or unglazed paper) and one is written on vellum (no. 7), most rubricated and/or decorated in various colours, some are heightened or highlighted in gold. All manuscript fragments are mounted (hinged to allow access to both sides of the leaves) in passe-partouts (ca. 46.5 x 33 cm) and each has an additional leaf (ca. 10 x 18 cm) with explanatory text mounted at the foot of the passe-partout. Original black and red portfolio with the author in white and title in red on the spine, with three sets of black ties (one on the inside) and a label on the inside of the right black flap giving the information of the limited edition: "Edition limited to forty numbered sets of which this is No 33". Two identical title leaves and 15 original manuscript leaves mounted in white passe-partouts.
€ 18,000
Number 33 out of 40 famous limited edition Ege portfolios containing a collection of 15 leaves from oriental manuscripts, written between the 12th and 18th centuries.
Otto Frederick Ege (1888-1951) was the dean of the Cleveland Institute of Art, a lecturer on the history and the art of the book at Western Reserve University and a famous (or infamous) biblioclast. He was one of the key figures in creating a market for medieval manuscript leaves in America during the 20th century. Between 1917 and 1950, Ege acquired, deconstructed and subsequently dispersed hundreds of (medieval) manuscripts and early printed books, wanting to give as many private collectors and public institutions as possible the opportunity of owning these individual leaves. He was convinced that his purpose of inspiring as many people as possible by bringing them in contact with historical and artistic heritage, justified the means of scattering the manuscript fragments. From the 1940's onwards, he compiled his famous portfolios as limited editions, resulting in 40 portfolios with western medieval manuscript leaves and 40 portfolios with 12th to 18th century oriental manuscript leaves.
The present portfolio includes 15 fragments, originating from books produced in between the 12th and the 18th century, in Egypt, Syria, Byzantium, Persia, Russia, Tibet and other places. These mainly religious texts were written in several different languages, including Arabic, Syriac, Armenian, Ethiopic, Persian, Tibetan, Greek, and Church Slavic. Two of the fragments, one in Greek and one in Church Slavic, even include musical notation.
A detailed list of contents is available upon request. WorldCat 15372178 (7 copies), 78768040 (2 copies), 1322443218 (1 copy).
Related Subjects: