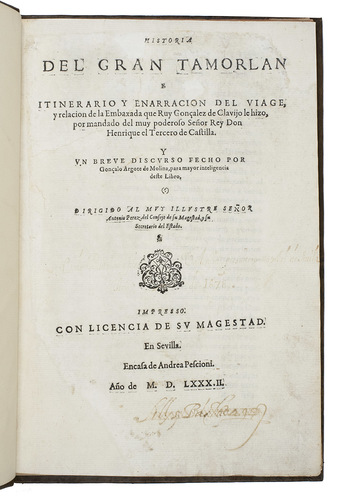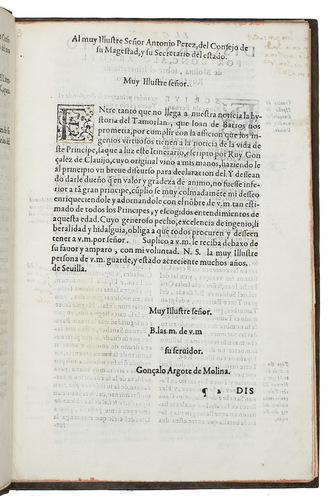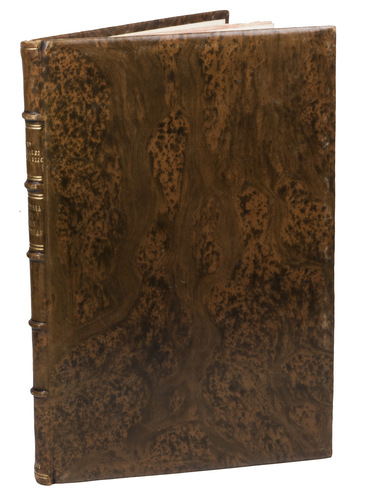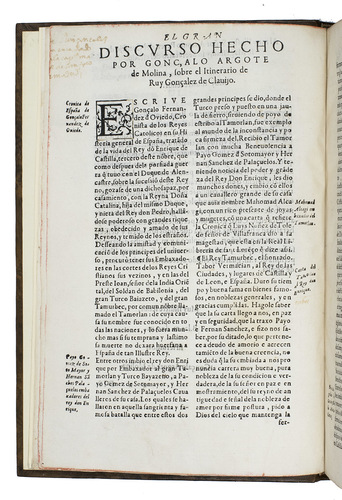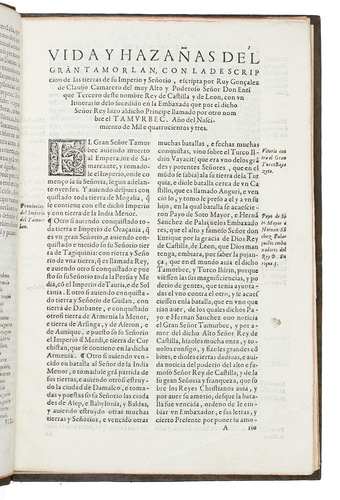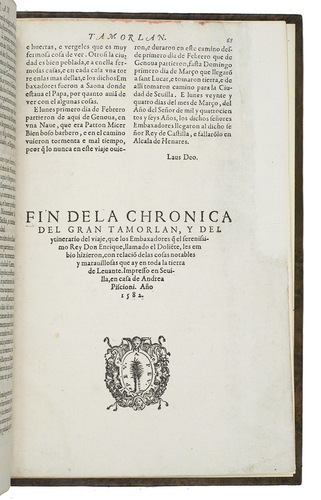 GONZALES DE CLAVIJO, Ruy.
Historia del Gran Tamorlan e Itinerario y ennaracion del viage y relacion de la Embaxada que Ruy Gonzalez de Clavijo le hizo por mandado del muy poderoso Señor don Henrique el tercero de Castilla y un breve discurso fecho por Gonzalo Argote de Molina para mayor inteligencia deste libro.
Seville, Andrea Pescioni, 1582. Folio in 8s. With a woodcut vignette on the title-page, woodcut initials and a woodcut device at the end. Modern tree calf. 78 ll.
€ 65,000
Extremely rare first edition of a 1403-1406 eye-witness description of the Great Timur's (1336-1405) court in Samarkand (Uzbekistan). This cornerstone travel narrative from Spain to Uzbekistan is considered equal to Marco Polo and Mandeville. In 1402 Timur's ambassador visited the Spanish court to bring news of Timur's victory over the Sultan of Ankara. In response the Spanish king Henry III ordered ambassador Ruy González de Clavijo (died 1412) to venture to the court of Timur in Samarkand. González de Clavijo kept a diary during his travel which is published in the present work for the first time. The successful and barbaric conqueror Timur (Tamerlane) founded the vast Timurid Empire, stretching from Turkey to India. In 1398 he conquered India and sacked Delhi. His offspring Babur was the founder and first Emperor of the Mughal Empire, which formed the foundation of present day India.
The voyage from Spain to Samarkand took the author through the Mediterranean and then Constantinople. From Armenia followed a land travesty across Iran, Turkmenistan, Uzbekistan and Persia. The narrative is precise and detailed, with descriptions of the costumes, animals (ostriches, elephants, giraffes) and manners of the magnificent court, in a clear and straight style. He repeats stories of lands beyond Samarkand that he did not visit himself but was told about during his stay at the court.
Having never suffered a loss, Timur is one of the most successful military leaders in world history. In 16th century Europe Timur became a legendary figure, starting with the present detailed description of his court and made famous by Christopher Marlowe's play Tamburlaine (1590). The present work is truly rare, not being offered for sale since 1953, acoording to RBH.
Faded owner's inscription in ink on title-page, dated 1678. Title-page repaired. Otherwise in very good condition. Goldschmidt Catalogue 26; USTC 336592; Palau, 105218; Salva, 3778.
Related Subjects: