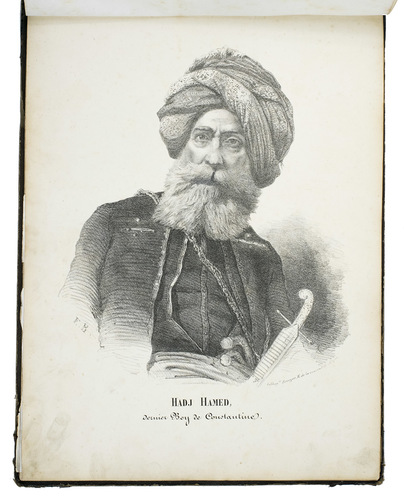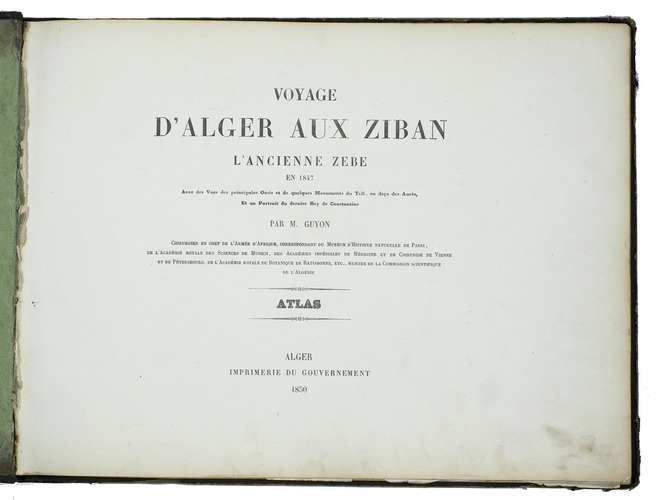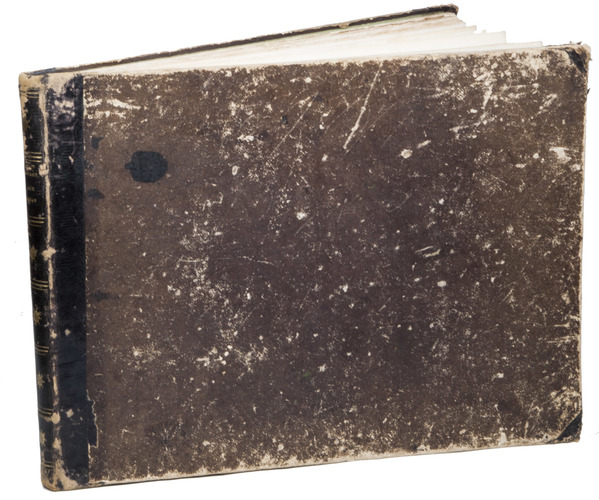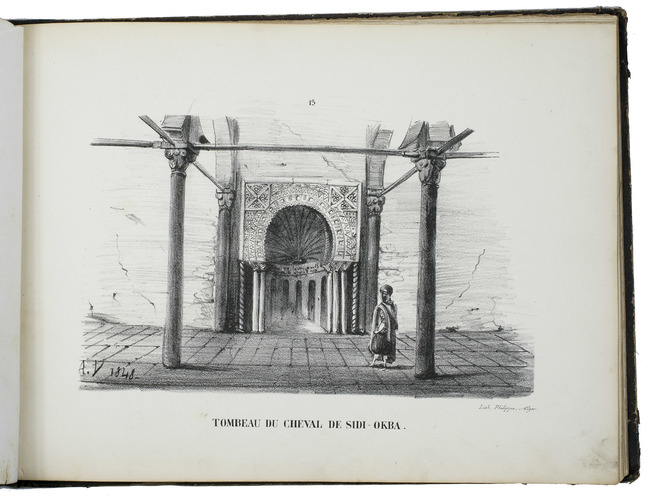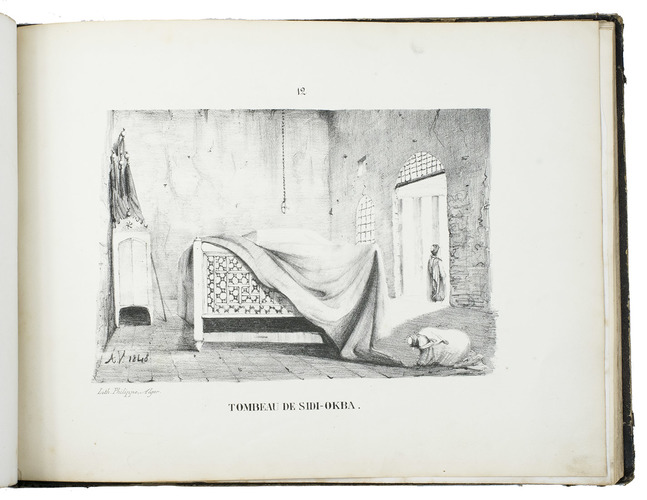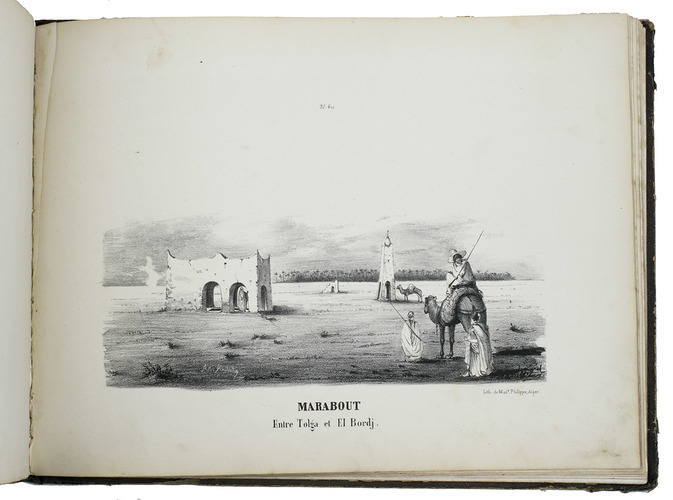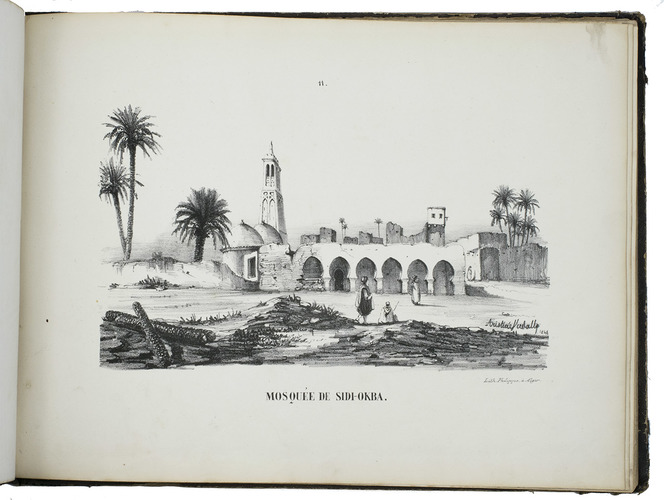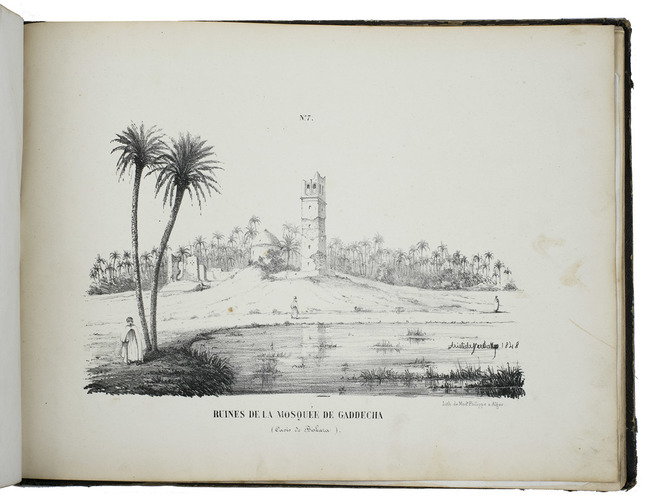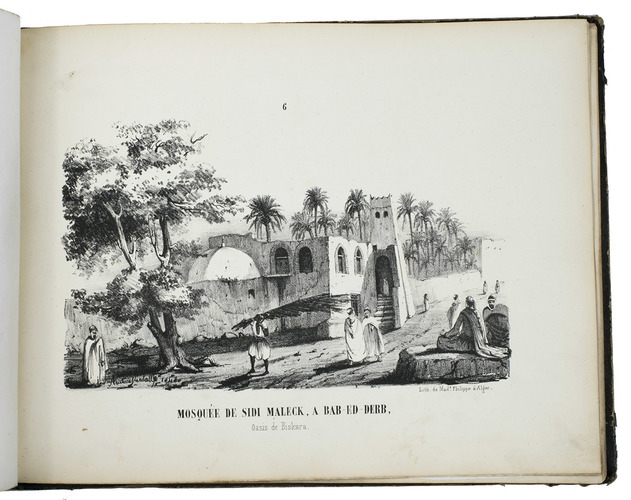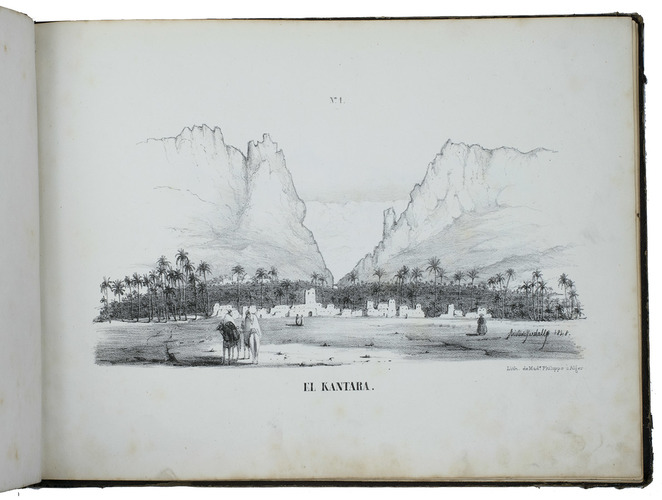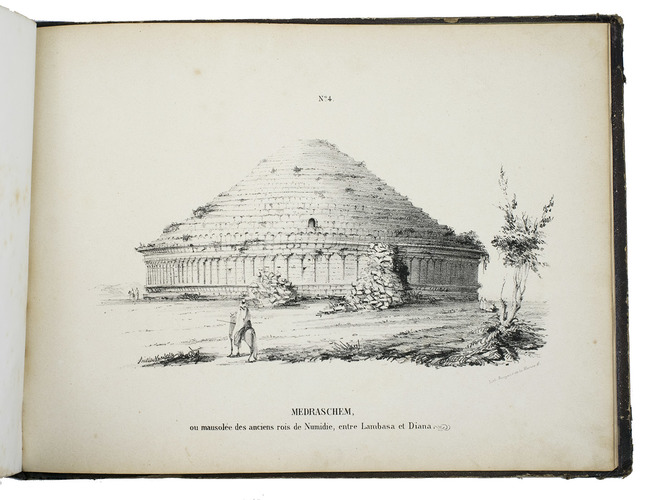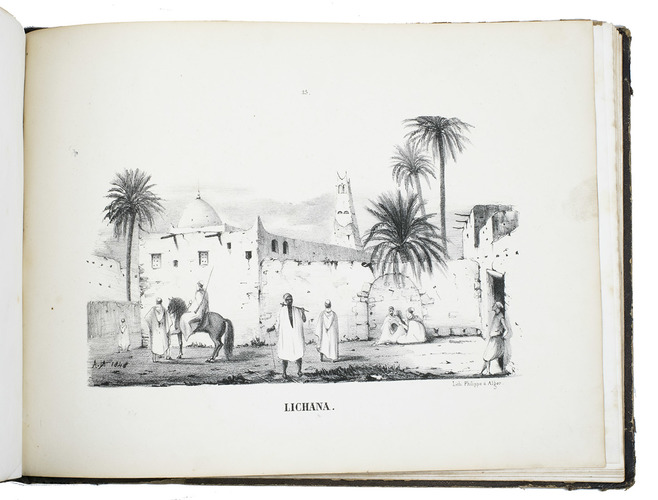 GUYON, Jean Louis Geneviève.
Voyage dAlger aux Ziban lAncienne Zebe en 1847. Avec vues des principales Oasis et de quelques Monuments du Tell, en deça des Aurès, et un portrait du dernier Bey de Constantine. Atlas.
Algeria, Imprimerie du Gouvernement, 1850. Oblong 4to. With full-page portrait of Hadj Hamed (or Ahmet Bey ben Mohammed sherif, the last Bey of Constantine; 1784-ca. 1850), leader of the local population in a fierce resistance to the French occupation forces, by Etienne Bocourt, lithographed by Bouijer; 34 full-page views of various parts, cities and Roman remains in Algeria (Constantine), by Aristide Verdalle (33) and Etienne Bocourt (2) and lithographed by Mme. Philippe (23), Bouijer (10), and Bastide (1), all three working in Algiers. Half black morocco, brown cloth sides, gold-tooled spine. [4] pp.
€ 2,250
Original and only edition of this apparently rare atlas with a portrait and 34 views of the most important oasis and their houses, mosques and other buildings, such as El Kantara, El Outaia, Biskara (5), Zaouia, Toouda, Sidi-Okba (6), Saâda, MLili, Ourlad, Tolga, Marabout, El Bordj, Farfar, Lichana, Bou-Chagroun, Touda, and Caïd de Khanga, and Roman antiquities at Lambasa (Lambaesis) and Diana veteranorum (7: Temples of Victoria and Aesculapius, Arc de Triomphe, etc.) in the region Constantine, northeast Algeria: the Zebe-region as it was called in Roman times.
The text belonging to the Atlas, a vol. in 8vo., was issued separately, two years after the atlas, in 1852. Most of the scares copies of the atlas we could trace are without this text volume.
The magnificent plates provide an good impression of original Algeria shortly after the French occupation.
Binding worn, plates a little foxed, otherwise in good condition. Bibl. Des ouvr. Impr. À Alger, 238; Gay 1065; Taillard 777; not in Blackmer.
Related Subjects: