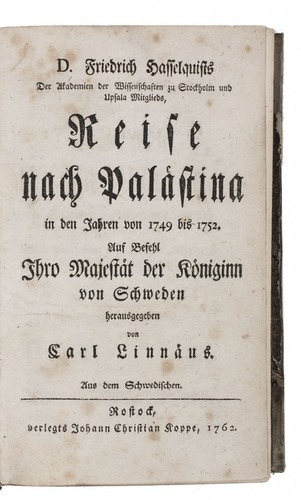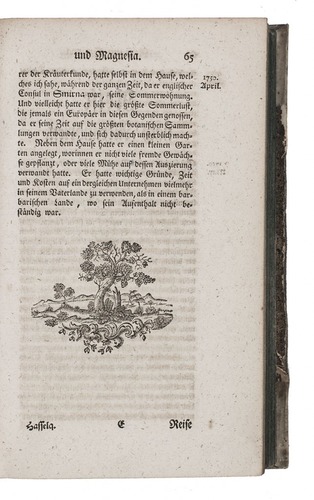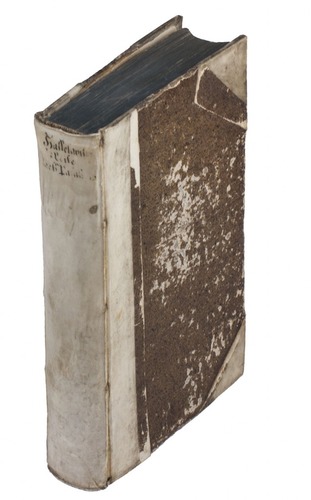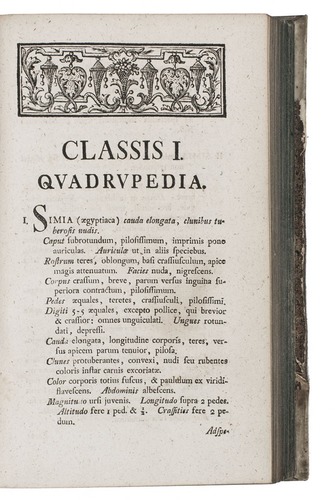 HASSELQUIST, Friedrich and Carl LINNAEUS.
Reise nach Palästina in den Jahren von 1749 bis 1752. auf Befehl ihro Majestät der Königinn von Schweden herausgegeben vond Carl Linnäus aus em Schwedischen.
Rostock, Johann Christian Koppe, 1762 (colophon: Leipzig, Johann Gottlob Immanuel Breitkopf, 1761). 8vo. With woodcut tailpieces. Contemporary half vellum. [18], 606 pp.
€ 1,800
First edition of the German translation of a travelogue and zoological work, originally written in Latin by the Swedish zoologist and botanist Friedrich Hasselquist (1722-1752) and published posthumously by the celebrated naturalist Carl Linnaeus (1707-1778). "In 1749 Hasselquist set off on a botanical expedition to the Middle East. Sailing from Stockholm ... he arrived at Izmir (= Smyrna, in Turkey) where he spent the winter of 1749-1750 exploring the hinterland. In March 1750 he took a trip into the interior of Turkey, and afterwards sailed for Egypt ... he proceeded through Palestine and Syria, visited Cyprus, Rhodes and Chios, and then returned to Izmir" (Howgego). The work can be divided into two parts. The first part consists of a chronological journal, followed by 14 letters from Hasselquist to his tutor Linnaeus. The second part contains a zoological, botanical and mineralogical description of the area, starting with the four-footed animals, followed by birds, amphibians, fish, insects, plants and stones. Especially his descriptions of fishes in the Nile are very valuable. The work concludes with the materia medica of the Middle East. Hasselquist was already sick when he wrote and died during his travels in 1752, near Izmir. In 1757 the work was posthumously published by Linnaeus, entitled Iter Palaestinum, "who described it as being full of fresh, genuine and precise observations: "So admirable a travel journal has never before appeared..."." (Blackmer).
With an inscription on flyleaf from E. Atkinsons(?), dated Jerusalem 1858, and slip with manuscript inscription pasted down on flyleaf from John R. Ruth. Slightly browned, title-page foxed, a few notations and underlining in pencil, and a small waterstain on page 259. Binding rubbed along the extremities, sides rubbed. Overall a very good copy. Bibl. Palaestinensis 472; Howgego, to 1800, H33; cf. Atabey 564 (English edition); Blackmer 668 (French edition); Hage Chahine, 2134 (French edition); not in VD18.
Related Subjects: