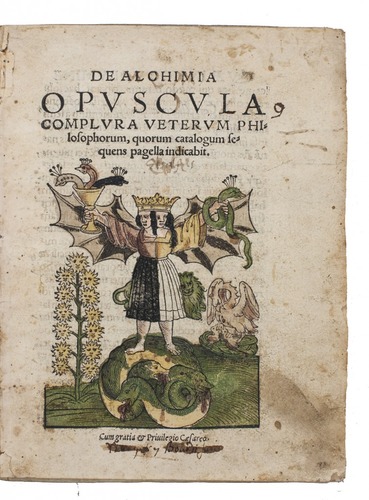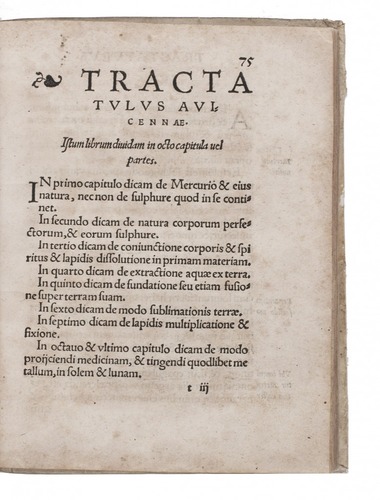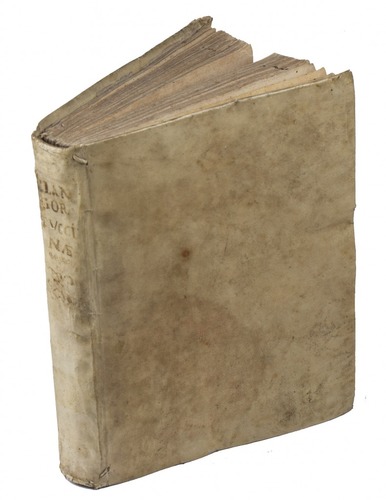 IBN SINA (AVICENNA), Raymond LULL (LULLIUS) and ARISTOTLE.
De alchimia opuscula complura veterum philosophorum, quorum catalogum sequens pagella indicabit.
(Dedication: Frankfurt, Cyriacus Jacob, 1550). Part 1 (of 2). Small 4to (19.5 x 15 cm). With a large woodcut illustration on title-page, hand coloured by an early hand, and Jacob's woodcut printer's device on the last otherwise blank page. 17th-century(?) limp sheepskin parchment.
€ 18,000
First edition of a collection of nine alchemical tracts, including De tinctura metallorum by Ibn Sina, known in Europe as Avicenna. Ibn Sina was one of the most significant thinkers and writers of the Islamic golden age and his bibliography comprises nearly 270 titles. "Ibn Sina studied the philosophical and scientific foundations of this subject [alchemy] and even undertook alchemical experiments. His conclusion regarding its validity, however, is negative" (DSB). It also includes two works by Raymond Lull, one of the most interesting scholars of the Middle Ages, one by Aristotle; and five anonymous ones. A second part was published in the same year containing only one work: the famous Rosarium philosophorum. It can be regarded as a separate publication and is not included here.
With contemporary manuscript annotations in the margins, underscoring throughout, an early owner's inscription (struck through) and some other notes on the title-page. The annotations slightly shaved, somewhat browned throughout and waterstains in the first half of the book, but otherwise in good condition. Binding very good.
Duveen, p. 11 ("excessively rare"); Ferguson, Bib. chem. I, p. 18; MacPhail I, 20; for Ibn Sina: DSB XV, pp. 494-500.
Related Subjects: