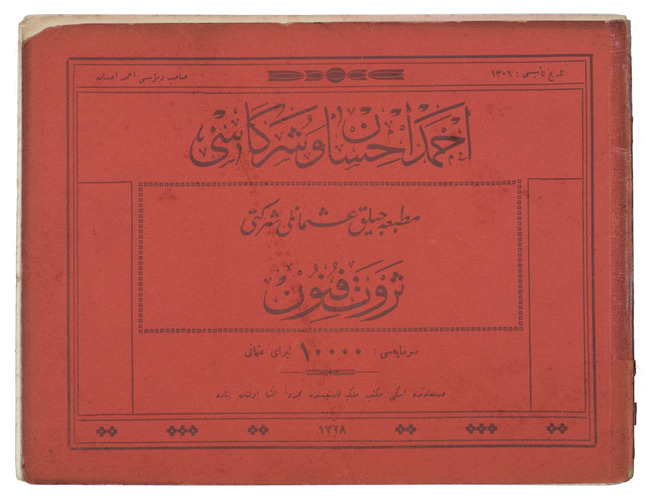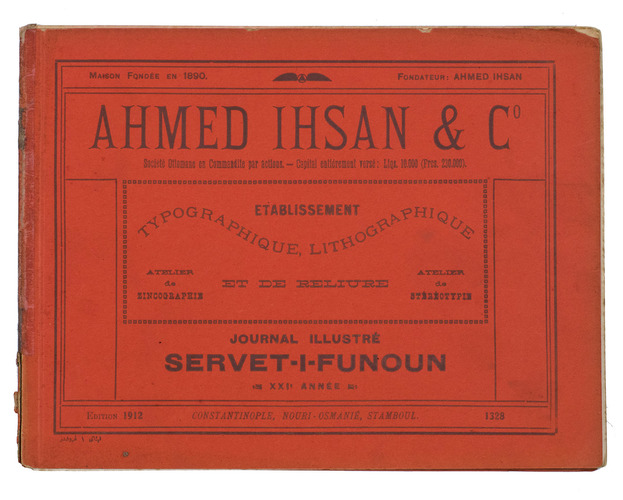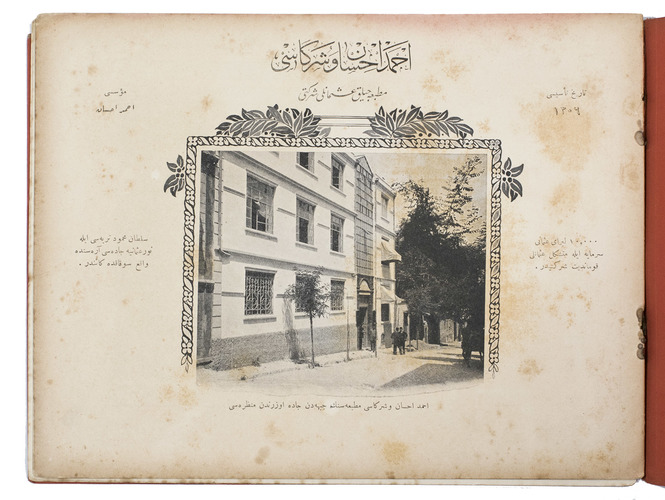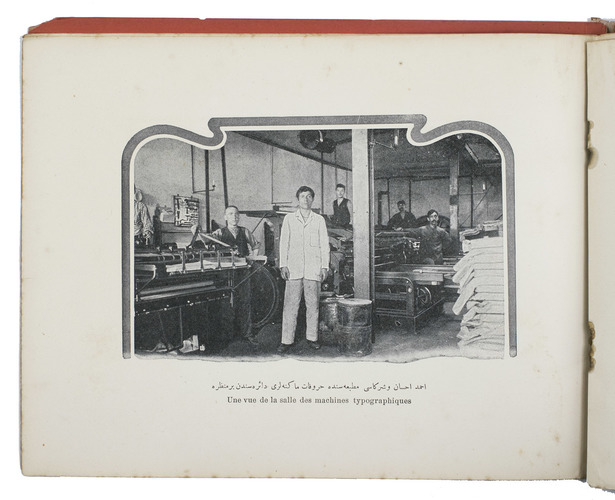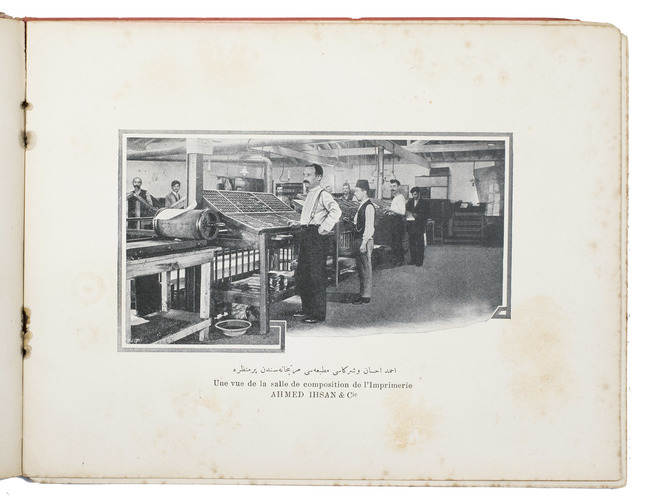 IHSAN, Ahmed.
[Title on back wrapper:] Ahmed Ihsan & Co ... Etablissement typographique, lithographique et de reliure ... Journal illustré Servet-i-Funoun XXIe année.
Istanbul, Nouri-Osmanié, 1912 [= AH] 1328. Oblong 4to. With a title-page in Turkish on the front (left!) wrapper and a title-page in French on the back (right!) wrapper, 11 black & white photographic illustrations, text in Ottoman Turkish set in Arabic type. Original publisher's red printed paper wrappers. [20] pp.
€ 1,850
Illustrated advertising booklet presenting the Istanbul-based letterpress and lithographic printing office Ahmet Ihsan & Co., one of the leading names of the late Ottoman Empire printing, founded in 1890. The 11 illustrations depict the printing workshop, offices, staff and building. It is written in Ottoman Turkish with a title-page in French on the back wrapper. Oddly, the pages (numbered in the Arabic script) progress from left to right like a Western book, so that the left wrapper is the front and the right the back. It is not clear whether this booklet is the complete annual issue (vol. 21) of the Journal illustré Servet-i-Funoun or (more likely) an insert published with it.
Ahmet Ýhsan Tokgöz (1868-1942) was editor and publisher of the influential modernist magazine Servet-i-Funoun [Servetifünun: haftalýk resimli türk gazetesi, (1891-1944)], which brought together influences from the West and from the Ottoman tradition. He lead the magazine from its foundation in 1888 to his death. He was responsible for the translation of great French novelists such as Jules Verne, Alphonse Daudet, Bourget, Octave Feuillet and others, making the most refined works of fiction from West-European literature accessible to Ottoman circles, which had been hitherto scarcely accustomed either to any kind of reading or to the Western conception of life.
Spotted throughout. Wrappers detached, quires loose. Otherwise in good condition. https://archives.saltresearch.org/handle/123456789/197004; for the author: Encyclopaedia of Islam, 1st ed. (1913-1936).
Related Subjects: