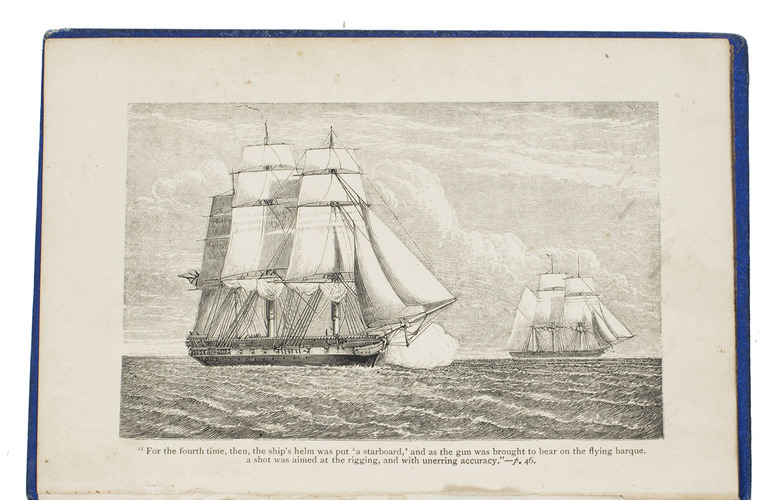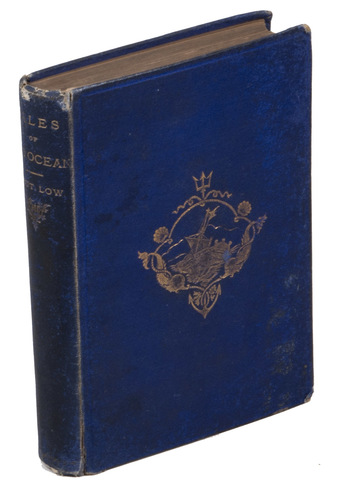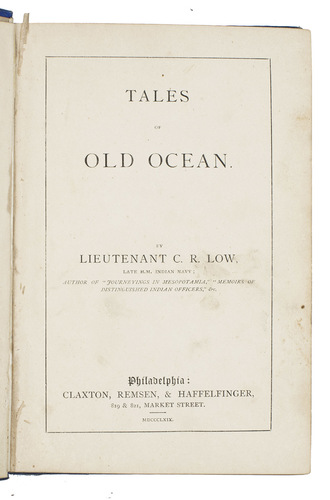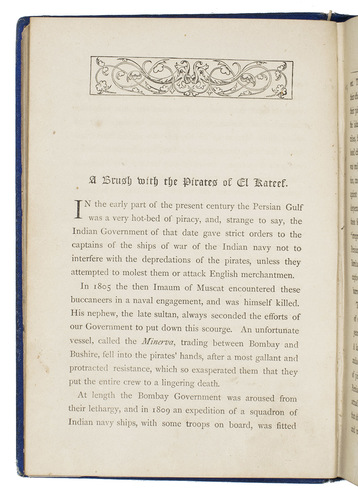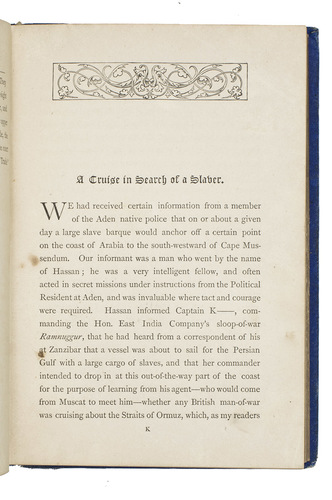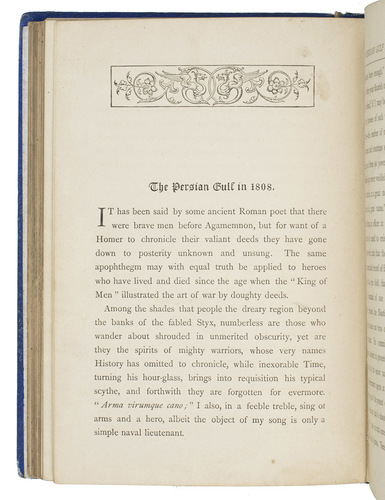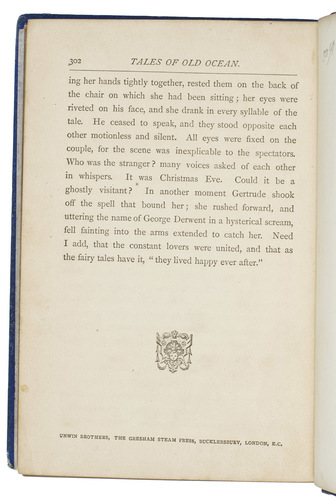 LOW, Charles Rathbone.
Tales of old ocean.
Philadelphia, Claxton, Remsen & Haffelfinger, 1869. 8vo. With 3 engraved plates (1 loose plate) and a small woodcut piece at the end of the book.Contemporary blue cloth with gold centrepiece of a ship and title on spine. [4], 302 pp.
€ 4,500
Rare first American edition of the tales and anecdotes from lieutenant Charles Rathbone Low (1837-1918) in the Indian Navy, which was published at the same time in London. Lieutenant Low was engaged in suppressing piracy and the slave trade in the Indian Ocean, China Sea, Persian Gulf, Red Sea and the East Coast of Africa, but as an historian and author of naval fiction and non-fiction he also wrote on the British navy, important officers of the navy and the voyages of the Indian navy round the world. Although these tales are very often classified as one of Lows three fiction works, the books anecdotes actually describe real naval events, retold as heroic tales of adventure in the Indian navy. A number of the stories take place in the Persian Gulf, where the Indian navy had to combat piracy. One of the most remarkable and dramatic stories is the attack by Jowassamee (Al Qasimi) on Lows ship, the "Nautilus". It is important to note the British misinterpretation here of the Al Qasimi, the people and rulers of Sharjah, now one of the United Arab Emirates, as "pirates". This episode is included in a later, more scholarly work by Low, which is also his best-known work: The history of the Indian navy (1877). Low also describes the conflict with John Chinaman and some Malay pirates. While the book presents these events as a series of tales, it also serves as a report on the Indian navys voyages under lieutenant Low and shows the British perspective on events concerning these seas, the Persian Gulf and the Al Qasimi.
With owner's inscription in ink from Charles E. Kesler, 1873 on the loose plate, which was maybe the plate facing p. 46. Some small stains on the boards and slightly worn at the edges, and some very small stains throughout the book, barely affecting the text. Overall in good condition. British travel-writing on Oman: orientalism reappraised, p. 122; not in WorldCat; for the author: The Indian biographical dictionary, p. 252.
Related Subjects: