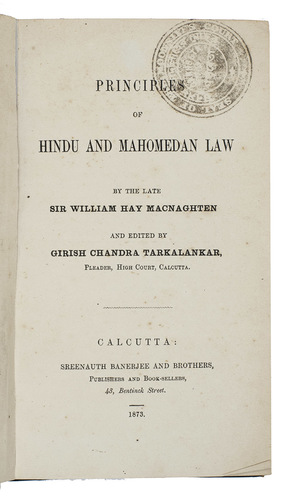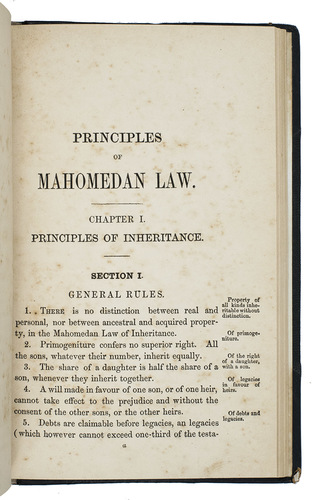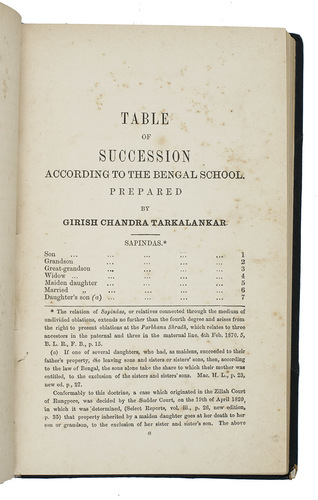 MACNAGHTEN, William Hay (Girish Chandra TARKALANKAR, ed.).
Principles of Hindu and Mahomedan law.
Calcutta, Sreenauth Banerjee and brothers (back of the title-page: printed by B.M. Sen, "Tomohur" Press, Serampore), 1873. 2 parts in 1 volume. Large 8vo. 20th-century half black morocco, black cloth sides, title and author in gold on spine, new endpapers. [6], LXIII, [1 blank], [10], 139, [1 blank]; [4], 88, XX pp.
€ 1,250
Improved edition of this standard work on Hindu and Muslim law by Sir William Hay Macnaghten (1793-1841), a British diplomat in India who was important in the First Anglo-Afghan War. Macnaghten went to India in 1809, where he served as an administrator and diplomat in Madras and Bengal. Here he acquired a knowledge of Hindu and Muslim law. The treatises on Hindu law in the present book involve topics as proprietary right, inheritance, the property of women, partition, marriage, adoption, slavery etc. For Muslim law, Macnaghten wrote also upon these topics, but moreover also on missing persons, gifts, parentage, endowment, debts and securities nad other judicial matters. Altogether a highly important standard work, printed in Calcutta, on Hindu and Mahomedan law.
With the library stamp of the Moonsiff's Court on the half-title, title-page and the last page.Binding slightly worn around the edges, some foxing, otherwise in good condition.
Related Subjects: