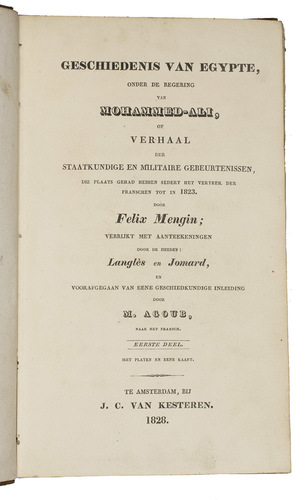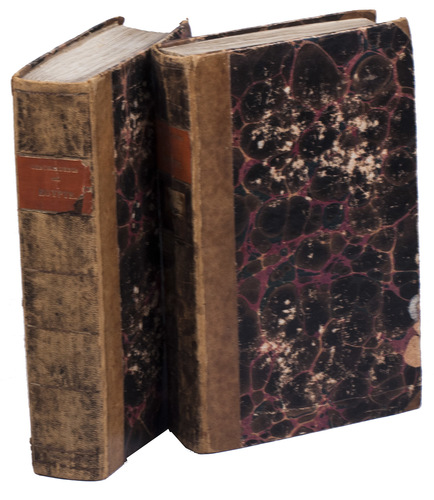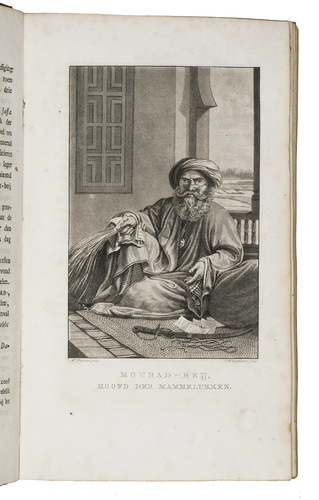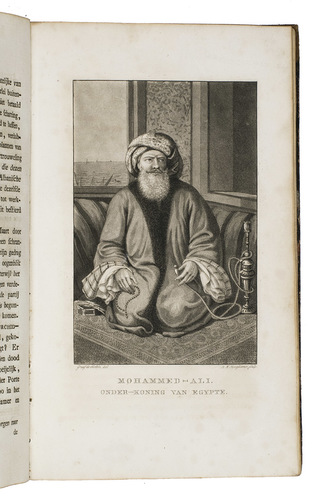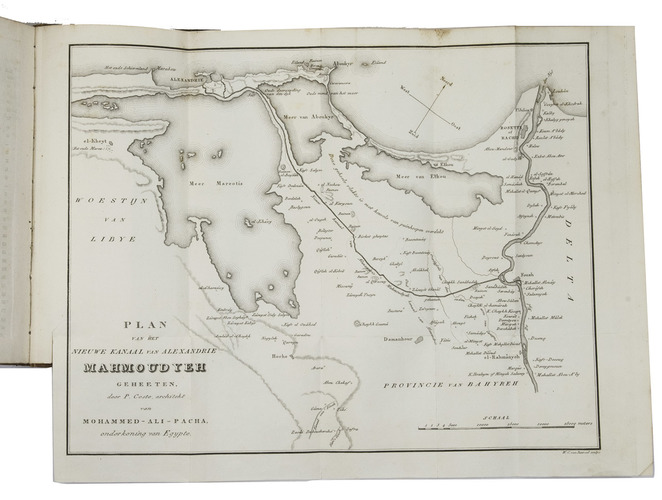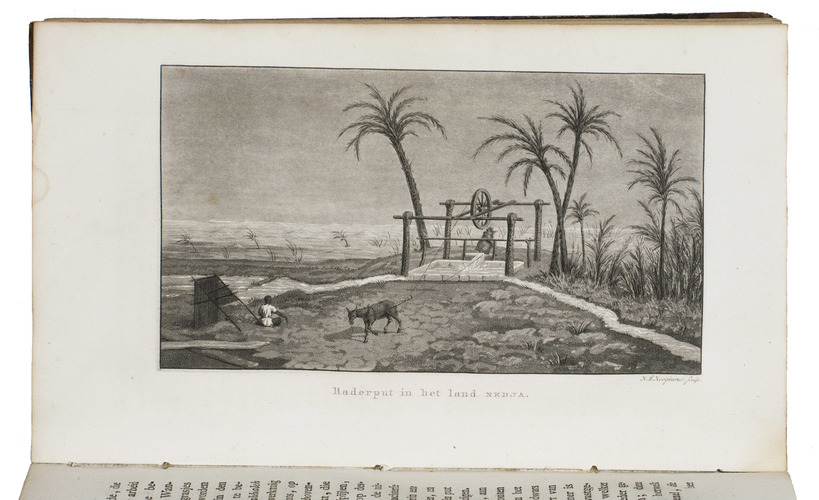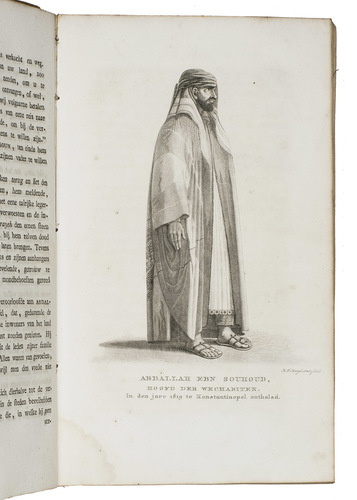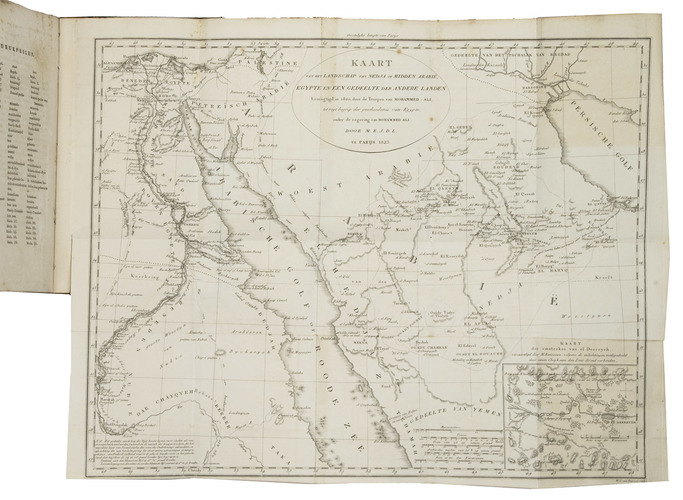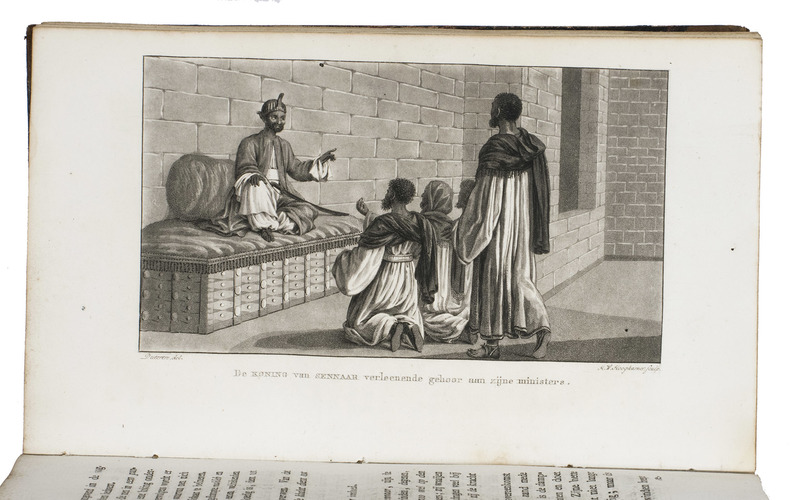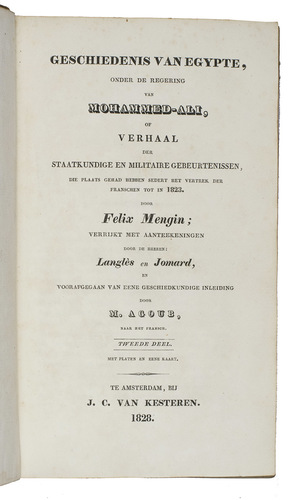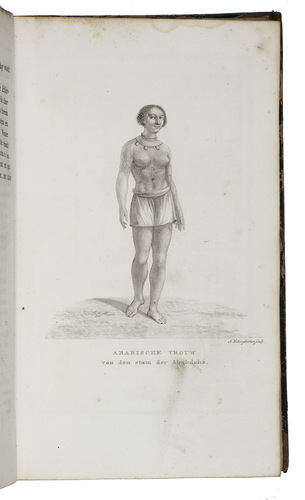 MENGIN, Felix.
Geschiedenis van Egypte, onder de regering van Mohammed-Ali of verhaal der staatkundige en militaire gebeurtenissen, die plaats gehad hebben sedert het vertrek der Franschen tot in 1823.
Amsterdam, Johannes Christoffel van Kesteren, 1828. 2 volumes. 8vo. With 8 engraved plates and 2 engraved folding maps. Contemporary half sheepskin, marbled sides, red morocco spine label with title in gold. [2], XL, 462, [1], [1 blank]; [4], 515, [1] pp.
€ 1,750
First and only Dutch edition of an important historical work on Egypt, describing extensively and in great detail Egypt's history in all its aspects from the end of the French expedition to Muhammad Ali Pasha's dramatic reforms of Egyptian society and culture when he recovered Egypt from the French occupation under Napoleon as commander in the Albanian Ottoman military force. The work is sought-after for its extensive appendix containing an early chronicle of the Wahhabis, with an account of the sack of Derriejh. Mengin's history covers not only Egypt, but also other parts of the Arabian Peninsula, more specific the region between the Nile, Red Sea (Arabian Gulf) and Persian Gulf.Felix Mengin was a French merchant, historian and writer, who came to Egypt with the mission of Napoléon Bonaparte. He was a temporary French consul in Cairo. Mengin wrote several books about the history of Egypt, including the present one, Saudi Arabia and other Arab countries during the reign of Muhammad Ali Pasha. Muhammad Ali Pasha ruled Egypt from 1805 till 1848 and is often considered to be the founder of modern Egypt, but at the height of his rule he also controlled Sudan, Hejaz and the entire Levant besides Egypt. The present edition appears the only complete set we could trace to have been offered for sale and only 8 copies are held institutionally worldwide.
With remnants of an old shelf mark on the spine of volume 1. Bindings somewhat worn and rubbed, especially around the edges and spine. Some very light browning, small spots and minor stains in both volumes, some light creases and some minor thumbing, with a small tear in the folding map of vol. 2, which is also browned and somewhat foxed. Overall in good condition. Very rare complete set of this work. WorldCat 825776223 (8 copies). Cf. Atabey 802; Gay 91; Macro 1577 (French ed.); not in Blackmer. Cf. Cook, 'On the origins of Wahhabism', in: Journal of the Royal Asiatic Society 2, no. 2 (July 1992), pp. 191-202.
Related Subjects: