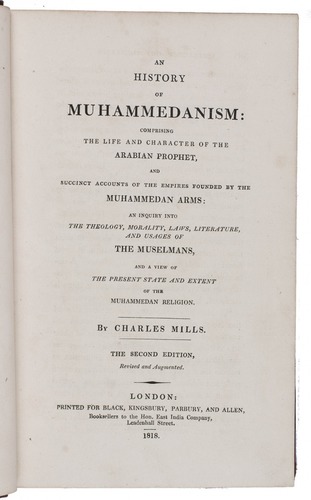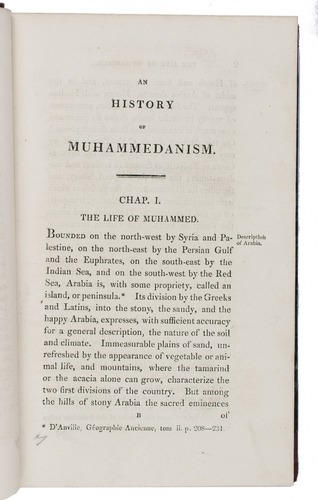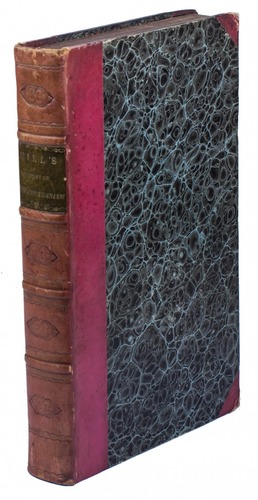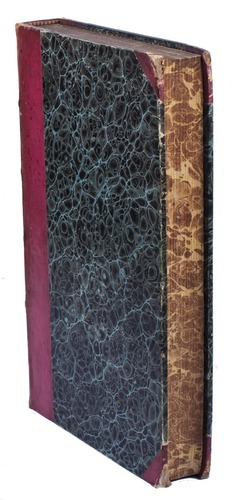 MILLS, Charles.
An history of Muhammedanism: comprising the life and character of the Arabian prophet, and succinct accounts of the empires founded by the Muhammedan arms: an inquiry into the theology, morality, laws, literature, and usages of the Muselmans, and a view of the present state and extent of the Muhammedan religion.
London, Printed for Black, Kingsbury, Parbury, and Allen, booksellers (back of title-page: printed by Cox and Baylis), 1818. 8vo. Contemporary red half sheepskin. [2], XXI, [1 blank], 484, [12 blank] pp.
€ 750
Corrected and enlarged second edition, in the original English, of an important work on Islam by the English historian Charles Mills (1788-1826). "At the time of its publication it was proclaimed to be the only complete authority on 'Muhammadanism' in any language" (Goodwin). The work elaborates on every aspect of Islam, starting with the life of Mohammed. It further includes detailed descriptions of the battles fought by Muslim armies, and chapters on Islamic law, the Quran, literature, science and customs.
In very good condition, only a few tiny spots. Binding slightly rubbed along the extremities, spine discoloured. Khutak, Islam and the Vicorians, p. 178; for the author: Goodwin, "Mills, Charles (1788-1826)" in: ODNB (online edition); cf. Hage Chahine 3219-3220; not in Atabey; Blackmer.
Related Subjects: