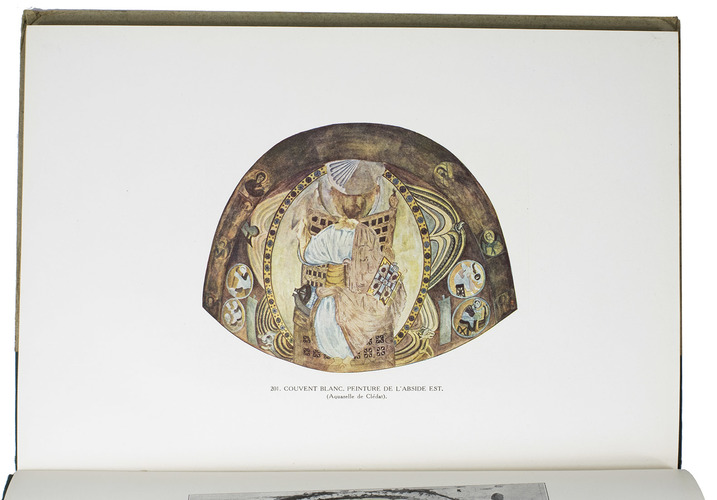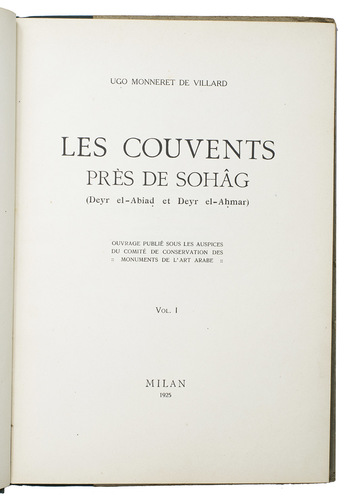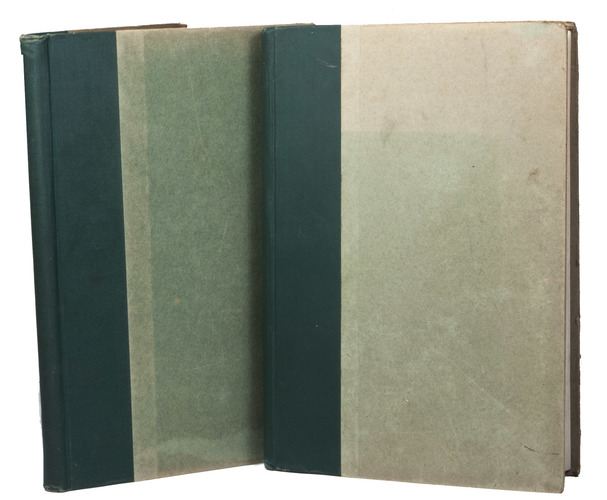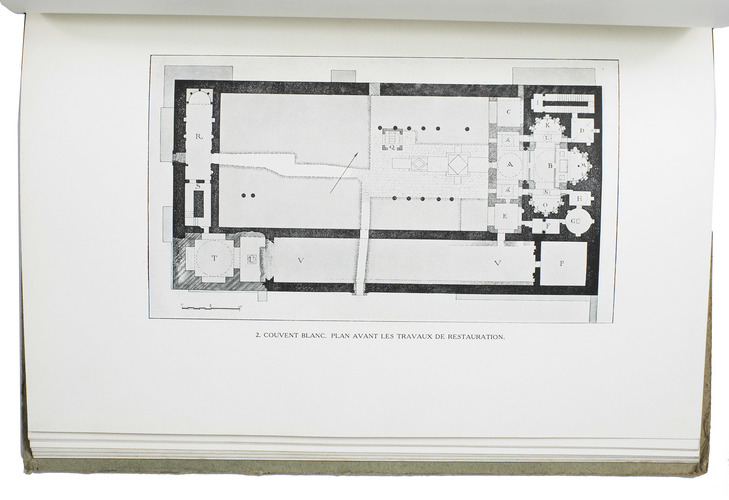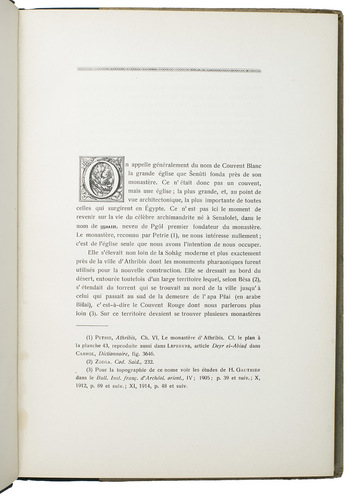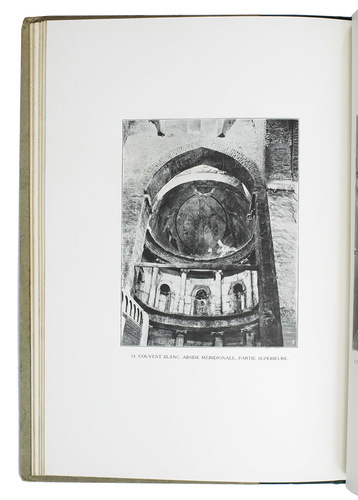 MONNERET DE VILLARD, Ugo.
Les couvents près de Sohâg (Deyr el-Abiad et Deyr el-Ahmar).
Milan, Tipografia Pontif. Arciv. S. Giuseppe, 1925-1926. 2 volumes. 4to. With 222 numbered illustrations on coated paper (photographic half-tone views, and architectural plans reproduced sometimes in line and sometimes in half-tone) bound at the end of each volume, and numerous small line illustrations printed with the text. Contemporary half green cloth, beige paper sides, grey endpapers. 135, [5] pp.
€ 2,500
First edition of a very rare two-part monograph dedicated to the churches of the 4th-century Red Monastery (Deir al-Ahmar) and 5th-century White Monastery (Deir el-Abyad) in Egypt, two Coptic Orthodox monasteries near the Egyptian city of Sohag. The work was written by Ugo Monneret de Villard (1881-1954), one of the leading 20th-century Italian scholars of Islamic, Coptic and oriental art history, architecture and archaeology. The present work is one of the results of his systematic exploration of Egypt from 1921-1928. Monneret de Villard's work was appreciated at the highest academic levels. It was privately printed in Milan under the auspices of the Comité de conservation des monuments de l'art arabe.
Both the Red and White Monastery were among the first Christian monasteries in Egypt and are now among the most famous ones. Especially since the 19th-century, there has been a rising interest in their archaeological remains. The present two-part monograph gives a detailed description of the architecture of their churches, including many photographs and new measured plans of them. It is a highly important work in the field of Egypt church architecture, more specifically of Christian antiquities in Egypt and Coptic monasticism and architecture.
The two volumes share a single series of page numbers, volume II beginning on p. 65. Paper sides of the bindings with some minor stains and a little discoloured, paper at lower left edge on the front board of vol. II a little loose, corners slightly bumped, only a few spots and stains throughout, overall in very good condition. Cf. A. Kingsley Porter, "Les couvents près de Sohâg", in: Speculum 2 (1927), 3, p. 356.
Related Subjects: