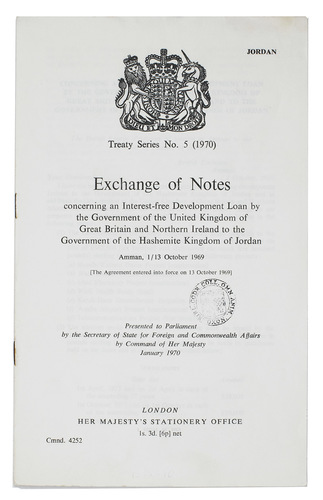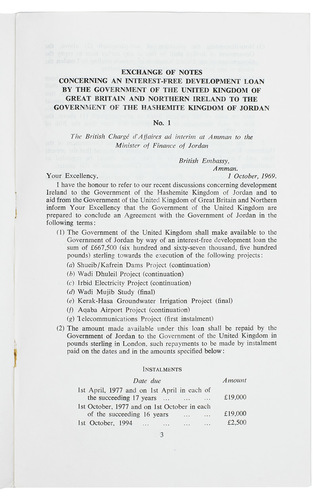 MU'AMMAR, Sayid Ya'coub; B.L. STRACHAN.
Exchange of notes concerning an interest-free development loan by the government of the United Kingdom of Great Britain and Northern Ireland to the government of the Hashemite Kingdom of Jordan.
London, Her Majestys Stationery Office, 1970. 4to. With the UK coat-of-arms on title-page. Text in English and Arabic in naskh type. Stapled. 8 pp.
€ 450
First edition of an official UK Government publication providing a transcription of the the diplomatic exchange that took place in Amman, Jordan on 1-13 October 1969 between the Government of the Hashemite Kingdom of Jordan and the UK Governemt. The notes of this diplomatic exchange were presented to the Parliament of Great Britain on January 1970. Discussed topic were an interest-free development loan for Jordan of 667,500 pounds, for the construction of a.o. an airport and dams.
Part of the Treaty series, no. 5.
Stamp on title-page, otherwise in very good condition.
Related Subjects: