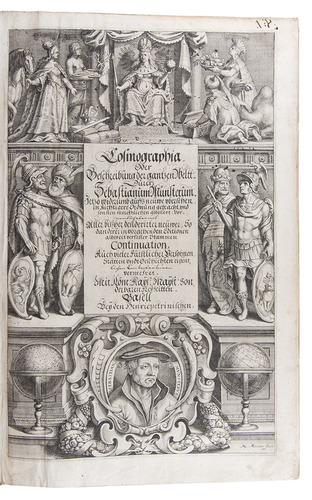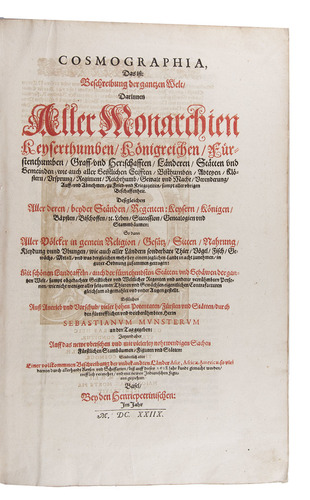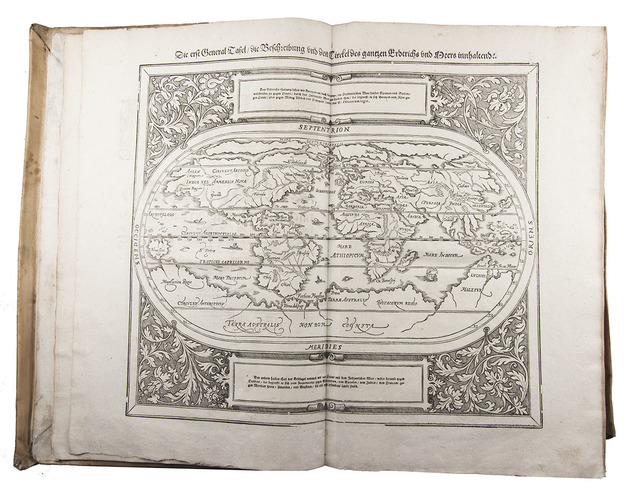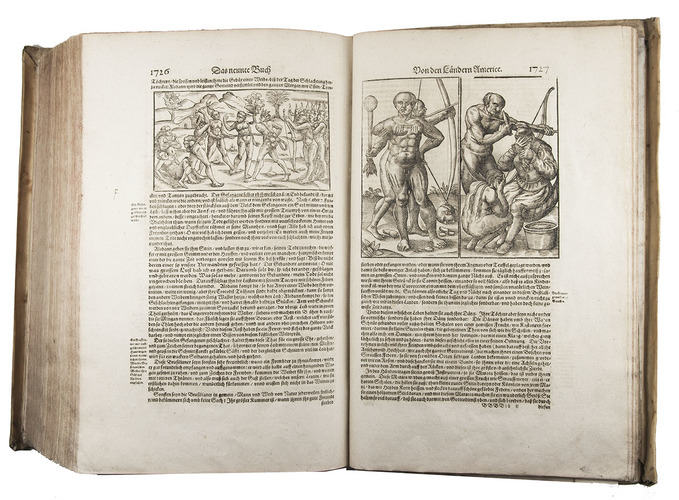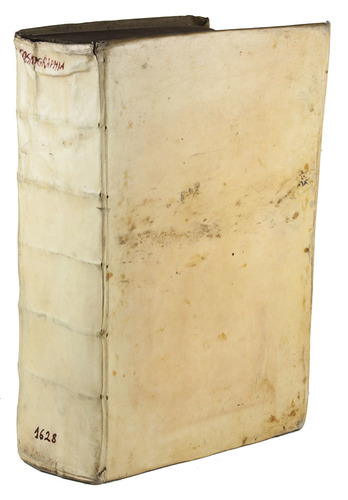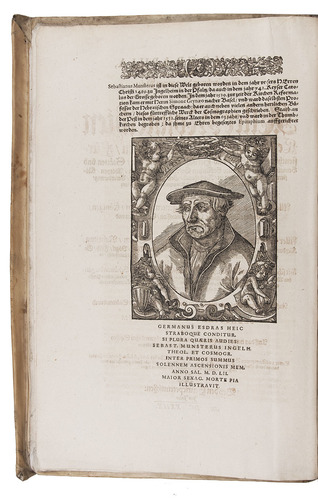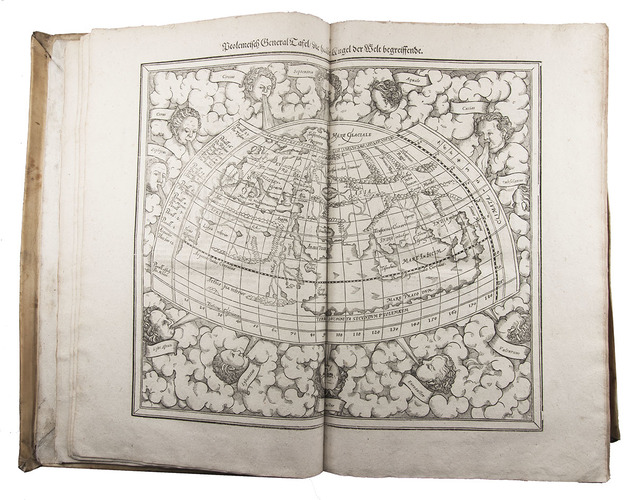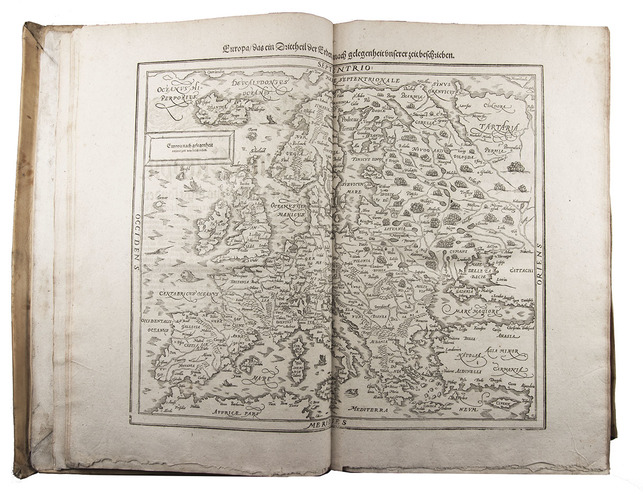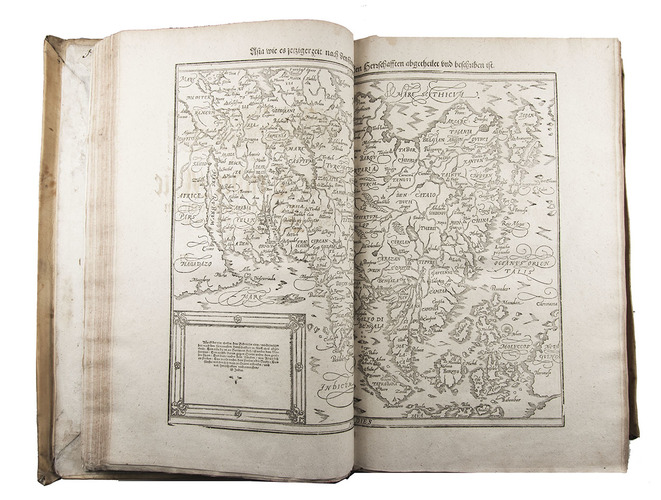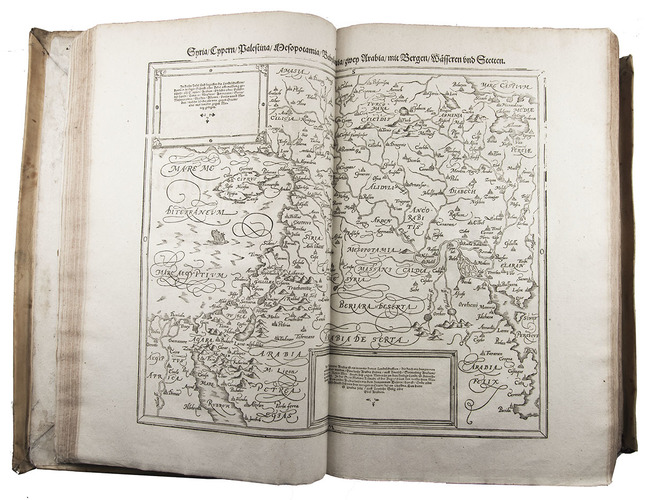 MÜNSTER, Sebastian.
Cosmographia, das ist: Beschreibung der gantzen Welt, ...
Basel, heirs of Sebastian Henricpetri, 1628. Folio (38 x 24.5 cm). With engraved title-page, letterpress title-page printed in red and black with woodcut portrait of Münster on the back, 26 numbered double-page woodcut maps on inserted bifolia, 72 double-page woodcut maps, plans and views on integral leaves, and about 1500 woodcut illustrations in the text (including repeats) showing maps, plans, views, plants, animals, monsters, etc. Contemporary vellum. [24], "1752" [=1748] , [12] pp.
€ 48,000
Most extensive edition of Münster's monumental, extensively illustrated description of the world, which set a new standard in the field, following both a regional and encyclopaedic approach. The first edition appeared in 1544, but it was greatly expanded over the years, the present edition adding many new maps. The most highly valued of all cosmographies, it passed through dozens of editions in 100 years and was of paramount importance for the revival of geography in 16th-century Europe. The book was printed by the heirs of Sebastian Henricpetri (1546-1627), the son of Heinrich Petri, stepson of the author Sebastian Münster. The 1588 edition (and the two following editions) contained a total of ca. 1280 woodcuts, which number was increased in the present edition with about 200.
From the library of Ericsberg Castle near Katrineholm, Sweden, built for the Swedish statesman Erik Karlsson Gyllenstierna (1602-1657) in the 1650s (two engraved views of the castle, from Dahlberg's Suecia antiqua et hodierna, are loosely inserted); several annotations in Swedish on the pastedowns.
One leaf of the register restored affecting part of the text (replacement from a smaller copy of the 1614 edition), frontispiece reinforced in the gutter margin, some occasional thumbing and a few dog-eared leaves, otherwise a very good and clean copy, with the paper nearly untrimmed (tranchefiles still visible). Binding also very good, lacking the flyleaves. Sabin 51396; VD17 23:230709C (7 copies); cf. H.L. Ruland, "A survey of the double-page maps in thirty-five editions of the Cosmographia Universalis 1544-1628 of Sebastian Münster ..." in: Imago Mundi XVI (1962), pp. 84-97; for Münster: DSB IX, pp. 580-581.
Related Subjects: