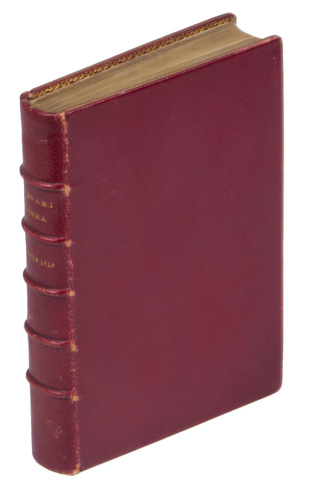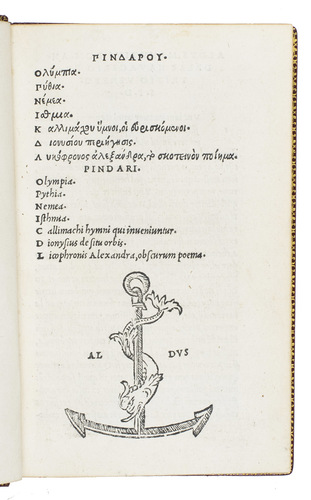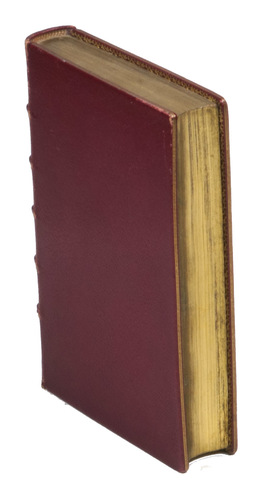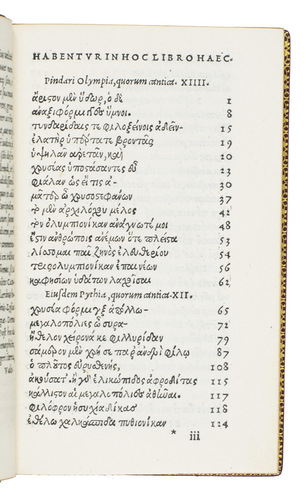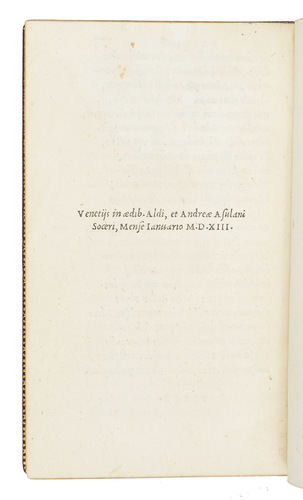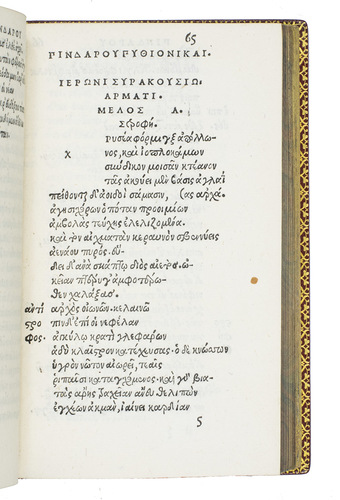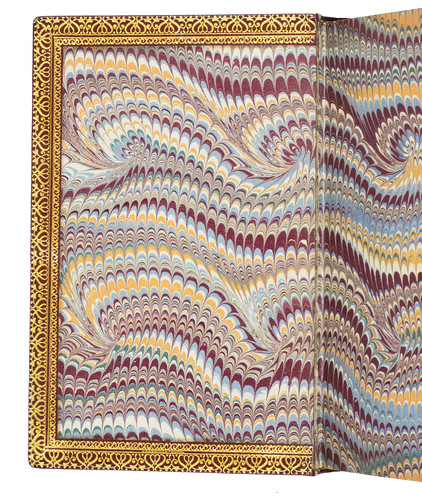 PINDAR.
Olympia. Pythia. Nemesa. Isthmia. Callimachi hymni qui inveniuntur. Dionysius de situ arbis. Licophronis Alexandra, obscurum poema (in Greek).
Venice, Aldus Manutius, Andrea Torresano and company, January 1513. Small 8vo. With Aldus's woodcut dolphin and anchor device on title, flanked by "AL ... DUS". Full-grained red morocco (ca. 1870s?), title in gold on spine, richly gold-tooled turn-ins, gilt edges, signed "CHAMBOLLE-DURU". [16], 373, [1], [2 blank] pp.
€ 18,000
Editio princeps (Brunet: "très recherchée") of Pindarus' poetry together with the "Hymns" of Callimachus, Dionysius's "De Situ Orbis", and the poem "Alexandra" by Lycophron. The preface by Aldus to Andrea Navagero is of great interest. After giving a survey of the war that ravaged Italy and had caused Aldus to suspend his printing activities, Aldus discusses the work he has already done for literature and reflects on his future plans. We also learn from it that he is already active as a printer for twenty years, so he must have started around 1493.
The edition princeps of Pindarus is one of the most beautiful and important works produced by Aldus Manuzio the Elder. The book is printed in a fine Greek type, slightly larger than Aldus usually choose for his small pocket editions, with 26 lines to a page, and with the headings printed in capitals, as are the titles inbetween. The pages are numbered on rectos only, skipping a number so counting pages, not leaves.
The collation is - unusual as well - given in numbers. Small guide-letters are printed in the in initial spaces. It was also a very good text-edition. The present and the edition of 1515 with the scholia was used for almost all subsequent Pindarus-editions. Our copy is furthermore most elegantly bound in gilt red morocco. Fine copy. Adams P1218; Ahmanson-Murphy Coll. 108; BMC STC Italian, p. 520; Harry Ransom Humanities Research Centre 105; Renouard 64, 9.
Related Subjects: