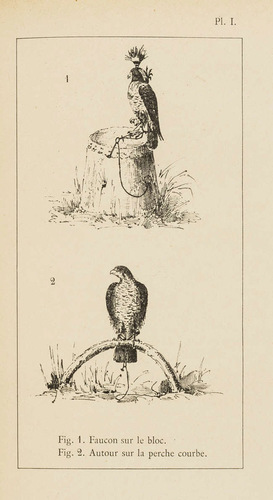 SOURBETS, Georges; Camille de SAINT-MARC.
Précis de Fauconnerie [...] suivi de lÉducation du Cormoran.
Niort, L. Clouzot, 1887. 8vo. With 4 black and white lithographed plates. Contemporary red morocco-backed cloth. [3], [1 blank], 123, [1] pp.
€ 6,500
Rare first and only edition, one of only 150 copies, of "a neat summary of nearly all that is necessary to be known in order to tame, train, and fly a hawk successfully" (Harting). Two years before the present publication another manual for hawking and falconry appeared at Niort, written by the same author: Georges Sourbets (1853-1936?). That work gives instruction in taming and training a small hawk. It can be viewed as a precursor to the present manual, which is significantly larger. In collaboration with Camille de Saint-Marc (1843-1912), the author goes more thoroughly into the subject, including an account of several falcons. The work is progressive in rejecting medieval remedies and treatments of ailments in birds, which often did more harm than good. Instead, the authors provide more effective cures. The result is a good manual, illustrated with informative plates, especially the one depicting the high perch.
Cloth rubbed. Otherwise in very good condition. Harting 217; Schwerdt II, 168; Thiébaud 853.
Related Subjects: