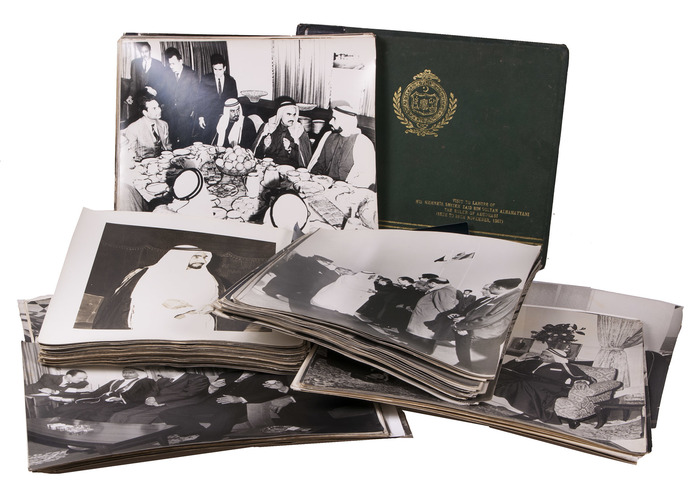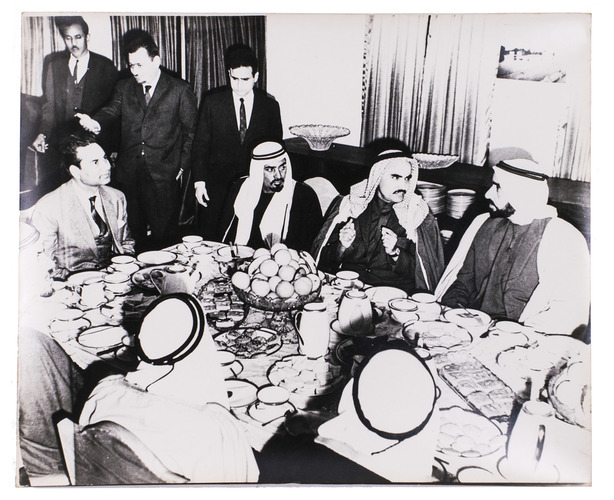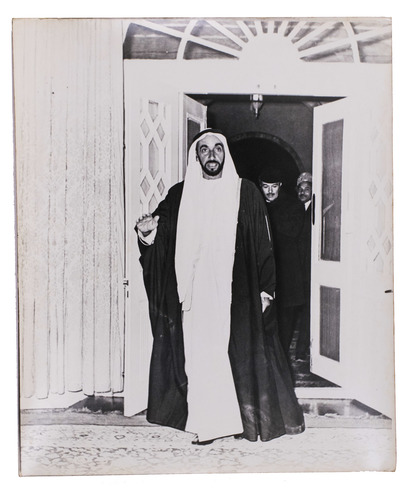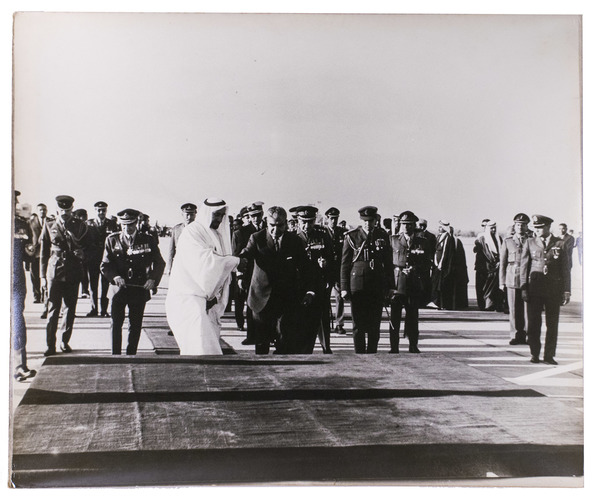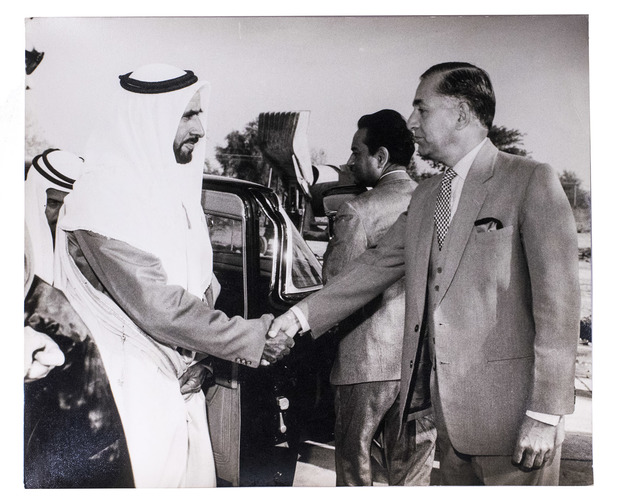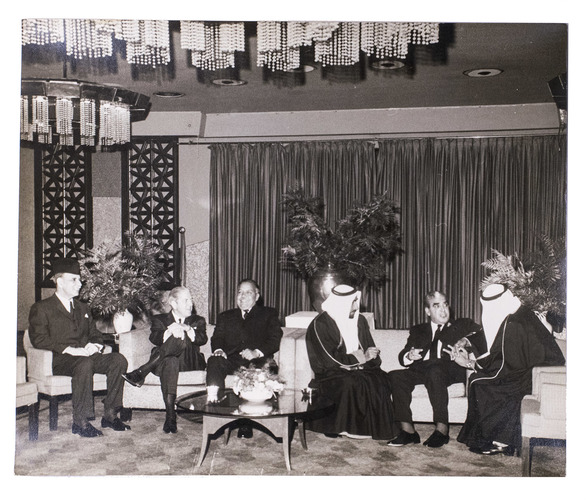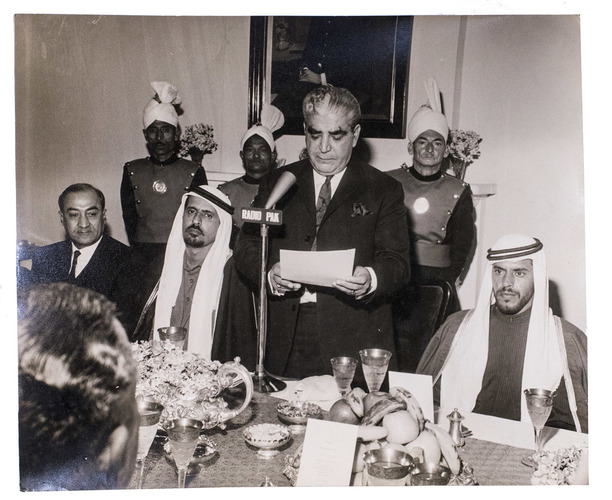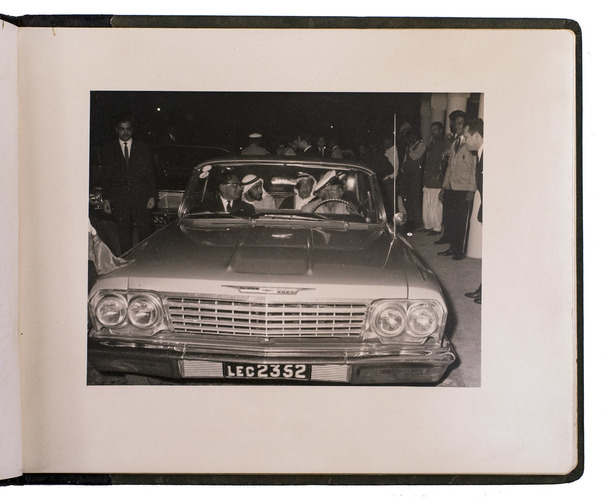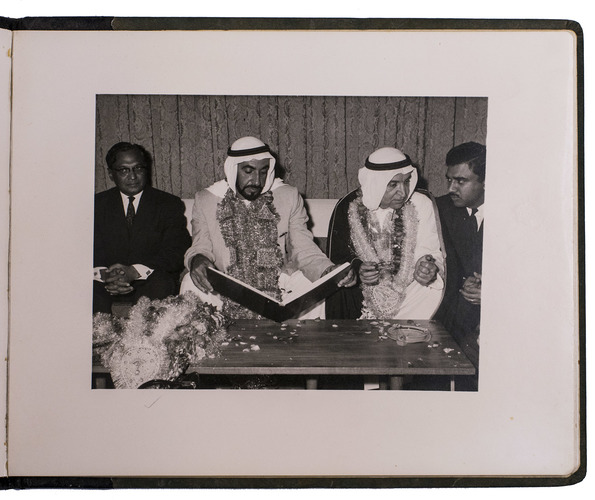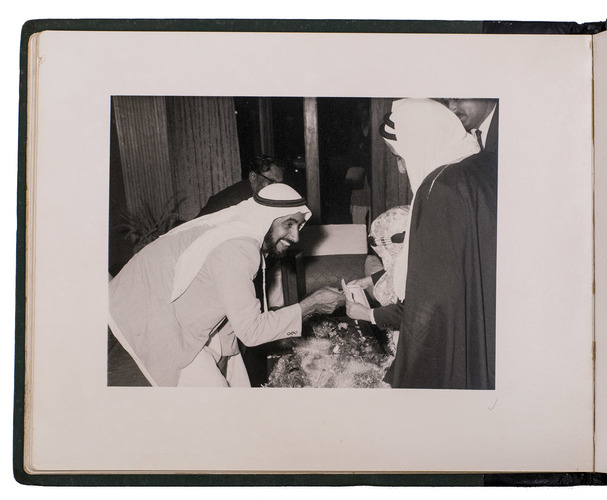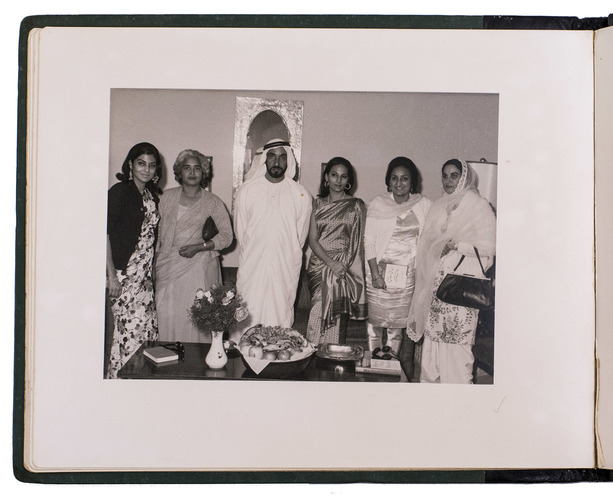 [ABU DHABI – STATE VISITS TO PAKISTAN].
[Photograph archive and album. Album title]: Visit to Lahore of His Highness Skeikh Zayed bin Sultan Alnahayyani the ruler of Abudhabi (16th to 28th November, 1967).
[Pakistan, 1967-1971]. An archive of 183 photographs: 133 loose black and white photographic prints (ca. 30 x 25 cm), 30 smaller ones (ca. 5 x 6 cm) numbered and mounted together on a single sheet of paper, and 20 additional prints in the album. Further with numerous rolls of original medium format negatives.Original black half morocco album, green cloth sides with title and emblem of the United Bank Limited Pakistan on the front board.
€ 125,000
A trove of unpublished photographs depicting two official visits to Pakistan by HH Sheikh Zayed bin Sultan Al Nahyan. The earlier visit, in 1967, is documented by a separate photo album containing images of the visit to Lahore, the second largest city of Pakistan, from 16 to 28 November 1967. The album opens with a picture of HH Sheikh Zayed arriving in his car; later pictures show him being honoured and presented with an album very similar to the present one, and in the company of officials representing Pakistans United Bank Limited (UBL). Almost 20 years later, in 1986, Sheikh Zayed would donate a hospital to the city, now the "Shaikh Zayed Medical Complex", one of the leading medical institutions in Pakistan.
The 30 small photographs show an audience with Sheikh Zayed as well as a banquet in his honour, attended by various Pakistani dignitaries including Agha Hasan Abedi (1922-1995), the illustrious founder of UBL. These photos, apparently clipped from a set of medium format contact prints, are mounted on a sheet of coated black photographic paper.
The largest set in size and number shows the state visit that took place on 20-22 January 1970 at the invitation of President Yahya Khan (1917-1980). It provides extensive documentation of the large Abu Dhabi delegation being formally received by Yahya Khan, who served as president of Pakistan from March 1969 to December 1971. Many show HH Sheikh Zayed shaking hands with and speaking to President Yahya; others show the airport reception, formal dinners, speeches, but also informal conversations, members of the delegation handling falcons, and numerous high-ranking Abu Dhabi retainers. Among the persons depicted is again Agha Hasan Abedi, but there are also several pictures of Butti bin Bishr, secretary to Sheikh Zayed, and Ahmed bin Khalifa Al Suwaidi, the first Minister of Foreign Affairs of the UAE and personal representative of Sheikh Zayed. President Yahya Khan had been "one of the very first international leaders to reach out to Sheikh Zayed after the UAE had been founded and had, prior to this, in July 1970, been instrumental in creating an agreement to provide technical assistance to the then Trucial States. With the December 1971 union agreement approaching, Pakistan was quick to forge even closer ties, and Khan had been one of the first foreign leaders to offer his congratulations and reiterate his countrys support when the UAE was born. Full diplomatic ties were then quickly established, and Pakistan became one of the first to extend recognition to the new country ... All his life Sheikh Zayed had held a personal affinity for Pakistan. He had hunted there extensively, came to know the people, its culture and lands, and enjoyed close ties with leaders" (Wilson).
From the estate of Azhar Abbas Hashmi (1940-2016), Pakistani financial manager and eminent literary patron with close ties to Karachi University. Hashmi served the UBL for many years, becoming its vice-president before founding several important cultural organisations and becoming known as a man of letters in his own right. Thanks to his close connections with the Gulf states, Abu Dhabi provided funds to build Karachi Universitys faculty of Islamic studies, as well as its Sheikh Zayed Islamic Centre and it mosque, Jamiya Masjid Ibrahim.
The majority of the photographs are entirely unmarked, but they occasionally show an Arabic inscription or stamp on the reverse. Some of the loose photographs slightly scuffed along the edges, with an occasional nick or small tear, but otherwise in fine condition. Binding of the album slightly rubbed. An important collection of at least largely unpublished photographs concerning the Sheikh of Abu Dhabis visits to Pakistan in the last years before the formation of the UAE, entirely unknown and without counterparts in the UAEhistory, Keystone or Hulton/Getty press photo archives. Cf. G.H. Wilson, Zayed: man who built a nation, pp. 111-112.
Related Subjects: