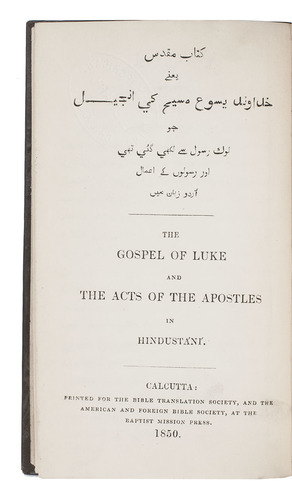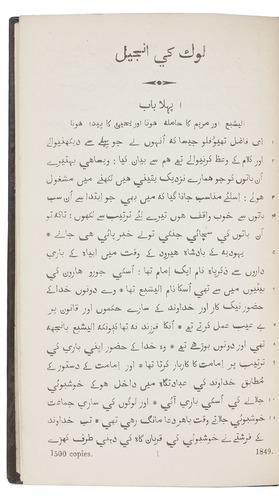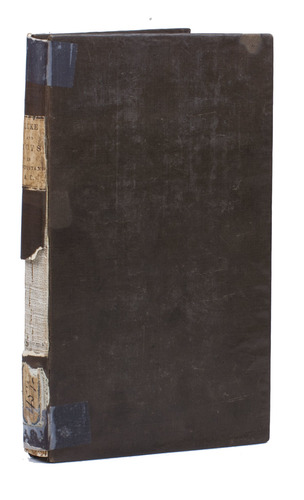 [BIBLE - LUKE & ACTS - URDU].
The Gospel of Luke and the Acts of the Apostles in Hindustání.
Calcutta (Kolkata), The Bible Translation Society, American and Foreign Bible Society, 1850. 12mo. With the title in Hindustani (Urdu) and English, and the text in Urdu only. The pages procede from right to left like a normal book in Arabic type. Set in 2 sizes of Arabic type with the English title in roman capitals. Contemporary dark brown cloth. [1], [1 blank], 191, [1 blank] pp.
€ 750
Rare Gospel of St Luke and Acts of the Apostles in the Hindustani (Urdu) language, in the Arabic script, printed by and for the Protestant Bible and missionary societies for free distribution in southern India. While India probably had more than 100,000 Urdu speakers at this date, few could read, so the book was published in an edition of 1500 copies (the edition size, with the year 1849, is printed at the foot of the first page of the main text: it was probably printed toward the end of 1849 for distribution in 1850, the year in the imprint).
With a bookplate and an embossed stamp on the title-page and last two text leaves. Very slightly browned, but in very good condition. The binding cloth is cracked at the hinge and the backstrip damaged and secured with tape, but the binding is otherwise good. A rare Urdu missionary Bible text, in Arabic type. Wesleyan Missionary notices, VIII (London, 1850), p. 199 (this edition?); WorldCat (2 copies).
Related Subjects: