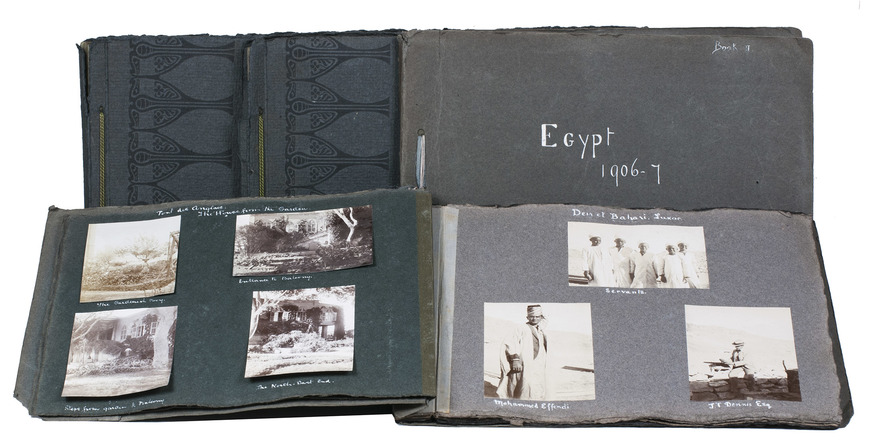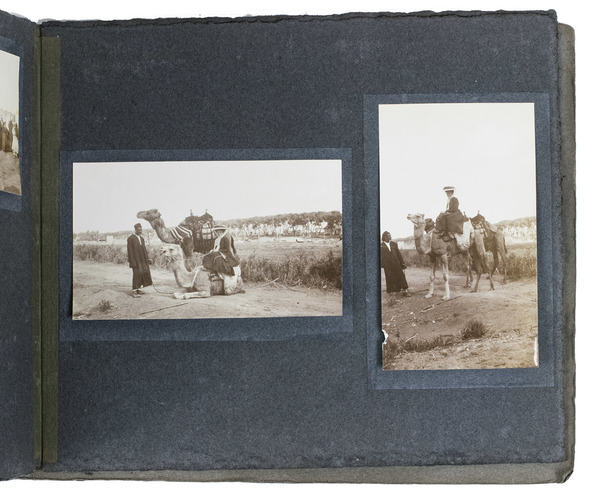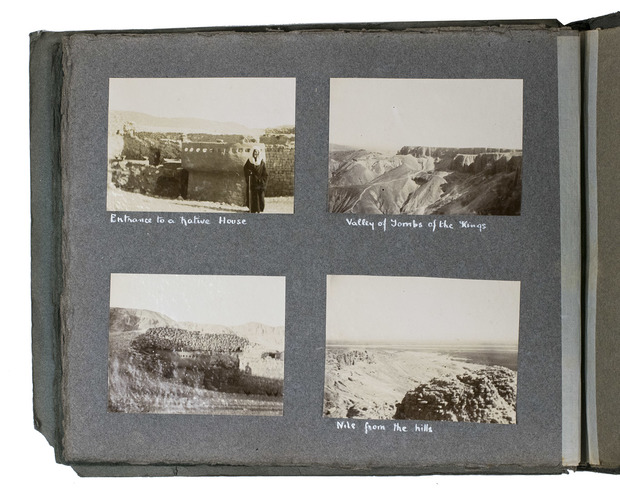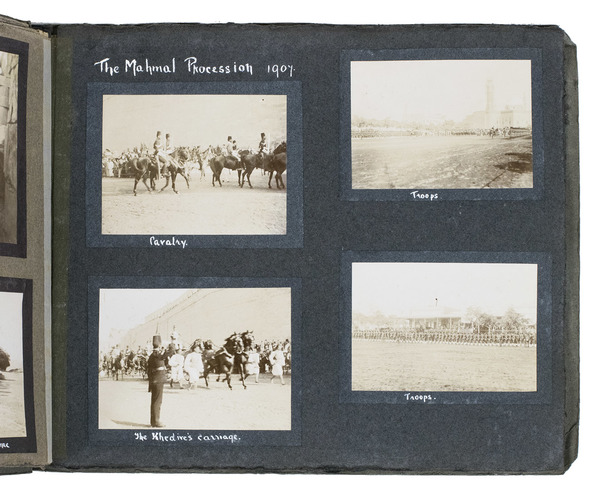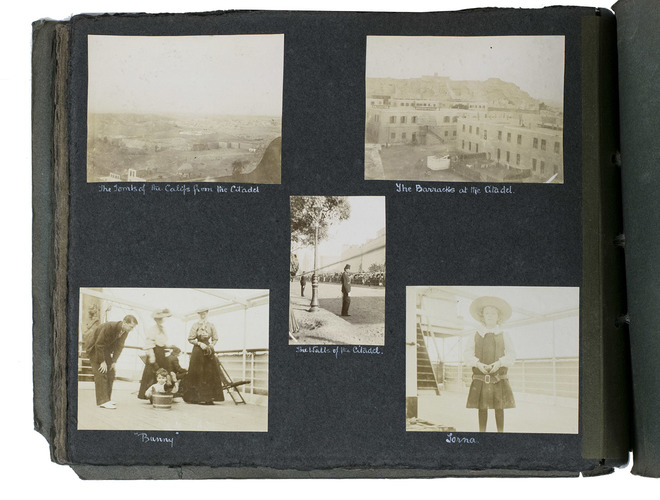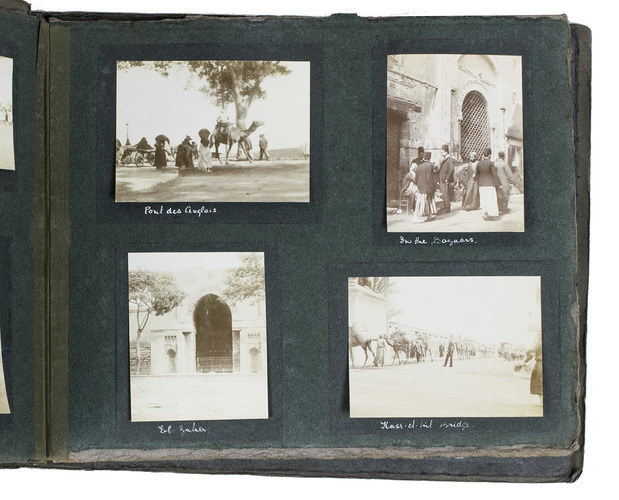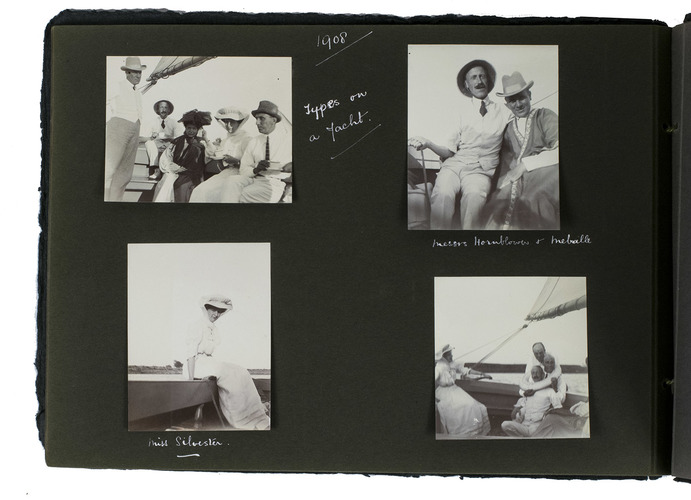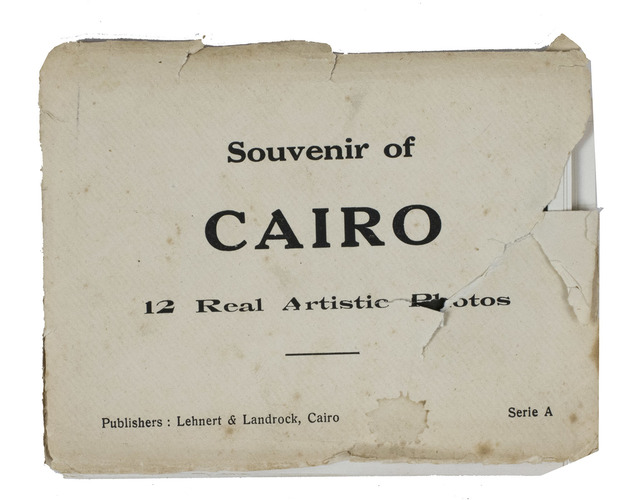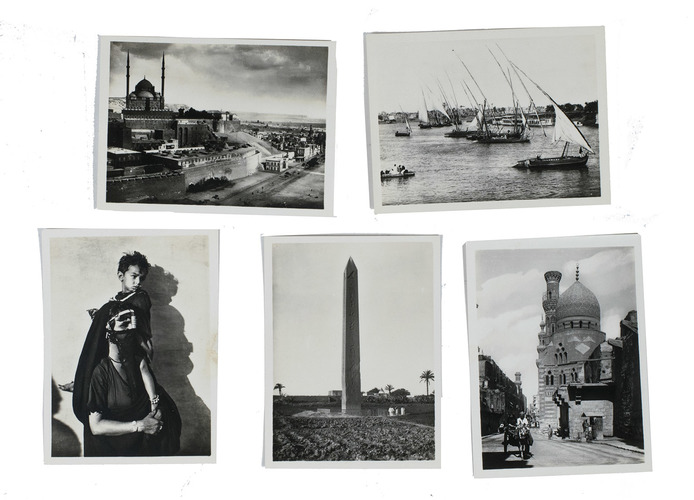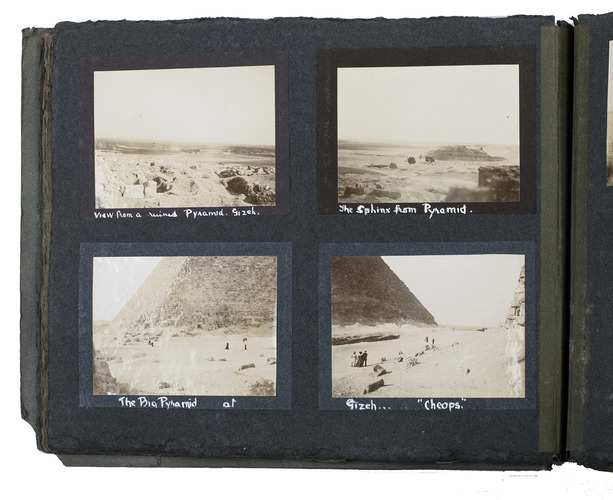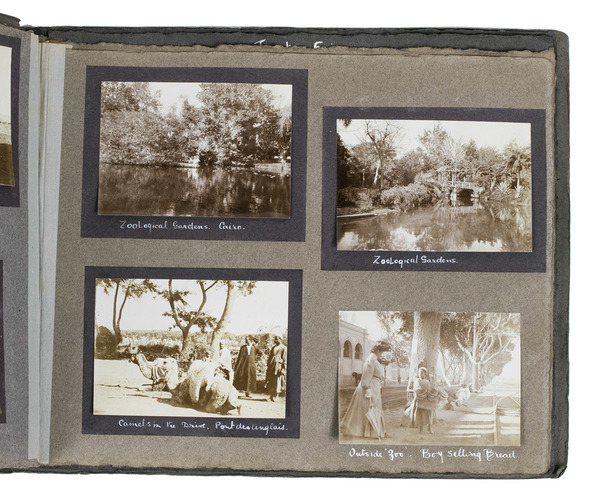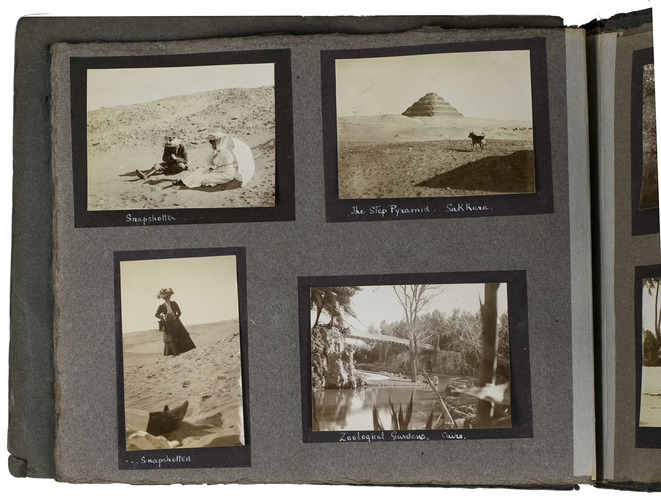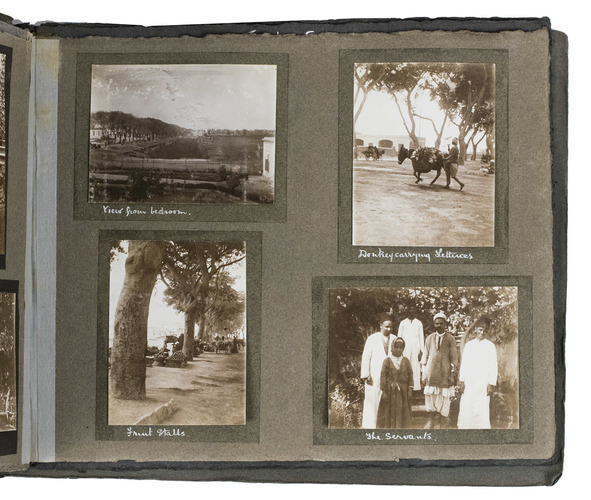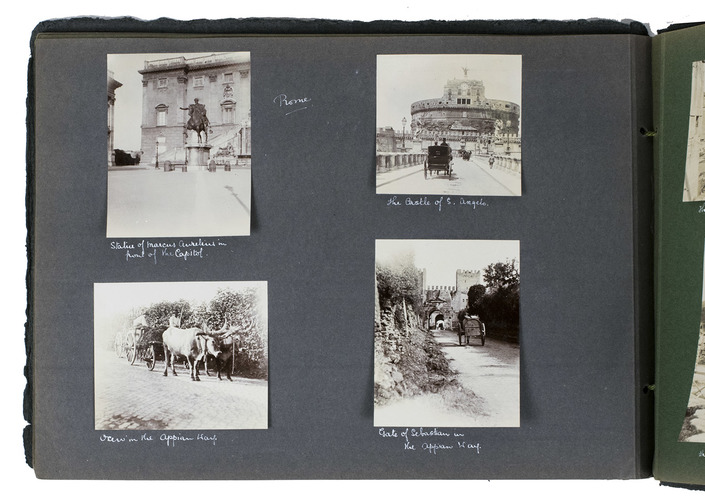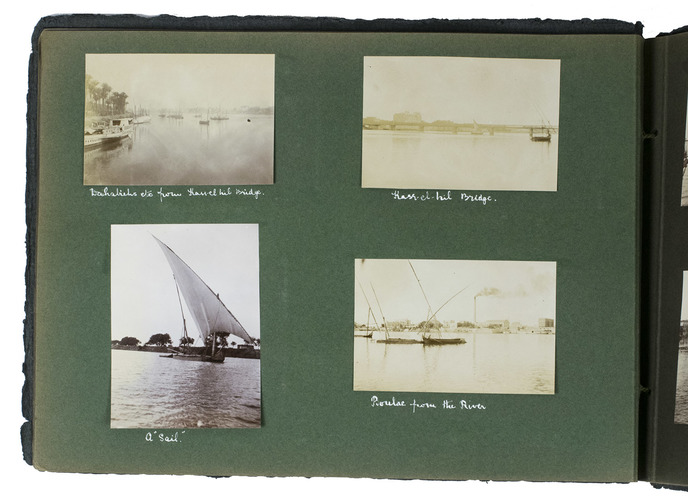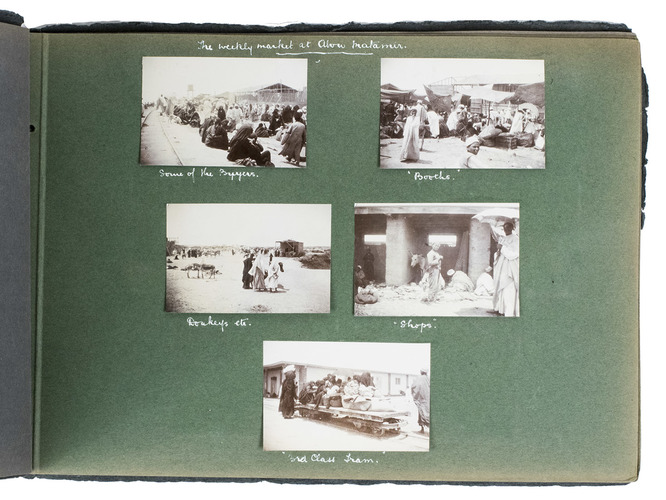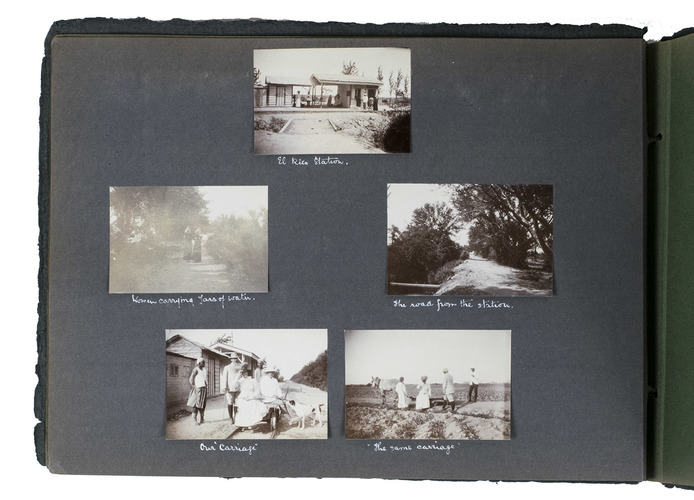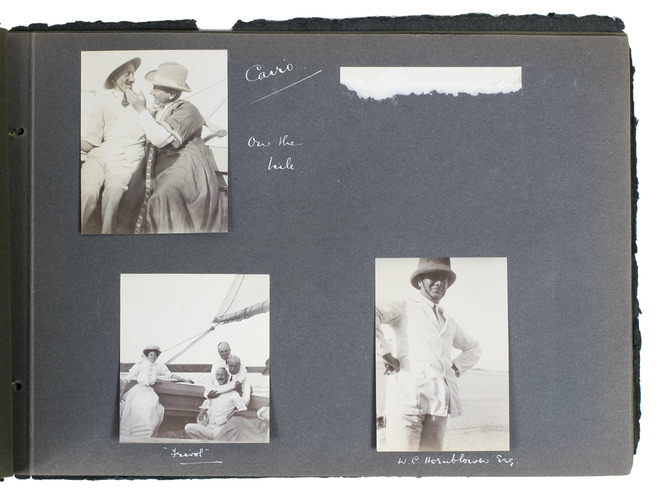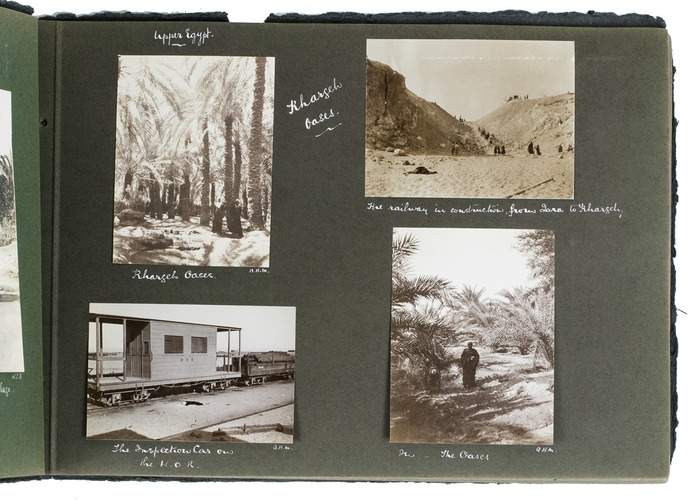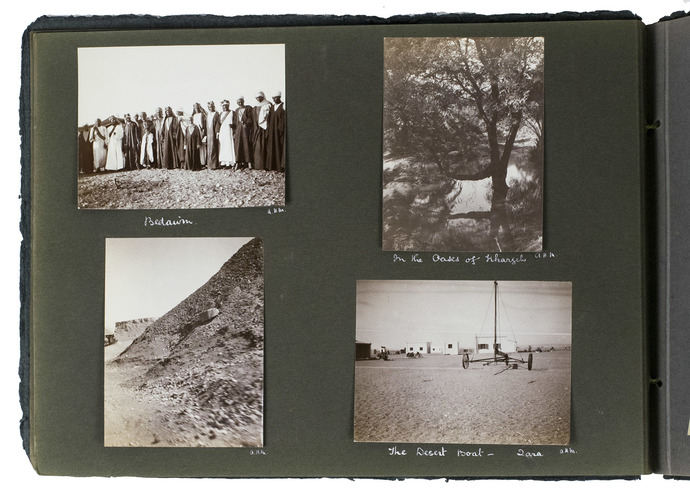 [PHOTOGRAPHY - EGYPT].
Book I-[II] Egypt 1906-7. Book III Naples, Rome, Florence. Book IV Criccieth N. Wales, Zara, Khargeh Upper Egypt, Cairo, Freshwater Bay I.W.Egypt, Naples, Rome, Florence, Criccieth and the Isle of Wight, 1906-1908. Oblong (23 x 32 cm). An album in 4 volumes with 323 silver gelatin prints (8 x 5.5 cm to 14 x 8 cm, mostly ca. 10 x 7 cm). Side-stitched.
With:
(2) LEHNERT & LANDROCK. Souvenir of Cairo. 12 real artistic photos. Serie A.
Egypt, [late 1920s]. Envelope containing 12 silver gelatin prints (12 x 9 cm).
(3) [PHOTOGRAPHY - SINGAPORE?]. Photograph of a woman and a baby sitting in a rickshaw, with a child in front and the rickshaw puller.
[Singapore?], [late 1920s]. Silver gelatin print (7.5 x 12.5 cm). 9; 7; 12; 11 ll.
€ 4,500
A four-volume photo album, compiled by an unknown British woman who also seems to have taken most of the photographs, illustrating travels through Egypt, Italy, Wales and the Isle of Wight. Although the specific background to the album is unknown, a photograph of a woman holding a camera is captioned "... snapshotted", suggesting that she was the compiler of the album and probably took most of the photographs herself.
The first volume starts in 1906 with several photographs showing the interior and exterior of a "summer house" near the "Pont des Anglais" (now called the Evacuation bridge), a Cairo neighbourhood containing many riverside villas.
The final part of the second volume is devoted to the Tanta fair: Egypt's largest fair, which normally attracted half a million visitors. Afterwards the party visited the village of Toukh, north of Cairo.
The third volume opens in May 1907 with a railway visit to the village of "El-Rico" near Hosh Essa, also in the Nile delta, but nearer to Alexandria. Photographs depict the travelling party as well as local agriculture, another wedding and a visit to the weekly market at Abou El Matamer.
The final part of the album shows a visit to the Isle of Wight in August 1908.
With two photographs in volume IV (Cairo, on the Nile) torn out. Bindings slightly worn, spines damaged and volume III without a spine. A few photographs somewhat worn at the edges and with a few spots but otherwise in very good condition. An extensive and remarkable photo album, especially for Egypt 1906-1908. For the excavation at Deir-el-Bahari: Naville, The XIth dynasty temple at Deir el-Bahari. Part II.
Related Subjects: