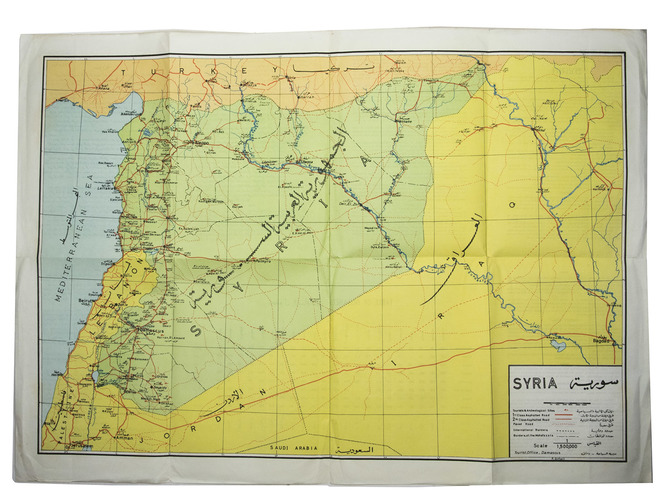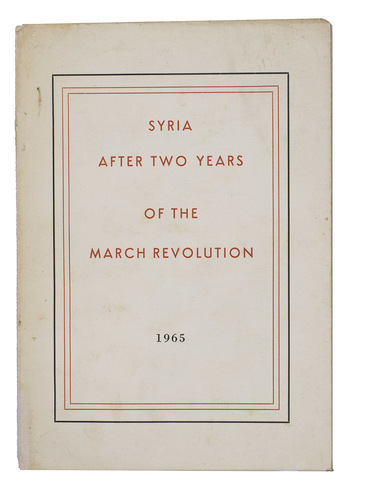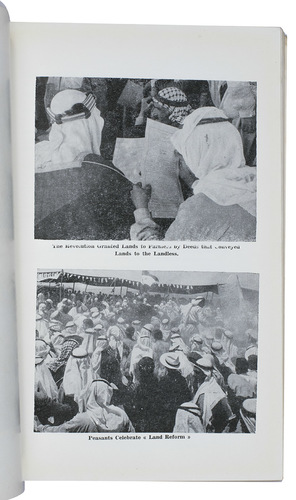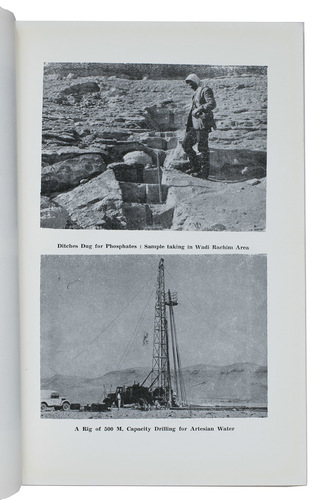 [SYRIA - BA'ATH ARAB SOCIALIST PARTY].
Syria after two years of the March Revolution.
[Syria, Ba'ath Arab Socialist Party], 1965. 24 x 17 cm. With 28 photos on 16 plates and some tables in the text.
With: [MAP - SYRIAN ARAB REPUBLIC MINISTRY OF ECONOMY DIRECTORATE OF TOURISM]. Syria.
Damascus, Tourist Office, [ca. 1965]. Folded. 70 x 49.5 cm.
A brightly coloured folding map of Syria with some information about the country and its principal cities with a table of distances on the back, all text in the map and on the back is in English and Arabic.
Original publisher's printed wrappers, stapled. 175, [1 blank] pp.
€ 850
Propaganda from the Arab Socialist Ba'ath Party in Syria, presenting the successes of the new socialist government two years after the 8 March Revolution (or 1963 Syrian coup d'état). The propagandistic nature of the text already takes shape in the introduction. For example in the part of the text informing the reader of the contents of the present work: "The following chapters ignore plots and intrigues and limit themselves to the task of giving an accout [! (=account)] of the Revolution's achievements in the fields of socialism, democracy, industrialisation, agriculture and agrarian reform, trade unionism and other organisation of the people's activity, social, cultural and health welfare and related fields of public service".
The Arab Socialist Ba'ath Party was founded in 1947. This political party follows the Arab nationalist ideology called Ba'atism, which promotes the creation and development of a unified Arab state, the enlightenment of the Arab people and a general renaissance of their culture, values and society.
The wrappers are slightly stained, mainly to the back wrapper, and the spine shows slight signs of wear and has been restored at the foot. The title page has some small tears around the staples, otherwise internally fine and clean. The edges of the map are very slightly frayed, otherwise in very good condition. Overall, the work and additional map are in good condition. WorldCat 7653999 (11 copies).
Related Subjects: