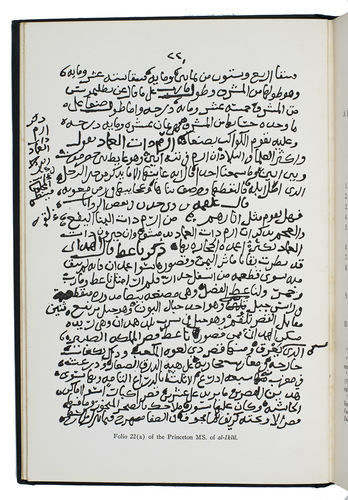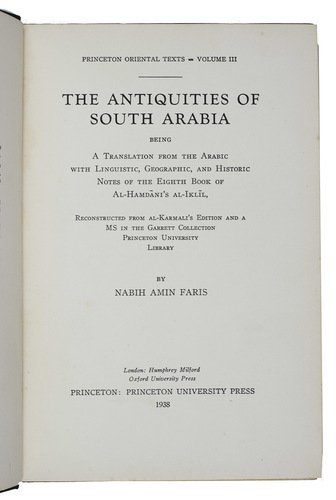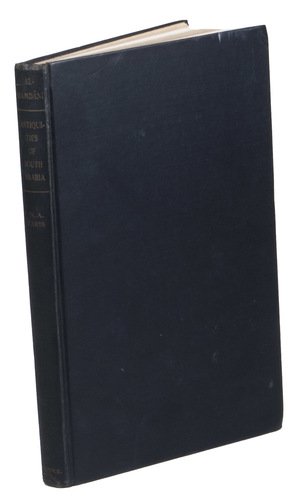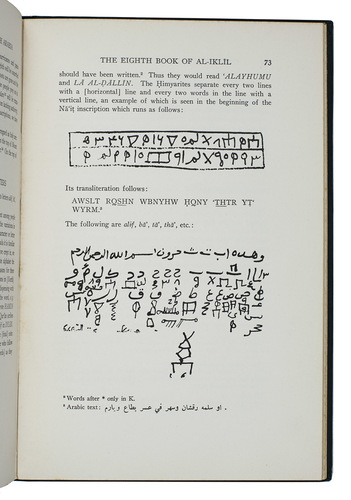 AL-HAMDANI [transl. and ed. Nabih Amin FARIS].
The antiquities of South Arabia being a translation from the Arabic with linguistic, geographic, and historic notes of the eighth book of Al-Hamdani's Al-Iklil, reconstructed from Al. Karmali's edition and a MS in the Garrett collection Princeton University Library.
Princeton, Princeton University Press, 1938. 8vo. With 1 page with the text of fol. 22(a) of the Princeton MS; p. 73 shows inscriptions of Himyarite characters; 1 map titled "Ancient Arabia Peoples, places and routes". The notes are partially in Arabic and Hebrew (and possibly other types of) script. Black cloth, with title information on spine. [6], 119, [1 blank] pp.
€ 1,250
First edition of this annotated translation of volume 8 of Al-Hamdani's al-Iklîl by Nabih Amin Faris (1906-1968), who was a historian and professor of Arab history at the American University of Beirut. The al-Iklîl (in full: Kitâb al-Iklîl min akhbâr al-Yaman wa-ansâb Ḥimyar or in English: Crowns from the Accounts of al-Yemen and the genealogies of Ḥimyar) is a ten-volume historical and geographical work by the Arab geographer, traveller, poet, astronomer, chemist, grammarian, and historian Abu Muhammad al-Ḥasan ibn Aḥmad ibn Yaqub al-Hamdani (ca. 893-945). Al-Hamdani was born in Sana'a, he travelled throughout the Arabian Peninsula before returning to Sana'a. There he was imprisoned because of his political and religious views, after his release he left the city in order to write and compile his works in relative peace. He was one of the most prolific South Arabian scholars with several extensive works to his name, however, of his al-Iklîl only 4 of the 10 volumes have survived. The present work concerns volume 8, in which Al-Hamdani mainly describes public buildings and castles: the pre-Islamic antiquities of Yemen. His works, including one on the geography of the Arabian Peninsula, are some of the earliest and most complete Arabic sources on Arabia. They were the subject of extensive German and Austrian scholarship during the 19th century, before this English edition appeared as volume 3 of the Princeton Oriental Texts.
Binding shows very slight signs of wear, slight browning throughout but mostly to the first and last few pages, edges very slightly foxed, several inscriptions and a stamp, including two ownership inscriptions belonging to professor Rudi Paret, on the first flyleaf. Overall in very good condition. Macro 33; Smith, The Yemens, 146.
Related Subjects: