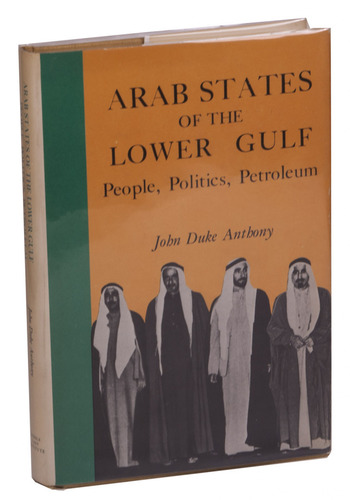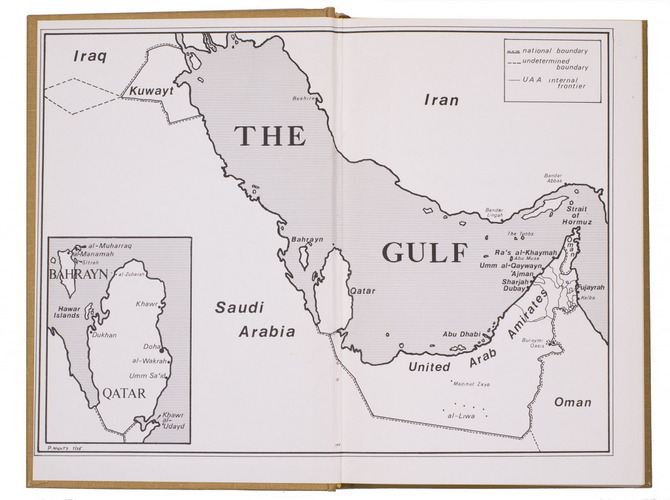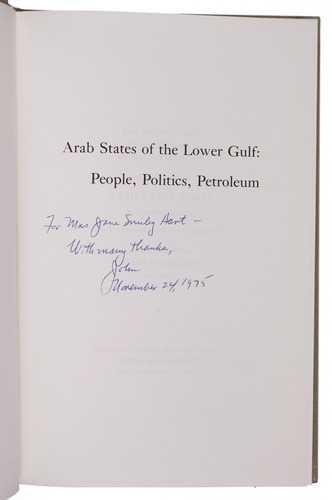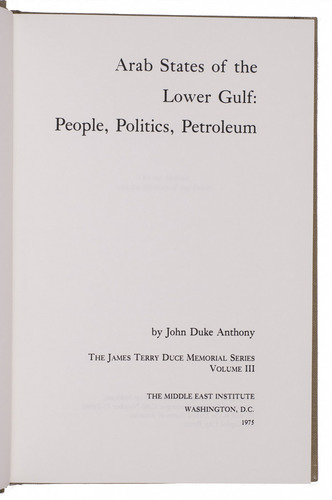 ANTHONY, John Duke.
Arab states of the Lower Gulf: People, Politics, Petroleum.
Washington D.C., The Middle East institute, 1975. 8vo. With two black and white maps on the endpapers. Brown cloth with publisher's illustrated dust jacket. X, 273, [1 blank] pp.
€ 500
First and only edition of a thorough description of the history of the nine Arab states of the Lower Gulf, that gained independence in 1971, just four years before the publication of this book. The author has managed to discuss the individual politics of each state and that of the bigger picture, making this a handbook for all who wish to learn more about Bahrain, Qatar and the United Arab Emirates (Ajman, Dubai, Fujairah, Ras Al Khaimah, Sharjah and Umm Al Quwain). The several infographics that are used to explain the political structures are very helpful in this respect. Oil plays a key role in the relationship between the individual states and this is intricately laid out by the American author. Because this book was written in such a key moment in the history of the region, it has gained much importance. The author Dr. John Duke Anthony is a leading figure in United States-Arab relations and has held many influential government positions in this field. Amongst others, he is the founder and president of the National Council on U.S.-Arab Relations. He holds a Ph.D. in International Relations and Middle East Studies at the School of Advanced International Studies. In the years leading up to this publication the author has conducted first-hand research on the Lower Gulf region's political and socio-economic structures, obviously with oil playing a major role. This book was published in The James Terry Duce Memorial Series, which started in 1966. With author's presentation inscription: "For Miss Jane Smiley Hart - With many thanks, John, November 24, 1957". A very good copy, with the original dustjacket well preserved.
Related Subjects: