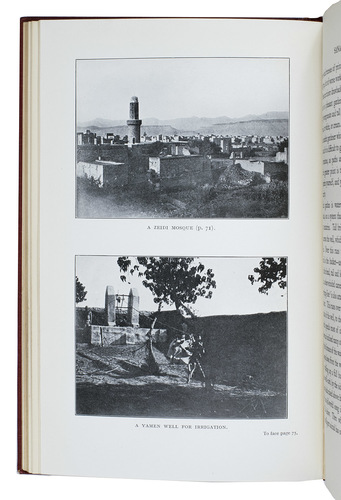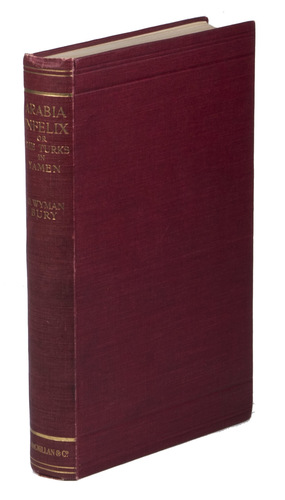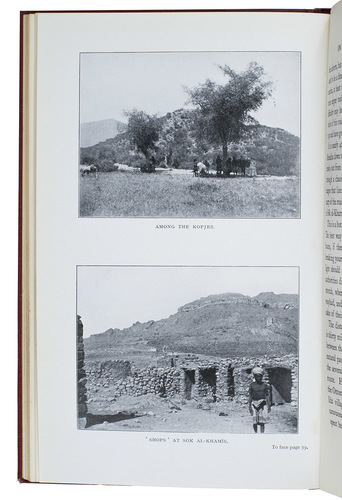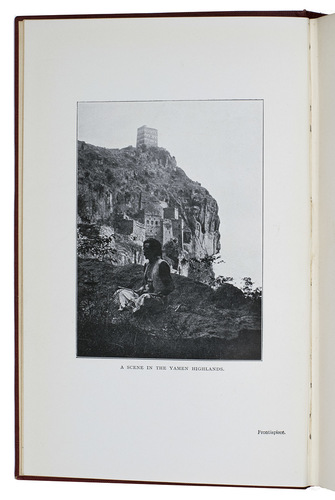 BURY, George Wyman.
Arabia infelix, or the Turks in Yamen.
London, Macmillan and Co., limited, 1915. Large 8vo. With 3 maps and 18 plates, some containing multiple images. Red cloth, blind-tooling on covers, title information in gold on spine. X, 213, [3] pp.
€ 580
First edition of George Wyman Bury's account of Yemen on the eve of World War I. Bury (1874-1920) was a British naturalist, explorer, Arabist and political officer in the British army, who spent most of his life in the Aden-Yemen borderlands. As a young man, he spent a year with the Abdali tribe in the Aden protectorate; he learned their language and even received the name Abdulla Mansur. Later in life, he was able to pass himself off as a local, because of his looks and command of colloquial Arabic. The British government made use of this, by employing Bury as a political officer in the region and even escorting the British part of the Boundary Commission in the Dhala region of Yemen.
"At the outbreak of World War I, Bury's unique knowledge of the Arab tribesmen and the Turkish administration commended him to the British intelligence service, and in 1915 he was made 'political officer' to the Red Sea Northern Patrol with the rank of lieutenant in the Royal Navy Volunteer Reserve." (Howgego).
Very slight browning, small tear in the contents-page (outer margin). Overall in good condition. Howgego IV, B99; Macro 642; Shapero, The Islamic World (2003), 163; Smith, The Yemens, 59; Sotheby's the library of Robert Michael Burrell, 136. cf. Canton, From Cairo to Baghdad British travellers in Arabia, pp. 170-176.
Related Subjects: