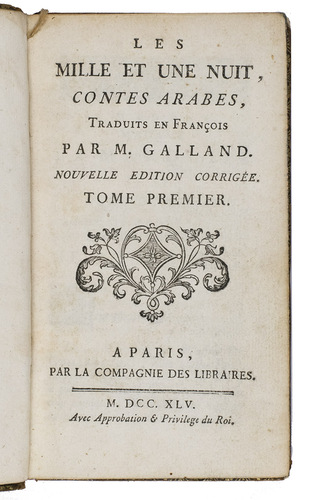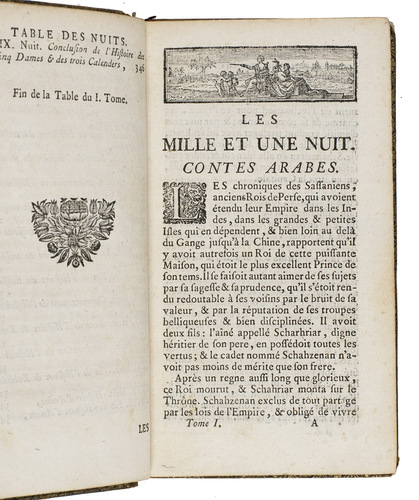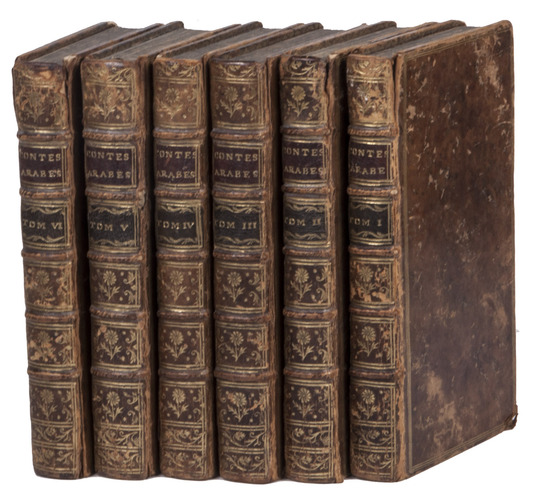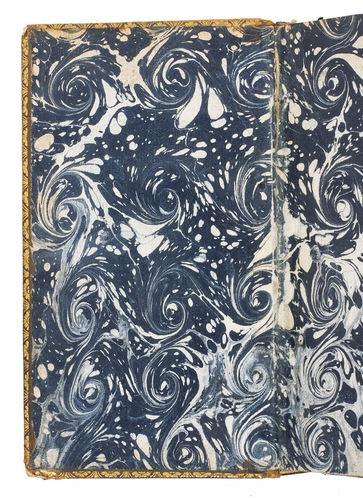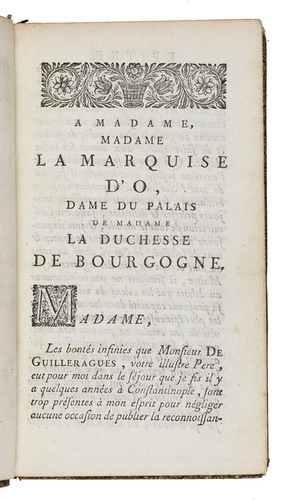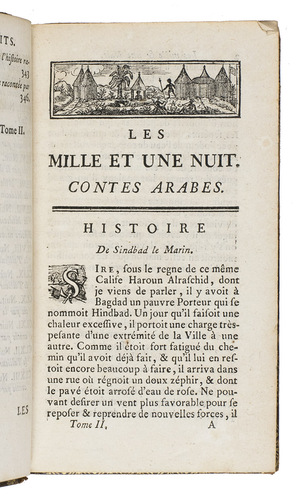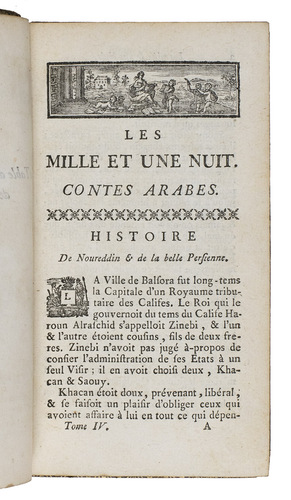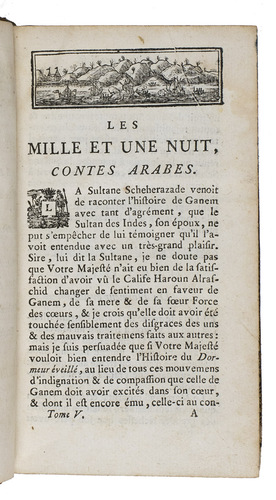 GALLAND, Antoine (translator).
Les mille et une nuit, contes Arabes, traduits en Français.
Paris, La Compagnie des Libraires (colophon vol. VI: printed by [André-François] Le Breton, imprimeur ordinaire du Roi), 1745. 6 volumes. 12mo in 4s & 8s. Uniform gold-tooled mottled calf. [16], 350; [12], 352; [8], 415, [1 blank]; [4], "369" [= 375], [1 blank]; [4], 419 [1 blank]; [4], "181" [= 183], [3], [2 blank] pp.
€ 1,500
Few have shaped the western view and understanding of the Arab world as profoundly as the French orientalist Antoine Galland (1646-1715). His One thousand and one nights, first published from 1704 to 1717, contained the classic tales of Sinbad the sailor, Ali Baba and the forty thieves and Aladdin and his marvellous lamp. Not only was it the first translation of any part of the Thousand and one nights into any modern European language; it was the first published edition of any significant part of the work, which was not printed in Arabic until 1775, moreover the small bits that had been translated into Latin remained largely or wholly unpublished. Galland's book immediately became one of the essential sources of knowledge of the customs and mentalities of the medieval Near East, with his first volumes translated into English before his last volumes appeared.
The present early edition of Antoine Gallands famous translation, in six attractive volumes, is sought after in part because of the extreme rarity of the first edition. The main source for Antoine Gallands compilation and translation was a collection of tales from Lebanon, mostly of Persian origin (or at least with Persian roots), translated into Arabic at the end of the seventh century. He supplemented it with material from at least two other manuscripts. The many editions and translations into most other Western languages many times over bear witness to its enormous influence.
Antoine Galland (1646-1715) came from a family of small farmers, lost his father at the age of four and learned ancient Greek, Latin and Hebrew at the age of ten in Noyon. He later studied in Paris at the Collège Royal and the Sorbonne. His excellent knowledge of Greek persuaded the then French envoy Marquis de Nointel to take him on a five-year mission to the Sublime Porte in Constantinople in 1670, where Galland acquired a knowledge of Turkish, Persian and Arabic.
In good condition, with a few small scuff marks on the spines but with the tooling well preserved, boards somewhat rubbed, corners and hinges worn, the latter often cracked at the head or foot, only 2 ribbon markers intact, 1 detached and 3 with only a remnant, occasional very slight browning.
Related Subjects: