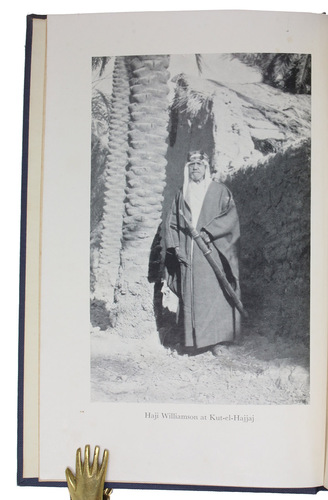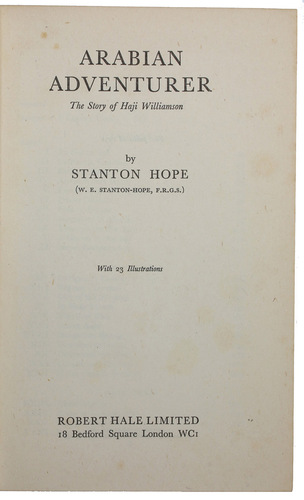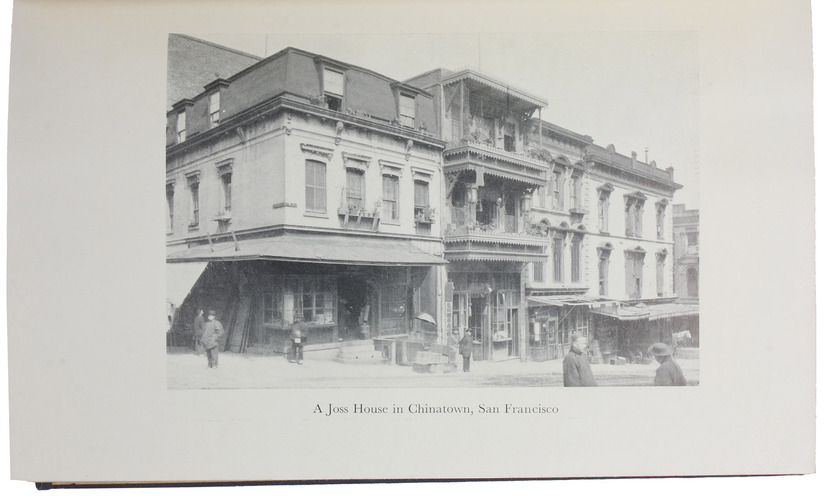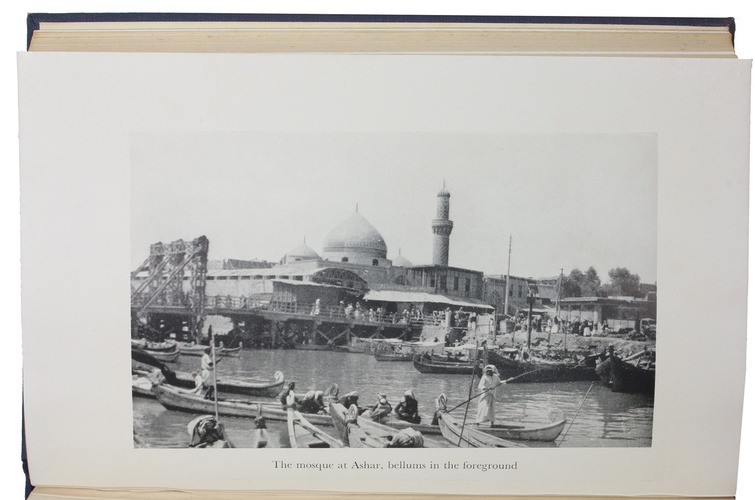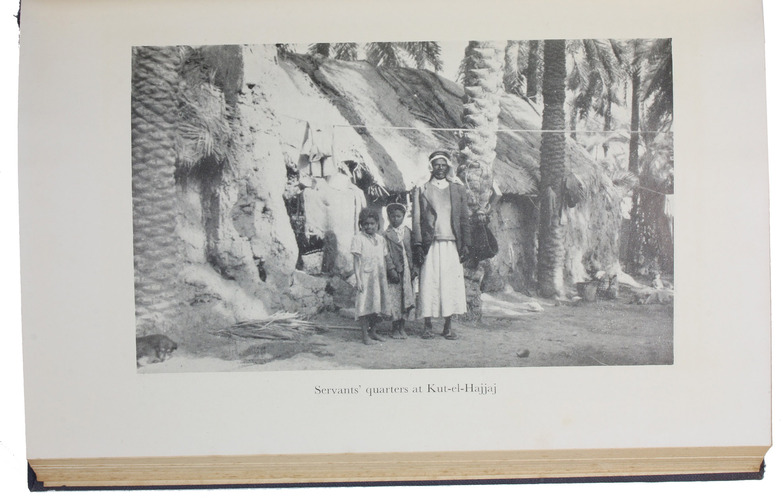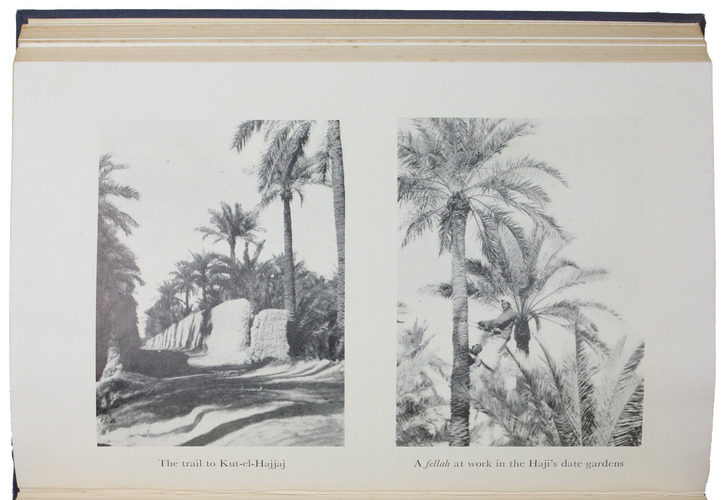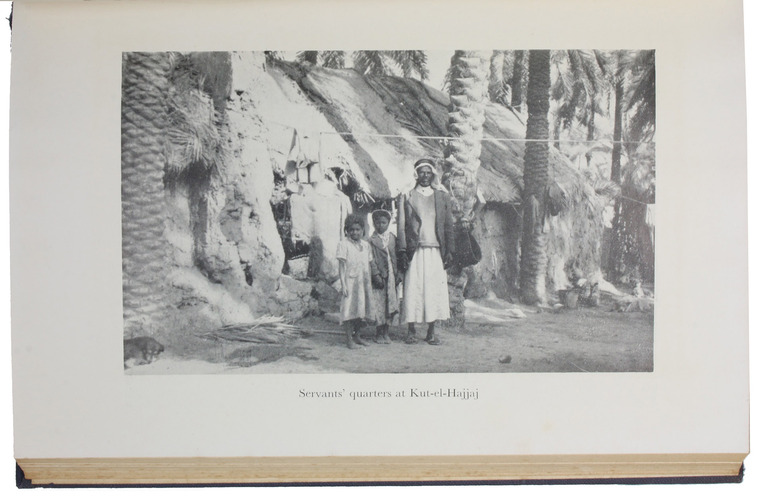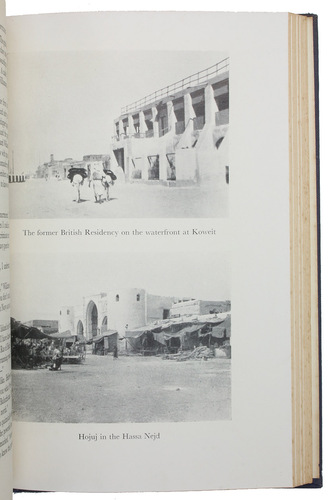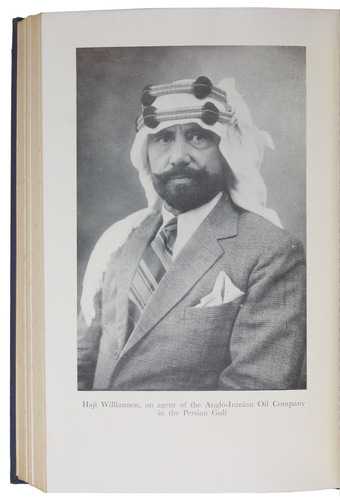 HOPE, William Edward Stanton.
Arabian adventurer. The story of Haji WIlliamson.
London, Robert Hale, 1951. 8vo. With 23 half-tone photographic illustrations, one as a frontispiece. Original purple-blue cloth with gold lettering on the spine. 335 pp.
€ 1,500
First edition. A fascinating biography of Haji Abdullah Williamson, an Englishman who converted to Islam and eventually settled in Iraq, retiring to a small farm in Kut al-Hajjaj, Basra. In covering his work as Inspector of Gulf Agencies for the Anglo-Persian Oil Company it is an excellent resource on the Gulf in the 1920s and 1930s. - As a journalist and writer of adventure stories, Stanton Hope (1889-1961) was instantly drawn to the picaresque story of Williamson's life. Born in Bristol in 1872, William Richard Williamson escaped from his controlling father by way of a tea clipper at the age of thirteen. A remarkable string of voyages, schemes and serendipities followed, taking him from San Diego to the Caroline Islands, where the selling of rifles to rebel tribesmen landed him in a Manila jail. It was after his escape, via Hong King and Bombay, that he first set foot in Arabia, at Aden where he joined the constabulary. It was during his time in Aden that he converted to Islam and effectively severed ties with his confused British counterparts. A new life awaited him in Kuwait, and he took to it with gusto, assimilating to Arab culture and travelling more widely in the Gulf and southern Iraq. He soon set up as a horse and camel dealer, the first of several trades he acquired in the Middle East. His later role as dhow master gained him intimate knowledge of the Arabian littoral of the Gulf, which won him the aforementioned position with the Anglo-Persian Oil Company. The chapters on those years include valuable descriptions of its principal towns and ports, including Doha (Qatar), Dubai, Ras Al-Khaimah and Muscat.
With an owner's inscription in ink by by Larkin of Reading, dated 1953, on the front flyleaf. The spine is somewhat faded, the gold lettering is slightly dimmed, the boards are bowed, and with small tears to the back board, the cloth shows some slight rippling. A good copy overall, with unusually fresh interior pages. WorldCat 3452107; not in Macro.
Related Subjects: